CONNECTION THROUGH COOKING
What shall I do with this vegetable??
Whether you are a member of a CSA (Community Supported Agriculture) in your area, or simply just pass by a local farmer market seeing all this vibrant, colorful produce you might be looking at it thinking: This looks so gorgeous and healthy but I have NO IDEA what to do with it….
Then this class is for you!
We all know we should eat more vegetables, but the idea might not be so tempting, because you can't find one creative idea that is enticing enough for you to get in the kitchen and use these ingredients.  I'm here to help rectify this!
This is an "impromptu" cooking class and next episode of my online series "Connection Through Cooking" where I will take you through my weekly CSA basket and give you simple, delicious ideas for how to utilize seasonal and local vegetables and fruits.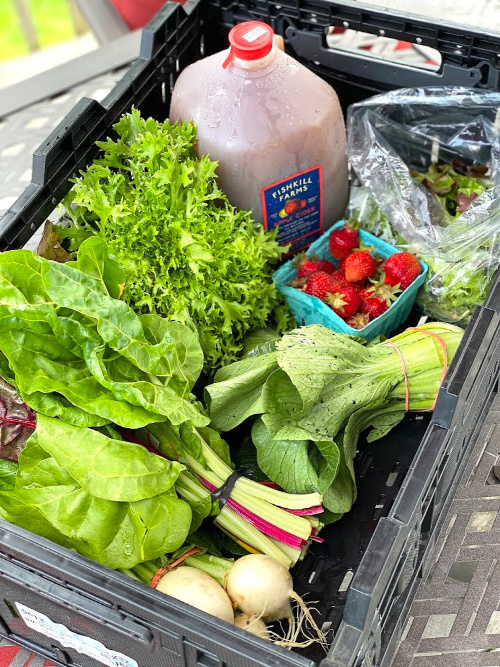 Here's what we'll be cooking together:
Nordic Beet Salad
Nordic Beet Salad with crisp apples and red onion in a creamy dressing of yogurt. mayo and lemon juice.
Lemon Zucchini Ribbon Salad
Zucchini Ribbon Salad with cherry tomatoes, vegan feta, and toasted almonds.
Balsamic-Macerated Strawberries
Balsamic-Marinated Strawberries with whipped Coconut-Cream and fresh basil.
Sunny is a professionally trained chef and wine consultant with nearly 2 decades of experience in the food and wine industry. She is the founder of The Plant Curious Table, a food and wine education and consulting firm focusing on providing digital content to private and corporate groups.
Sunny also had her own catering company for seven years, Fork and Glass with a farm to table theme.  She is the founder of Arctic Grub, a food blog where she enjoys veganizing classic Norwegian and Scandinavian dishes.
A certified holistic health coach specializing in plant-based nutrition, Sunny loves cooking with whole, plant-based foods that are in season and supporting local farmers.