SPRING CLEAN YOUR BODY WITH PLANTS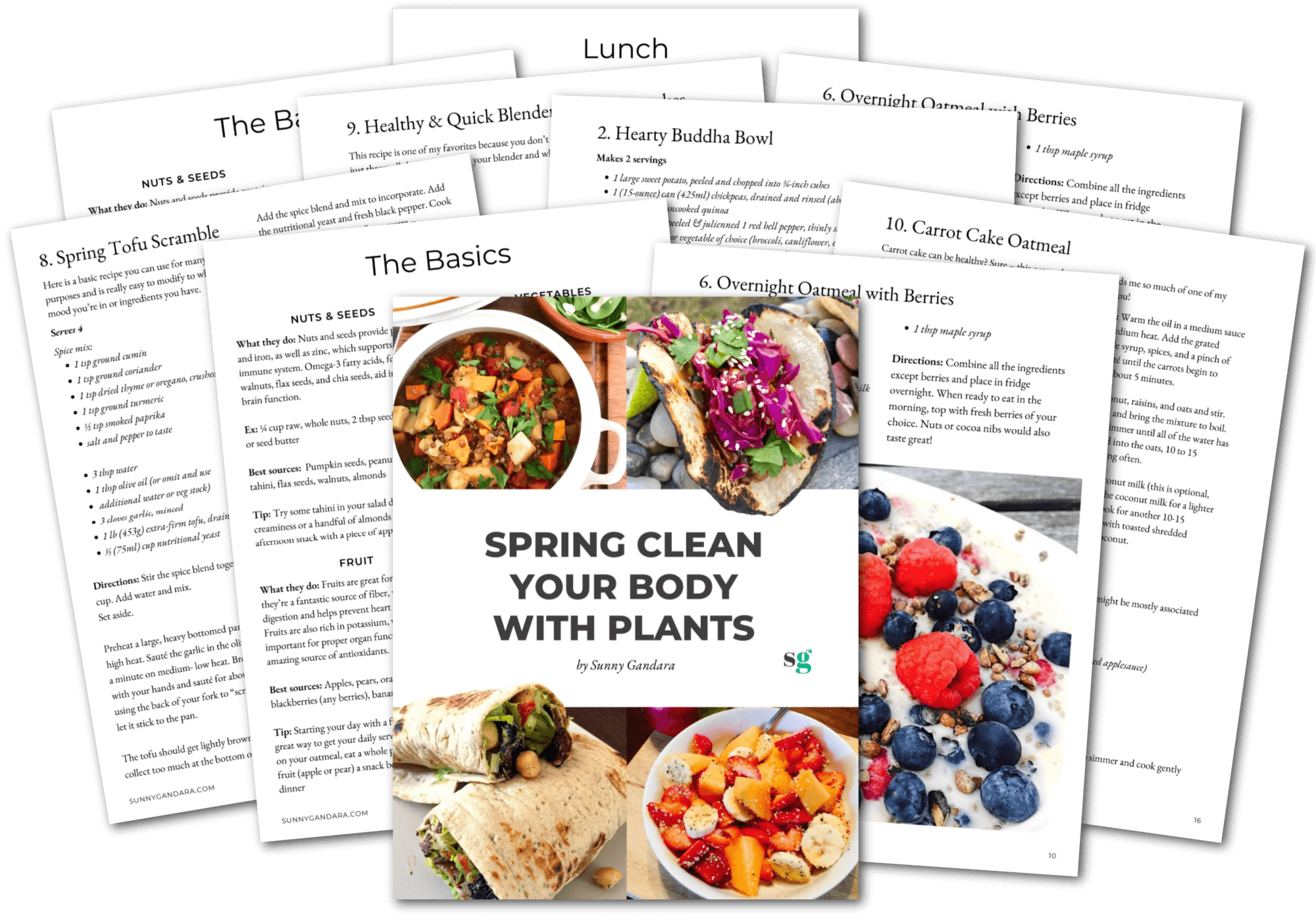 60+ whole-food, plant-based recipes for breakfast, lunch, dinner, snacks, and desserts.
I love eating seasonally, but you can enjoy the recipes in this book all year round if you're looking to cleanse and eat lighter without sacrificing any flavor.
From a spring-inspired tofu scramble, carrot cake oatmeal, and quick and healthy banana-blender pancakes for breakfast, to authentic Mexican style tacos, cauliflower kung pao, black bean and pozole, and samosa whole grain wraps for lunch and dinner…I'm covering every corner of the globe and every flavor possible in this book—healthy eating never tasted so good!
I also give you time-saving tricks and list plant-based foods that are rich in protein, fiber, calcium, iron, and more.
This book was created to help demystify what you should eat for a healthy, wholesome, and delicious meal!
$20
"When it comes to cooking I'm lazy, very lazy so my meals, while healthy, tend to be rather repetitive. But Sunny's Spring Clean Your Body With Plants' inspired me to get more creative.
The first recipe I tried was the 'Whatever-You-Have-In-Fridge Tempeh Bowl' and I was surprised how quickly it came together. Planning ahead for the marinating is SO worth it. It's the best tempeh I've had since living in Indonesia and getting spoiled with the abundance of fresh tempeh dishes there.
Sunny's 'Healthy & Quick Blender Banana Pancakes' were so yummy, I made them 3 days in a row! Everything I've tried so far has been utterly delectable if you're looking for new healthy recipes to try, this is a must-have!"
– Natalie Williams
Light yet tasty meals to enjoy year-round while supporting your body's natural cleansing…
Carrot Cake Oatmeal
Curried Lentil Soup with Mushrooms and Lime
Vegan Pho
Korean BBQ Tacos
Thai-Flavored Asparagus, Watercress and Carrot Salad
and many, many more!