Laksa is a spicy coconut noodle soup from Malaysia that is incredibly fragrant and rich in flavor. It's without a doubt one of my favorite meals to make and eat.  Colorful, nutritious, super tasty, and filling – what more can you want from a dish?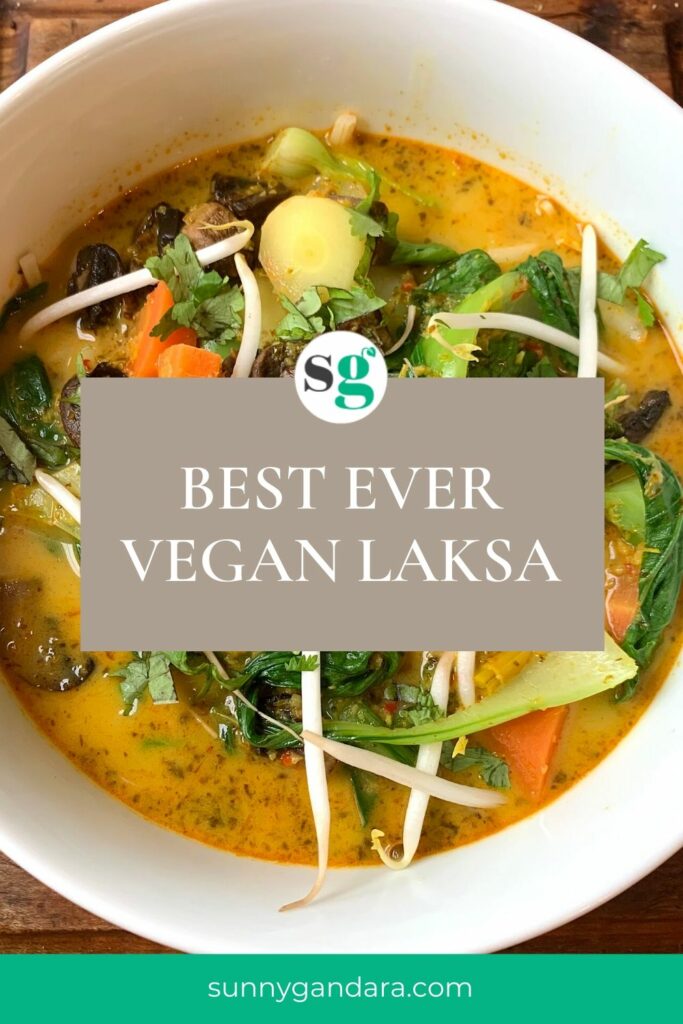 Making your own laksa paste might be a little extra work, but I wouldn't skimp here. The result will be so worth it and so much more authentic tasting.   Lemongrass, chilies, shallots, galangal or ginger, turmeric, and spices are toasted with a little oil to deepen the flavor.
I find most spices grossly underestimate the amount of spices and flavor agent needed in a broth, so I tested this recipe a few times until I came up with an amount I found to have some punch.  The key is to have a balance between the spices and the coconut milk and to get that great coloring of the broth that is reminiscent of a gorgeous flaming sunset.
A standard dish in Malaysia, laksa is also very popular in Singapore. It combines elements of indigenous Malay, which is a combination of Chinese and Indian. There are so many different versions and combinations across the region, and while many of these include meat and fish, I think it's wonderful with tofu. You can omit that if you don't want it – I love the simple combination of curry spices and noodles with some added vegetables in the broth – I could eat this all day long!
I paired my laksa with a nice IPA beer, but I'd say an off-dry Pinot Gris or Riesling, or even a rose or sparkling wine would be fantastic as well.
World's Best Laksa
Laksa Paste:
4 medium shallots, sliced roughly
6 garlic cloves
3 lemongrass stalks, white part chopped (reserve the rest)
3- inch (7cm) fresh turmeric (or 3 tsp ground turmeric)
4-inch (9cm) ginger or galangal, sliced roughly
5-6 fresh red chillis or dried Thai chilis soaked in boiling water
2 tbsp ground nori (seaweed) torn into bits
¼ cup (65ml) cashews, pre-soaked for about 30 minutes
Big handful of fresh cilantro w/stems
2-3 tbsp vegetable oil (grapeseed or canola are both good)
1 heaping tbsp toasted and ground coriander seeds
1 heaping tbsp toasted and ground cumin
2 tsp sweet ground paprika
Broth:
6 cups (1.4l) vegetable broth
1 tbsp sea or kosher salt
1 14 oz (400 grams) full-fat coconut milk
Juice of 1 big lime (more to taste)
1 tbsp brown sugar or coconut sugar

Toppings:
Steamed broccoli florets, sliced carrots, baby bok choy
Sauteed mushrooms of your choice
400 g flat rice noodles, cooked
1 x 14 oz pack of extra firm tofu, drained, dried, cubed and sautéed
Bean sprouts
Fresh cilantro, mint, and/or basil, chopped
Raw cashews, chopped (optional)
Lime wedge
Directions:
Place all the laksa paste ingredients into a food processor with the exception of the dry spices and the oil, and pulse into a paste. Heat up the oil in a medium saute pan, and add the paste. Saute for 10-12 minutes on low heat while stirring regularly. Add in the dry spices and saute for another 3-5 minutes.
Add the vegetable broth to the laksa paste along with the green leftover parts of the lemongrass, bring to a simmer and cook for about 30-35 minutes. Add in the coconut milk and heat through. Fish out the lemongrass stalk. Taste for seasoning and add more acid/salt/sweetness as needed.
While the broth is simmering, steam your vegetables and cook the noodles according to the package direction.
Add your steamed vegetables to the broth and let them cook in the broth for about 5 minutes until well integrated.

In large serving bowl, add the cooked noodles, ladle in the broth with the vegetables, and top with sautéed tofu, fresh herbs, optional cashews, and a squeeze of lime.