Have you ever made a dish that was so good, thinking "I am going to make this weekly from now on?"
Well, that's what happened after I made these taquitos this past weekend for Cinco de Mayo. Deliciously crispy on the outside, when biting into these taquitos you get an explosion of flavors that are perfectly paired with the lightly spicy chipotle crema and creamy, citrusy guacamole toppings.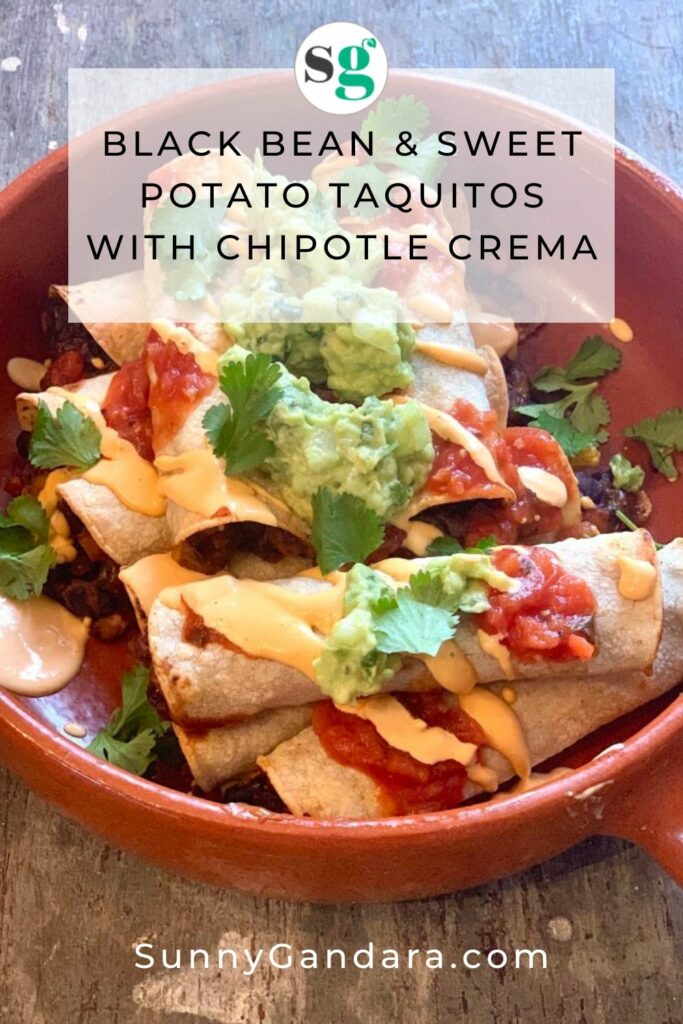 Being married to a Mexican chef has its advantages; I have learned how to create authentic flavors and dishes that bring a smile to my face. Simple food that reminds me of when I traveled around Mexico many years ago and tasted a homemade tortilla for the first time. There are few things that delight me as much as Mexican cuisine.
This recipe is a guaranteed crowd-pleaser and one that you too, will want to make again and again. Nobody is going to miss the meat in these because the chipotle adds a nice smoky, umami flavor that is almost reminiscent of bacon. Coupled with the sweetness of the sweet potato, it's a sure winner and you can use this filling recipe for burritos, tacos, empanadas, and Mexican casseroles. It's my go-to recipe for pretty much anything Mexican!
You will have bean mixture leftover unless you decide to increase the amount of tortillas in the recipe, which I absolutely recommend – because these will fly off the plate! Otherwise, you can save the bean filling for a quick taco snack for the next day or two – nothing wrong with that, right?
Make sure you use corn tortillas, and not flour – and don't crowd them on the sheet tray, but allow some space in between each to ensure that irresistible crunchy texture on the outside.  
Serve these up with a margarita or two on the rocks, and you've got yourself a party!
BLACK BEAN AND SWEET POTATO TAQUITOS WITH CHIPOTLE CREMA
2 tbsp Vegetable oil
1 medium sweet potato, peeled and diced small
3 large garlic cloves, roughly chopped
2 tsp coriander seeds, toasted and ground
2 tsp cumin seeds, toasted and ground
1 small sweet onion, chopped fine
1 chipotle in adobo sauce, finely chopped plus 2 tsp adobo sauce
2 x 15 oz (425g) cans of organic black beans
Juice of 1 lime
1 large handful fresh cilantro, chopped
Vegan cheddar cheese or Mexican blend (I used Violife cheddar shreds)
10-12 corn tortillas
Vegetable oil for brushing tortillas
To make filling for taquitos:
Preheat the oven to 400 degrees Fahrenheit (200 degrees Celsius). Lightly grease a baking sheet and set aside.
 In a medium to large saucepot, heat up the oil over medium heat, then add in the sweet potatoes with a pinch of salt. Saute for 4-5 minutes until the sweet potatoes are starting to soften.  Scoop them out and place on a plate and set aside while you make the beans.
Wipe out the pan and add the remaining 2 tbsp of oil over medium-low heat and add in the garlic. Toast for about a minute until lightly golden, then add in coriander and cumin seeds and toast while stirring for another 30 seconds until fragrant.
Add in the onions with a pinch of kosher salt, and saute for another 4-5 minutes. Throw in the black beans with its juices (this is my secret to making really flavorful and creamy black beans), followed by the reserved sweet potatoes, and let cook to blend the flavors, for about 20-25 minutes. Stir occasionally. Finish the filling by adding the lime juice and coriander, adjust seasoning as needed.
If you have a gas stove, take the tortillas and lightly heat them up over the open flame on both sides so they become a bit more pliable (they should not be charred). If not, you can heat the tortillas up in the preheated oven for a minute or two.

Place about a quarter cup of the black bean filling in the middle, top with a little cheese, and tighly roll the tortilla up like cigar and place seam down on the prepared baking sheet.  Continue and repeat with the remaining tortillas and brush the tops with a little oil.  
Bake them in the oven for about 20-25 minutes.
Top with Chipotle crema, guacamole, and additional fresh cilantro and serve!
Chipotle Crema
½ cup (125ml) raw cashews, soaked in water for at least 2 hours
1/3 (80ml) cup water
1 small chipotle in adobo sauce
Juice of 1 lemon
2 tbsp nutritional yeast
1 tsp maple syrup
Pinch of sea or kosher salt
Add all ingredients to a high-speed blender and blend until creamy and thick. Place in fridge for 1-2 hours to let crema thicken.
The Best Ever Guacamole
3 large avocados
½ sweet onion, chopped fine
1 jalapeno, minced
1 tomato chopped (optional)
Juice from 1 large lime
1-2 big handfuls of chopped fresh cilantro
Kosher salt to taste
Combine everything in a bowl and mash the avocados with a fork. Taste for seasoning – don't be shy about the amount of lime juice and salt you add, that brings out the flavors in the avocados!