Many Norwegian food fans are very familiar with kransekake, the show- stopping cornucopia-shaped marzipan-like almond cake made for special occasions such as weddings, confirmations, baptisms and Christmas.  Kransekakestenger however, are less known.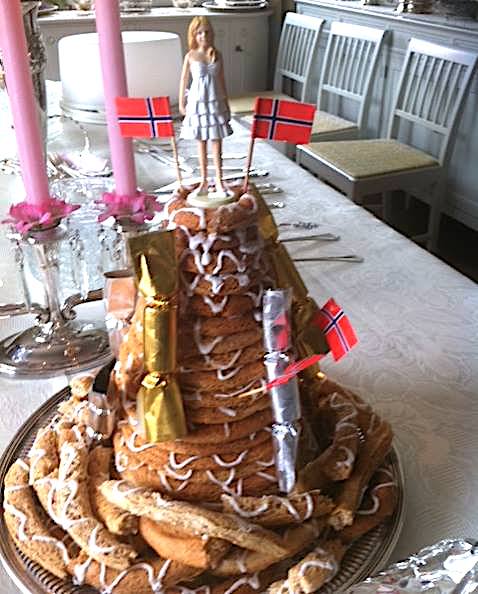 If you don't want to bother with piping the marzipan dough into the circular molds or don't have access to these, you can still experience the same delicious flavor by making "kransekakestenger".   These are just shaped into the shape of dessert bars, and while the traditional glaze on the cake is confectioners' sugar glaze, the bars now are often dipped in chocolate.  Made from just ground up almonds and confectioners sugars bound together by egg whites (the traditional version), these are some of the most popular cookies in Norway today.
When veganizing these cookies I substituted aquafaba for the egg whites, which works wonderfully.  Aquafaba whips up super easily as I've written about in my previous blog posts, and acts even better than egg whites, plus you don't run the risk of salmonella poisoning.  
In modern homes in Norway today, you will find very few making the marzipan-like dough from scratch anymore.  Pre-made dough is sold everywhere and most opt to go that route. I, however, like to make my dough from scratch but there are a few tips I would like to give you to ensure you don't end up with a disaster.  I'm saying this not to scare you, but because this is probably the cookie I've failed at the most times of all things I've ever baked.  But if you know how to make it, it's really not hard – and I wish somebody had told me these 'secrets' the first time around! 

These are my tips for how to make a successful kransekake dough:

1. While the dough technically only has three ingredients (almonds, confectioners sugar and aquafaba), you need to add in a little extra binder such as cornstarch or potato starch.  This ensures that the dough sticks together and achieves the right height and thickness.  Some also add a little glucose, which helps in rolling out the dough and making it chewy, which is the classic texture of these cookies. I find it works fine without the glucose, but I do add in cornstarch. You can also add in flour, but then they will not be gluten free.  If you want to try glucose, add in 2 tablespoons to the recipe.

2.  Grind the almonds with hand machine – not in a food processor! By grinding it by hand, you will keep the necessary oils in the nuts and the ground almonds have a softer texture as well that will ensure the proper texture.  You can get such a grinder here. 

3. Don't add in all the aquafaba at once, you want to avoid have a dough that is too sticky or wet, otherwise the cookies won't be as tall and will often deflate. 

5. Once you have added all the ingredients, heat the dough up to about 150 degrees Fahrenheit (80 degrees Celcius) either in a stand mixer like Kenwood or Kitchen Aid fitted with a dough hook, or if you don't have that, it's easy to warm the mixture in a pot on the stove. Once you feel the dough is warm, remove it from the pot, and add a little more aquafaba if the dough dries up.  The dough is supposed to be smooth and firm, a little firmer than marzipan.   When you heat the dough up like this, it makes the cookies /dough last longer as well as much easier to work. 
4. Be sure to rest the dough in the fridge wrapped in cling wrap overnight or at least several hours before rolling it out.  This ensures a much better taste. 
5.  When baking the cookies, 4-5 minutes on 400 degrees Fahrenheit (200 C) is more than enough – they may not look ready but believe me, if you fall for the temptation to bake them longer they will deflate into sloppy mess in seconds!
Ok, hopefully you don't feel defeated after reading my list!  Kransekaker are well worth making whether you choose to make it into a cake or bars.  Equally popular in both Norway and Denmark, they are a true sign of any festive season and embodies the flavors of Scandinavia!

**********************************************
KRANSEKAKESTENGER  (vegan)

1.1 lbs or 5 cups (500 grams) almonds, ground up by hand
1.1 lbs or  5 cups (500 grams) confectioner's sugar
12 tbsp or 3/4 cup aquafaba (chickpea liquid from a can)
1/4 tsp cream of tartar
1 tsp vanilla extract
2-3 tbsp cornstarch
1 1/2 cups (3.5 dl) dark, vegan chocolate (optional)

Using a hand grinder, grind up the almonds and place in a bowl.
In a stand mixer fitted with a whisk, whip the aquafaba with the cream of tartar for 5 minutes on high. After 5 minutes, slowly add in the confectioners sugar and vanilla extract and whip for another 4-5 minutes until thick and the aquafaba has stiff peaks.  Switch to a dough hook and fold in the ground up almonds.  Knead dough until warm (about 160F/80C), remove and wrap in plastic wrap and place in fridge overnight.

Alternatively if you don't have a stand mixer, you can use a hand mixer to whip the aquafaba and follow the instructions above: Whip for 5 minutes first with the cream of tartar, then add in confectioners sugar and vanilla extract and whip for another 5 minutes.  Then transfer the aquafaba whip to a bowl and add in the almonds.  Transfer to a pot and place on stove over  low-medium heat and once you feel the dough is warm, quickly remove from stove top and wrap in plastic wrap and place in fridge.

When ready to make the cookies,  preheat oven to 400 degrees Fahrenheit (200 degrees Celcius).

On a clean work surface sprinkled with a little flour (or use gluten free flour if you want to keep them gluten free), roll out the dough in to thick links, about 2 cm (3/4 inch) high and cut them into the length you want.  I typically cut them into 4-5 inches (10-12cm).  

Place the bars onto a parchment or silpat clad baking sheet and bake each tray in the middle of the oven for 4-5 minutes.  Remove from oven and place on a cooling rack. 

Optional:  In a double boiler,  place dark vegan chocolate and melt.  Once cookies are cooled, dip each end  in chocolate and let cookies rest on rack until chocolate is firmed up. 

Keeps in an airtight container for 7-10 days.