A
s a typical bread-loving Norwegian, it can be difficult to live in a country that is protein obsessed and deathly afraid of carbs. But it didn't stop me from making today's recipe of whole grain, multi-seeded loaves of bread.
I think I've shared my first experience arriving in the U.S. seeing all the plastic-wrapped breads sitting on the shelves for weeks, thinking, "how is this possible? Why doesn't the bread go bad?" Yes, I know—I was pretty naive. Then I picked up a slice, only to discover that it was mostly air, and I was able to squeeze it in the palm of my hand and shape it into a size smaller than a ping pong ball. I knew then, that this was not something I particularly wanted to put in my body.
This is when I became slightly obsessed with baking my own bread, buying specialty flours online, and seeking out health food stores that would have the kind of darker, whole wheat and grain types we use back home.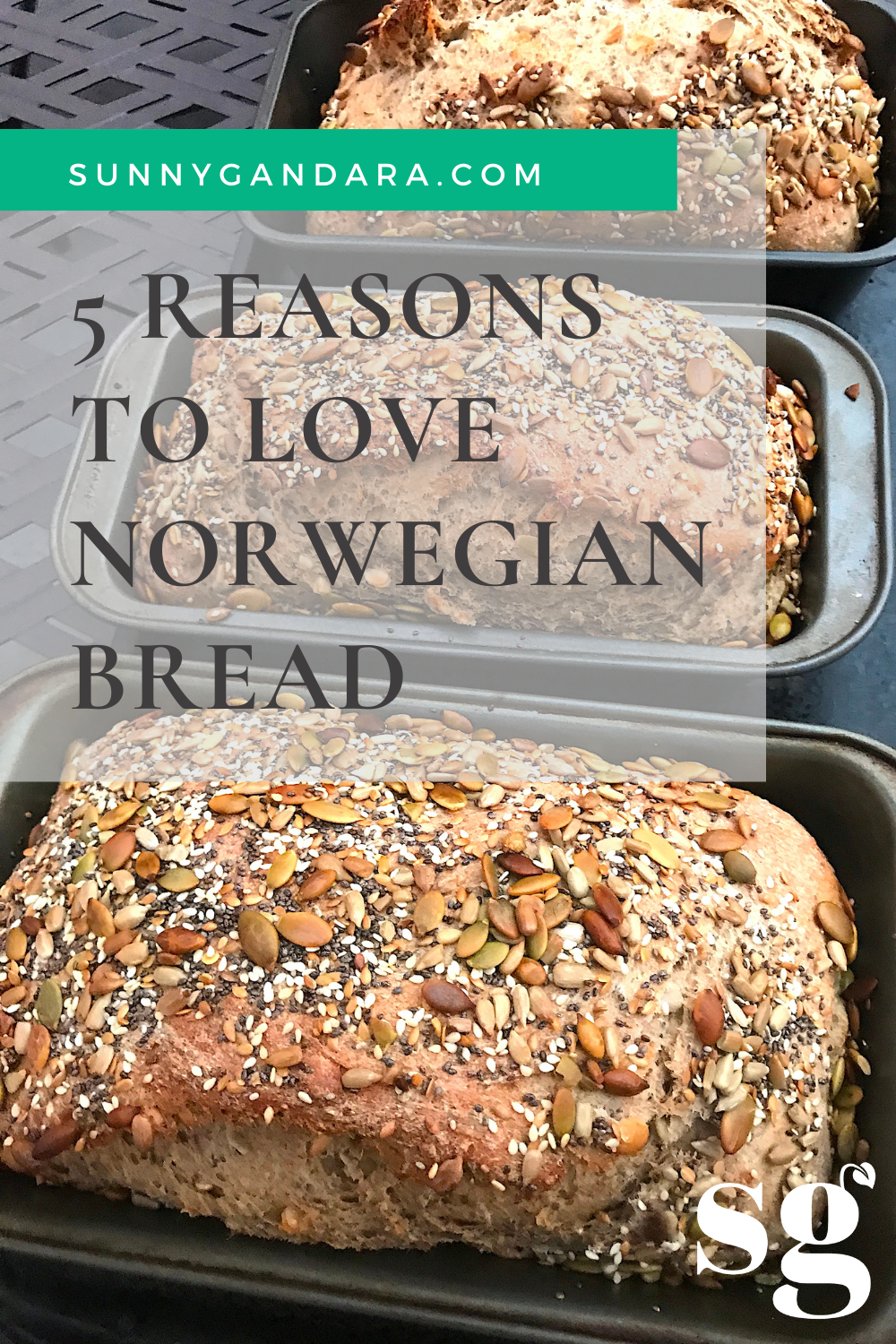 Why eat Norwegian style bread, you ask? Here are a few reasons:
Whole grains and seeds contain lots of nutrients and fiber, the latter helping you to stay fuller longer, causing you to eat less
 It will help lower your cholesterol
Stabilizes your blood sugar levels, helping you stay more energetic throughout the day
Contributes to good digestion and gut health
Can help prevent diseases like cancer, diabetes and cardiovascular disease
A bonus reason is that as opposed to white bread, whole grains and seeds contain tons of vitamins, minerals, and antioxidants that help keep your body healthy. Why not opt for both healthy AND delicious if you're going to eat? Norwegian bread is the way to go!
I am a believer in using quality grains and flours when making bread, cookies, pastries, and cakes. I use organic products from smaller producers whenever I can, and wholeheartedly believe that if everyone would do the same, we would see fewer people intolerant of gluten and grains, and less obesity.
Yes, that's right. There has never been as much obesity in the world since the widespread popularity of the Atkins Diet, where red meat, bacon, eggs, and cheese were touted as "health food" and food to eat if you wanted to slim down, whereas bread, pasta, and rice were looked upon as the devil himself.
Come to think of it, growing up in Norway, we ate bread for breakfast, lunch, and "kveldsmat" (a late-night meal after dinner, because Norwegians eat dinner super early, around 5 pm), and I never really saw any overweight people around. Food for thought, literally.
If you're new to my blog, you might want to read my previous blog post about bread from my home region of Sunnmøre, which goes into more history and detail about breadmaking in Norway and includes another recipe for bread.
I don't think I'm exaggerating when I say there are MILLIONS of recipes for homemade bread in Norway, we just love bread that much. The best thing about making your own bread is that you know exactly what is in it, there are no fake additives and preservatives that may wreak havoc on your body, and of course: it tastes ten times better than any store-bought version you will find! That is if you follow my recipe of course! 🙂
This bread is made in two stages. You'll combine the ingredients in the first batch as listed below, then wait a few hours before you add the ingredients from the second batch. Trust me, the bread will be well worth your efforts! You can also double the recipe to make six loaves and freeze them so you have for weeks to come (or if you're as big of a bread lover as I am, only for two weeks, hahaha).
Happy baking and please comment if you do try it out or if you have any questions! You can also stop by my FB page, Arctic Grub, and join in on the discussion about Norway and Norwegian food there!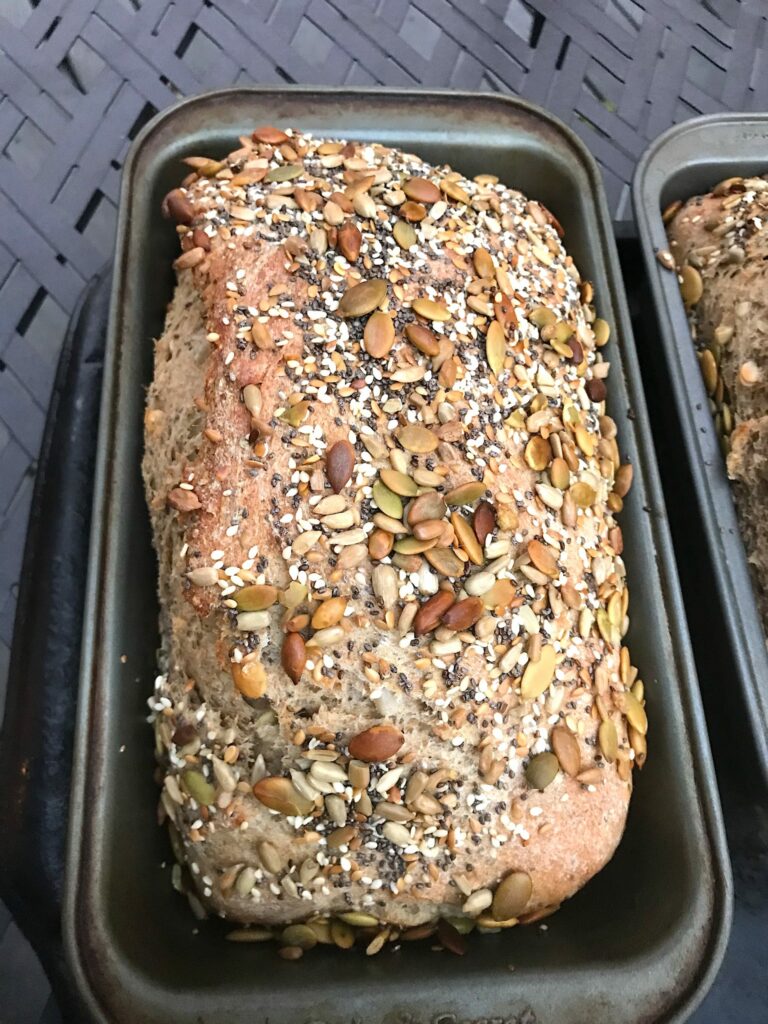 MULTI-SEED, WHOLE GRAIN NORWEGIAN BREAD
Makes 3 loaves
1st batch:
a heaping 1/2 cup (75 g) wheat bran
a heaping 1/2 cup (75 g) chia seeds
a heaping 1/2 cup (75 g) sunflower seeds
a heaping 1/2 cup (75 g) pumpkin seeds
1 cup (100 g) organic old-fashioned oats
1 cup (200 g) organic whole wheat flour
1 cup (200 g) organic dark rye flour
4 cups (900 mL) cold water
2nd batch:
1 cup (200 mL) water
2 tbsp maple syrup or light syrup
2 tbsp sea salt
1 packet dry yeast or 50 grams fresh yeast
5-6 cups organic all-purpose flour
Directions:
Combine all the ingredients from batch #1 in the bowl of a stand mixer (or a large bowl) and cover with plastic wrap or a clean towel. Let sit for at least 2 1/2 hours at room temp, or overnight if you can. This will expand the seeds and make them chewy, which will help bind them to the dough.
After the mixture from batch #1 has been sitting for several hours or overnight, add in the ingredients from batch #2, perhaps holding back a bit of the flour. Fit the dough hook of the stand mixer on and mix for 5 minutes at low speed, then increase to high speed and knead the dough for another 5 minutes. Add more flour if necessary, until you get a smooth, elastic dough.
Let the dough rest for another 2 hours. Prepare three loaf pans by greasing them lightly with oil. Then pour the dough onto a clean work surface, divide it into three equal pieces.  Fit the pieces into each loaf pan (if you don't have loaf pans you can also free bake them by shaping the pieces into loaves and placing them onto a baking sheet).
Cover the loaves with a clean towel, and let rest for another 45 minutes at room temp. Meanwhile,  heat your oven to 440° Fahrenheit (220° Celcius).
Brush the top of the loaves with a little water, and sprinkle additional chia, sunflower, and pumpkin seeds on top. Bake for about 30-35 minutes or so until the bottom is hard and make a hollow noise when you tap them.
Cool for about an hour (if you can wait) before slicing into it. Serve with vegan butter and a cup of coffee or tea!