I absolutely love this time of year, when nature gets a chance to really show off, producing a bounty of colorful, beautiful produce with fresh, explosive flavors. Having been a chef now for well over 12 years, my taste buds really started awakening about 6 years ago when I gave up meat, fish, eggs, and dairy. It also forced me to not think of vegetables as a 'side dish' or afterthought, but thinking up creative ways to turn them into exciting meals that would please meat and vegetable lovers alike.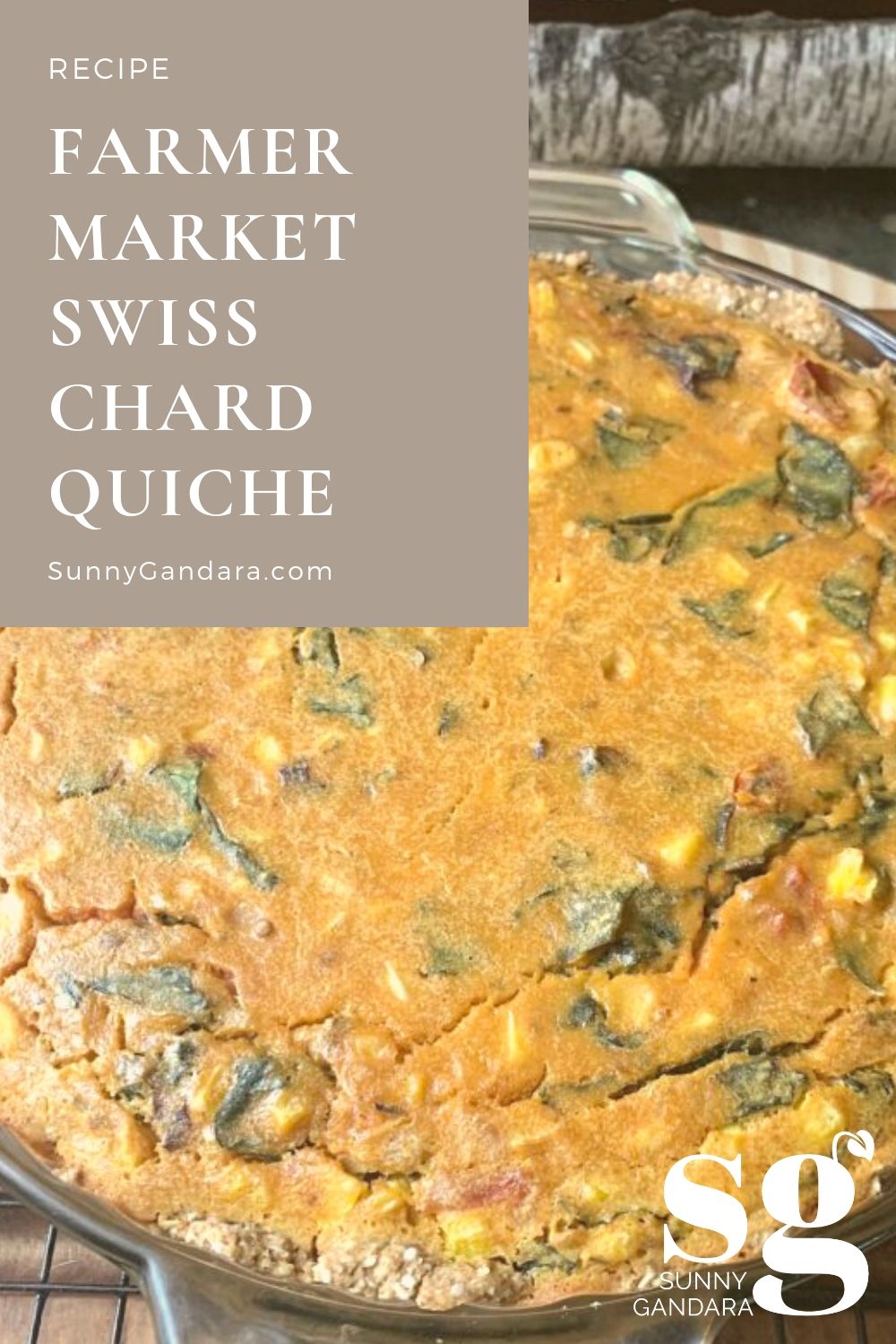 Each year we join a CSA (Community Supported Agriculture) where we get to pick up a weekly basket of freshly picked produce from a local farm. This is a great way to support your local farmer by pre-paying a certain sum at the beginning of the season, and then pick up your vegetables and herbs weekly (sometimes flowers and fruit too). It's my favorite day of the week and one where I get to think up new recipes and share them with you all. I feel so much more connected to nature and where my food comes from this way. This week I noticed I had an abundance of rainbow Swiss chard, some leftover from last week and a brand new bunch from this week.
A small serving of cooked Swiss chard covers your daily need for vitamins A and K and nearly fulfills the recommended daily intake for vitamin C. Additionally, Swiss chard is a good source of calcium, magnesium, copper, zinc, sodium, phosphorus, and vitamin E. Packed with antioxidants, it's a great food to eat to help prevent diseases and reduce inflammation. Low in calories, it's also a great addition to your diet if you're trying to lose weight. Plus it's so pretty to look at!
There are so many different ways you can prepare Swiss hard. Sauté it with a little garlic and olive oil and add some lentils or beans, add it to soups, stews, and casseroles, add a little sautéd chard to spaghetti topped with some homemade bread crumbs and vegan parmesan cheese for a hearty, simple peasant dish…the list goes on. Swiss chard acts similarly to spinach in that it wilts down to a much smaller amount, so don't be afraid to add a whole bunch to a dish.
Yesterday my friend came over to help me babysit my canine daughter, Tofu, while I went to the vet with my other baby, Nacho, so I decided to make her a nice lunch. I love a good tart or quiche in the afternoon that is brimming with seasonal vegetables. I landed on a Swiss chard quiche, filled with summer corn and tomatoes and even a little kohlrabi. All the produce I either got from my CSA share or picked up at my local farmer market. There is something magical about a dish that is put together with local, organic ingredients. The best way to describe it is… well, you're going to have to make this quiche and find out for yourself!
For those of you who are not fond of, or can't eat soy—I decided to make the quiche with chickpea flour instead of tofu. In fact, I actually prefer it, as it creates a great texture and flavor that is even better than the ones I remember made with eggs. The key here is to flavor the chickpea mixture—I like to add veg broth instead of plain water, and I add some spices and nutritional yeast for a 'cheesy' flavor.
The crust is super easy to make, and I chose to make it with whole wheat flour, oats, and sesame seeds. You can sub a gluten-free flour if you want—I do like the oats in it and a bit of seeds for extra texture and crunch.
Making omelets, frittatas, and quiches with chickpea flour does not have to be difficult. There are a few tips I'd like to share though to prevent it from scrambling or sticking:
1. Use a heavy-duty pan, such as a cast-iron skillet or a heavy-bottomed nonstick pan.
2. Make sure the skillet is HOT before you add the chickpea flour mixture.
3. Season the skillet with a generous amount of oil beforehand – there is very little fat in the chickpea mixture so oil or vegan butter needs to be added to prevent it from sticking.
4. If making an omelet, once you pour the mixture in, DO NOT BE TEMPTED TO TOUCH IT for about 5 minutes, or until the top of the omelet looks to be drying out. Then carefully flip it. Obviously, when making a quiche, you don't have to worry about this, as you'll just put it in the oven.
Chickpea flour, also known as garbanzo flour, gram, chana, or besan, is a great egg replacer. Generally for recipes that call for eggs, simply replace one egg with 1/4 cup chickpea flour and 1/4 cup of water or non-dairy milk.
I hope you will try out this quiche – it got the thumbs up from both my friend and my hubby who tasted it later. Serve it with a nice green salad, and a cool glass of rosé for a perfect summer meal!
FARMER MARKET SWISS CHARD QUICHE
Crust:
1/2 cup (1.2 dl) rolled gluten-free oats
1/4 cup or 4 tbsp sesame seeds
1 cup (2.4 dl) whole wheat flour
1/2 teaspoon baking powder
1 teaspoon salt
1/2 teaspoon black pepper
1/2 teaspoon sweet paprika
1/2 teaspoon dried oregano
1/3 cup (80 mL) unsweetened non-dairy milk
1/3 cup (80 mL) extra virgin olive oil
Chickpea Flour Mixture:
1 1/2 cups (3.5 dl) chickpea flour/gram flour
1 tsp kosher or sea salt
1 tablespoon garlic powder
1/2 tsp ground cumin
1/2 tsp ground coriander
1 tsp smoked paprika
2 heaping tablespoons nutritional yeast
2 cups (4.75 dl) vegetable broth
2 tablespoons olive oil
Filling:
5 tablespoons extra virgin olive oil, divided
1 medium Vidalia onion, finely diced
1/4 teaspoon hot red pepper flakes
1 red bell pepper, diced
1 small kohlrabi, diced
4 cloves garlic, minced
1 cup (2.4 dl)  fresh corn kernels
1 large bunch Swiss chard, stemmed and finely chopped
1 tsp fresh thyme leaves, chopped
1 teaspoon ground cumin
1 teaspoon ground coriander
1 teaspoon salt
1 tbsp apple cider vinegar
1 tbsp fresh lemon juice
10-12 fresh basil leaves
Heat the oven to 350° Fahrenheit (180° Celsius). Grease a 9-inch pie pan and set aside.
Toast the oats and sesame seeds on a baking sheet for 7-8 minutes. Add the toasted oats and seeds into a food processor along with the flour, baking powder, salt, pepper, paprika, and oregano, until the mixture is finely ground. Transfer to a large bowl.
In a separate bowl, whisk together the non-dairy milk and olive oil.  Pour the liquid slowly into the dry ingredients, little by little until you get the consistency you want (you may need to hold back a little of the liquid to prevent it from getting too wet).
Carefully press the dough into the pan to fill the bottom and all the way up the sides.
To make chickpea flour mixture, combine the chickpea flour, salt, garlic powder, ground cumin, coriander, smoked paprika, and nutritional yeast in a medium bowl. Slowly whisk in the veg broth, making sure there are no lumps. Add in the oil and whisk to combine. Set aside while you make the filling.
To make the filling, heat 2 tablespoons of the oil on medium-high heat in a large cast-iron skillet. Add the onions and pepper flakes and sauté for 4-5 minutes. Add the garlic, red bell pepper and kohlrabi, and sauté for another 3-4 minutes. Add the corn, chard, thyme, cumin, coriander, apple cider vinegar, lemon juice, and salt and cook for another couple of minutes until the chard has wilted and everything is combined.
Add the filling to the chickpea flour mixture and carefully mix to combine.
Pour the mixture into the prepared pie pan.
Place in preheated oven and bake for 45-50 minutes until firm and a cake tester comes out clean. Cool slightly before slicing and serving.