If you're looking for something incredibly tasty to make this week that truly embodies the summery season, look no further. Yesterday I made this creamy corn soup for Sunday supper and it was beyond anything I ever hoped for.
The sweetness of the corn paired with a little heat from the poblano peppers and jalapeños I added was just perfect. By sprinkling in some tortilla chips at the end, it provided that welcome contrast of some crunch. Of course, I had to add some vegan cheddar cheese to just take it over the top. 
Who knew soup could be so life-changing?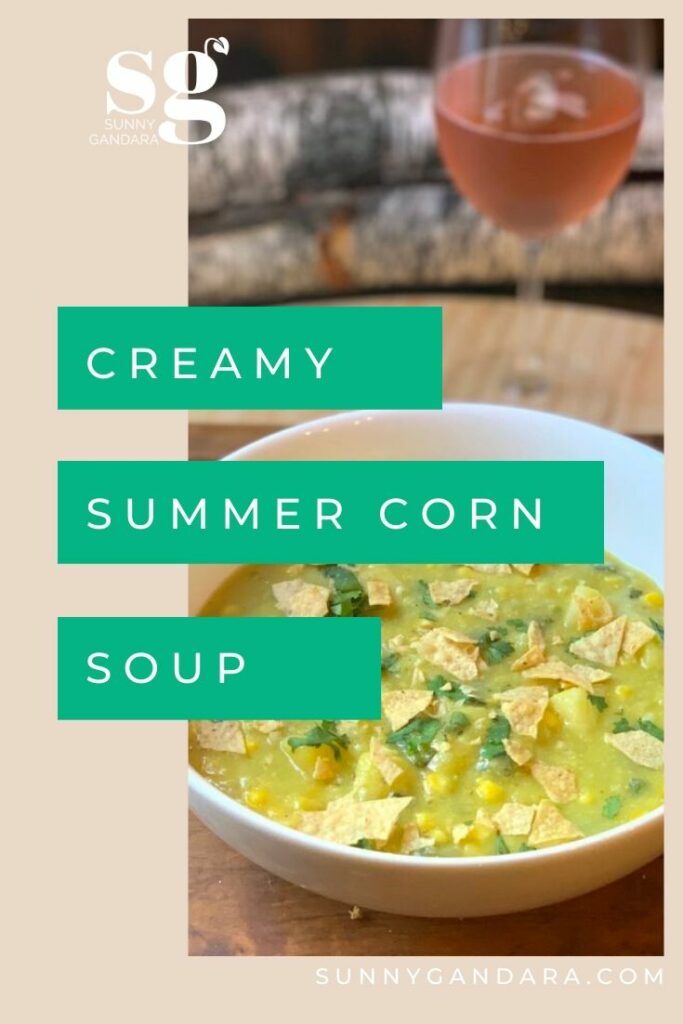 This is really an incredibly easy soup to make that makes use of every part of the corn on the cob. After you chuck the corn, don't you dare throw away the cobs!
Rather, make a delicious, sweet stock from it by placing the cobs in a pot with some water, a bay leaf and chopped-up scallions, or whatever else you want to add. I used some of the stock to thin out the soup, and I'll freeze the rest for future use in soups, stews, and as a replacement for oil in sautéd dishes.
There is nothing "bad" in this soup with the exception of perhaps a little cheese. It's healthy and brimming with fresh vegetables, yet hearty and decadent enough to serve as a satisfying main course. 
I made a green salad to start with a side of homemade flatbread smeared with some garlic scape pesto, and it was a true, summery feast. The beauty of this season is we get to enjoy so many different colors, textures, and flavors from the bounty of produce nature gives us in the summer.
I encourage you to get creative and think of different ways you can use the fruits and vegetables you buy at the market or pick up from your weekly CSA this summer.  If you need some advice, suggestions, or help with preparing dishes that will please both you and your family members (plant-based or not), I'm happy to help!
Take a cooking class with me and check out the other ways you can work with me, whether you're an individual or a group.  I also have exciting ebooks to help you get started on more creative, delicious, and fun cooking!
Let me know if you decide to try out my summer corn soup and tag me if you do – I always love hearing from you!
By the way, this recipe was inspired by José Andres' new book Vegetables Unleashed – definitely worth checking out!
CREAMY SUMMER CORN SOUP
2 tbsp extra virgin olive oil
2 medium Yukon gold potatoes, peeled and diced into 1-inch chunks
1 medium Vidalia (sweet) onion, finely chopped
1 small jalapeño pepper, minced
2 poblano peppers, finely chopped
2 large garlic cloves, minced
4 large ears of corn, chucked (Save cobs!)
1 cup non-dairy milk
1 cup corn stock*
*Corn Stock:
4 Corn cobs
1 bay leaf
A handful of scallions, herbs, or leftover onions, roughly chopped
Water
To finish soup:
1/2 cup vegan cheddar cheese (I used Violife)
handful of fresh, chopped cilantro
Tortilla chips
Start by making the corn stock. Add the leftover corn cobs to a large pot filled with water, along with the bay leaf and other vegetables you have, bring to a boil, and reduce to a simmer. Cook for about 30 minutes to an hour.
Add the potatoes to a small pot of salted water and cook until almost done about 8-10 minutes. Drain and set aside.
Heat up the oil in a medium, heavy-duty saucepan, add onion, and sauté for 3-4 minutes. Add in the jalapeño and poblano peppers, half the chucked, par-boiled potatoes, and the garlic and sauté for another 3-4 minutes.
Add the remaining half of the corn to either a food processor or blender with a little bit of the corn stock and purée until smooth.
Pour the corn purée, the milk, and corn stock into the sautéd vegetable mix and simmer for about 20 minutes or so until the soup starts to thicken.
Place a handful of cheddar in the bottom of each bowl and ladle some corn soup over it. 
Serve sprinkled with chopped cilantro and broken-up tortilla chips.
I personally would love a fruit-forward sparkling wine with this soup!