Autumn has finally arrived! One of the best things about this time of year is the smell of sweet cinnamon everywhere. So naturally I had to think of a fitting recipe for my favorite time of the year.
My husband is not really fond of sweets or a ton of baked goods, but one thing he is obsessed about is cider donuts. The local market we go shopping for groceries has this stand outside where they make fresh cider donuts to order daily, but of course they are not vegan. So I was determined to re-create these delightful, fluffy donuts that are crispy on the outside and doughy and soft on the inside, and rolled in a delightful sugar- cinnamon mixture.
I'm so happy to report this surpassed both my and my husband's taste test and expectations and is truly a fantastic treat for the fall season!
Since I live in New York, incorporating apples in my recipes seems only fitting. Only Washington state produces more apples than New York. In the Hudson Valley where I live, there is a plethora of orchards, cider makers and places to go where you can go apple picking, and you find all kinds of "appley" products like pies, chutneys, jams in addition of course to a bunch of different heirloom apples for purchase.
As a wine geek, I have been getting into ciders lately and I recently tasted a fantastic cider from a woman-owned and run cidery in Vermont. Stay tuned for that post coming shortly.
I call these donuts "Norvegan" because they have a touch of cardamom in addition to cinnamon and nutmeg, and I decided use the same dough as in my famous cardamom buns, because it's simply the best dough for so many different baked creations. You can check out my cardamom bun recipe here.
The only thing I do differently from the base recipe is I halve the amount of milk and add in boiled down cider to make up for the other half. To get 120 ml (½ cup) of boiled down cider, I start with about 350 ml (1 ½ cup) and boil it for about 10-15 minutes until it reduces to ½ cup. This concentrates the 'appley' flavor – after all, this is cider donuts!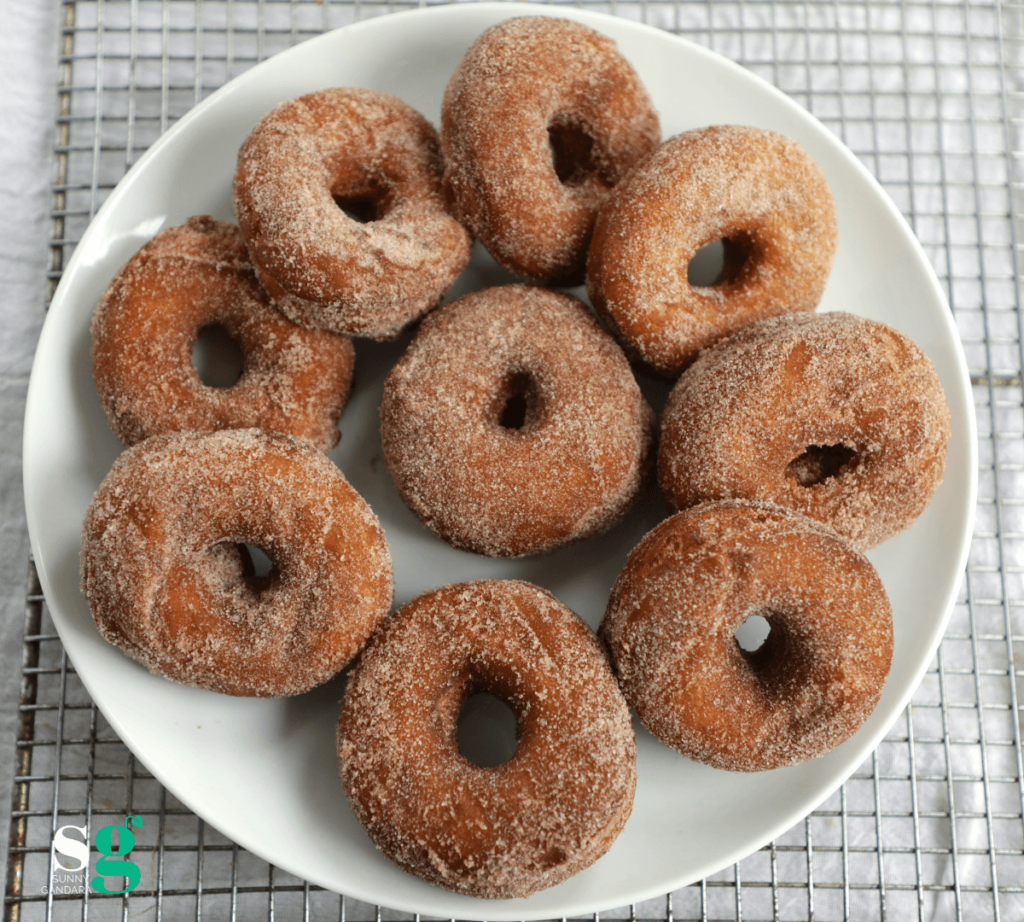 Also, no need to add the Just Eggs (which is a plant-based liquid substitute for eggs made out of mung beans and makes fabulous scrambled eggs too by the way), you can add a touch more milk if you feel the batter is dry (but shouldn't be because there is plenty of butter in there).
I used a deep fryer but if you don't have one, you can just use a large, heavy bottomed pan that's that will be able to accommodate at least 3 inches or 8cm of oil and be wide enough to fit 3 donuts at the time. With this option you'll also need a thermometer to place in the oil so you can read the temperature.
Always be careful about hot oil, make sure you place the pot on one of the back burner of the stove, and never just plonk donuts into the oil with your hand but use a long, slotted spoon and place them carefully into the oil!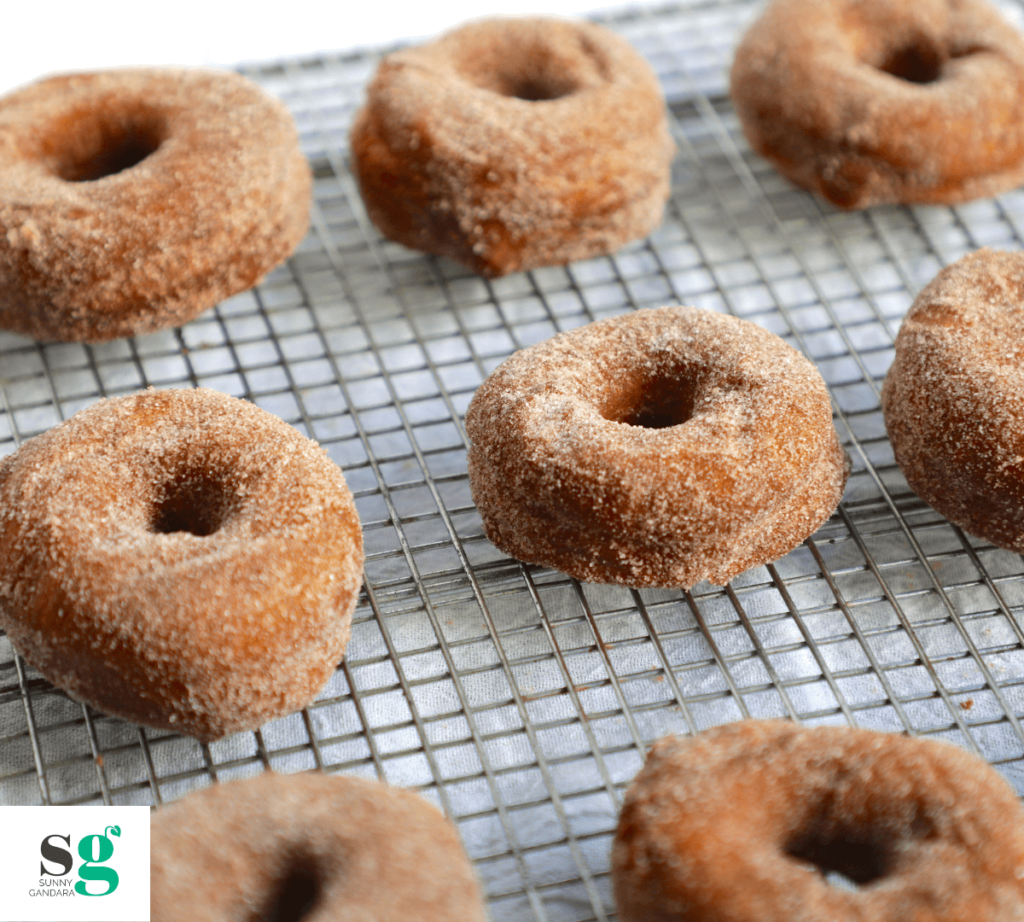 NORVEGAN CIDER DONUTS
Ingredients:

2.25 dl (a scant cup) plant-based milk
2 teaspoons apple cider vinegar
120 ml (½ cup) boiled down apple cider (from 350 ml/1 ½ cups)
1 tablespoon vanilla extract
6 tablespoons Just Eggs* (can be omitted)
100 g (½ cup) organic white sugar
100 g (½ cup) organic light brown sugar
1 teaspoon ground cardamom
2 teaspoons ground cinnamon
½ teaspoon ground nutmeg
½ teaspoon salt
1 packet (2 ¼ tsp) active dry yeast
1/2 teaspoon baking powder
550 grams (4 1/3 cups) all-purpose flour
1 stick (8 tablespoons or 113 grams) vegan butter, diced and cold

Vegetable oil for frying (do not use olive oil, you need oil that can tolerate a high temperature, like vegetable or canola oil)
Sugar/cinnamon coating:

3 tablespoons ground cinnamon
300 grams (1 ½ cup) organic white sugar
Direction:
Add all the ingredients in the bowl of a stand mixer fitted with a dough hook (the milk can be cold from the fridge) except the vegan butter and knead on medium for about 10 minutes. Add in the cold, diced butter gradually and knead for another 10 minutes until you have a smooth dough that releases from the sides of the bowl. Cover with a clean towel or cling wrap and let rest for about 1 hour on top of your counter.
Prepare a pot with vegetable oil or your deep fryer, and set to about 325 degrees Fahrenheit (165 degrees Celsius). Fill it up to 3-4 inches, leaving plenty of space in your fryer/pot.
While the oil is heating up, roll out the dough on a clean surface dusted generously with flour. Using a donut cutter or two rings (the large circle should be about 3 inches ), cut out donuts and place on a prepared baking sheet with parchment paper. You should get about 16-18 donuts from this dough. Test one donut first, submerge in oil and let fry for about 1 ½ minutes on each side until golden brown. Carefully remove with a slotted spoon and coat in the sugar/cinnamon mixture and place on a clean racked baking sheet. Repeat with the remaining donuts, add up to 3 donuts in the oil at a time. Remember the oil will drop in temperature as you add in the donuts so that is why you want to limit the number of donuts you add at once. You might have to play around with the timing of the frying but I found that this temperature is the most gentle. Practice makes perfect!