I've been feeling a big inspiration to dive into ciders lately. Maybe it's because I live in New York state, the second largest apple-producing state in the country, and it seems only fitting that I should learn and drink more from this category.
But maybe it's because I see the many exciting developments and creations happening with cider all around the country and the world, that I feel I would be missing out big time if I don't dive in and learn more about it.
Or.. because I made these delightful cider donuts the other day, basically I'm about all things cider these days, plus it's Cider Week in New York right now!
Are you a beer drinker? Or perhaps fond of sparkling wine like Prosecco and Cava?
Consider cider…I find that many selections are similar to both beer and wine and a great bridge between the two but that is of course a very general statement because there are so many styles available.
Another reason is cider's food pairing abilities… I'll be writing another post about why cider makes such a wonderful partner to plant-based dishes, so stay tuned for that in the coming weeks.
In short: much like wine, there is a cider for everyone, whether you like it bone dry, medium, sweet, sparkling, oak aged and so forth. The styles and options are incredibly varied and will accommodate most tastes, depending on what you like.
What inspired me to write about and taste more ciders was a lunch meeting I had over the summer with the wonderful co-founder and owner of Eden Ciders, Eleanor Legér.
Eden Ciders is a wonderful small, woman-owned and run cidery located in Newport, Vermont. Eleanor runs the cidery with her husband, and I was so inspired to hear her story about how she left her senior position in the corporate world in a completely different industry to follow her interest and passion to make cider.
Eleanor started her cider career by making ice ciders, thinking "how hard could it be?" (Well, it turned out it wasn't exactly easy) … but not only did she eventually nail it – today Eden is in fact particularly famous for their beautiful ice ciders.

In addition to ice ciders Eden offers aperitifs, specialty still ciders that are both dry and sweet as well as bone dry, sparkling ciders. I've spoken to many cider aficionados who only have the most complimentary things to say about this boutique operation and I can see why.
What I love about Eden Ciders besides it being a small family orchard, is their commitment to holistic and regenerative orchard practices and to rare heirloom apple varieties purely destined for cider making. They support small orchards in their surrounding community Their dedication to making cider from a wine point of view is also really fascinating and impressive. As a self-professed wine geek, the latter naturally resonates with me and I was curious to learn more about this Vermont-based cider operation.
In my various lives on social media and in person I frequently speak about my passion for organic and biodynamic wines and producers who are devoted to contributing in a meaningful way to create a harmonious, symbiotic relationship with nature. Instead of fostering the continuous monoculture, we need to create biodiversity and bring back life to vineyards and orchards. There is something extra special about trees, with their complexity and basis for sustaining life on earth, so orchards naturally tug at my heart.
I bought a bottle of Eden's specialty ciders, 'Chinin' at Boutique Wines & Spirits in Fishkill, a local wine shop in the Hudson Valley of NY owned and run by my friends Paige and Gennaro. This sister-brother team have quickly gained a reputation of having one of the biggest cider selections in the country. I believe they are also the only wine shop around that offer ciders on tap. Definitely worth a visit!
Chinin' is appropriately called a "Harvest Cider" and with a name like that I think it's a pretty perfect selection to pick up this time of year. The apples used to make this cider are Golden Russet, Hudson's Golden Gem, Dabinett, Pine Golden, Sweet Coppin, Newtown Pippin, Ashmead's Kernel and Brown Snout.
Don't you just love all the names of these different apples? I've never heard of most of them, which is part of why I find cider so fascinating!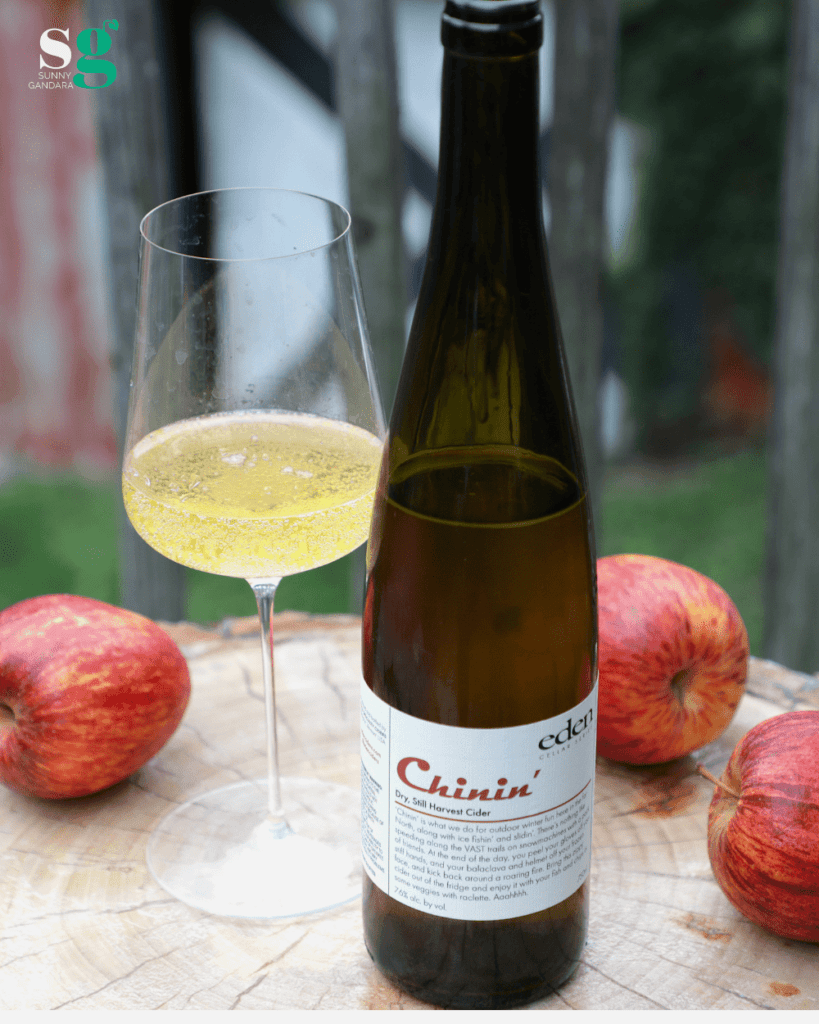 Although I'm not the most advanced or seasoned cider drinker, I always make it a point of tasting as many ciders as I can whenever I get the chance. Plus, I definitely have participated in my share of wine tastings throughout my career, so I'm using some of my skill set to share my thoughts on Chinin' with you..
TASTING NOTE
This is pretty much everything I want in a cider. Bright, pure 'appley' flavor with a slight effervescence (this is a still cider), medium bodied and dry with crisp acidity. Sufficient and well integrated sweetness of fruit to lift the flavor up without being so dry that the apple expression disappears (which often used to happen to many zero dosage champagne and was a reason I wasn't too crazy about them until recently, when weather patterns have naturally ripened the fruit to a more mature level).
This cider really reminds me of a beautiful white wine in many ways. It is very elegant, exhibiting a delicate and beautiful texture with bright flavors of ripe yellow apples and Meyer lemon to a honeyed and slightly yeasty character intermingled with a nice mineral character and balanced acidity. It is very harmonious and gives you plenty of layers to enjoy throughout the glass. Chinin' is of the most impressive ciders I've tasted to date, and clearly made by someone who is passionate about their craft.
Side note: Unfortunately they are sold out of this at the moment at the cidery, but there might still be some kicking around in various outlets.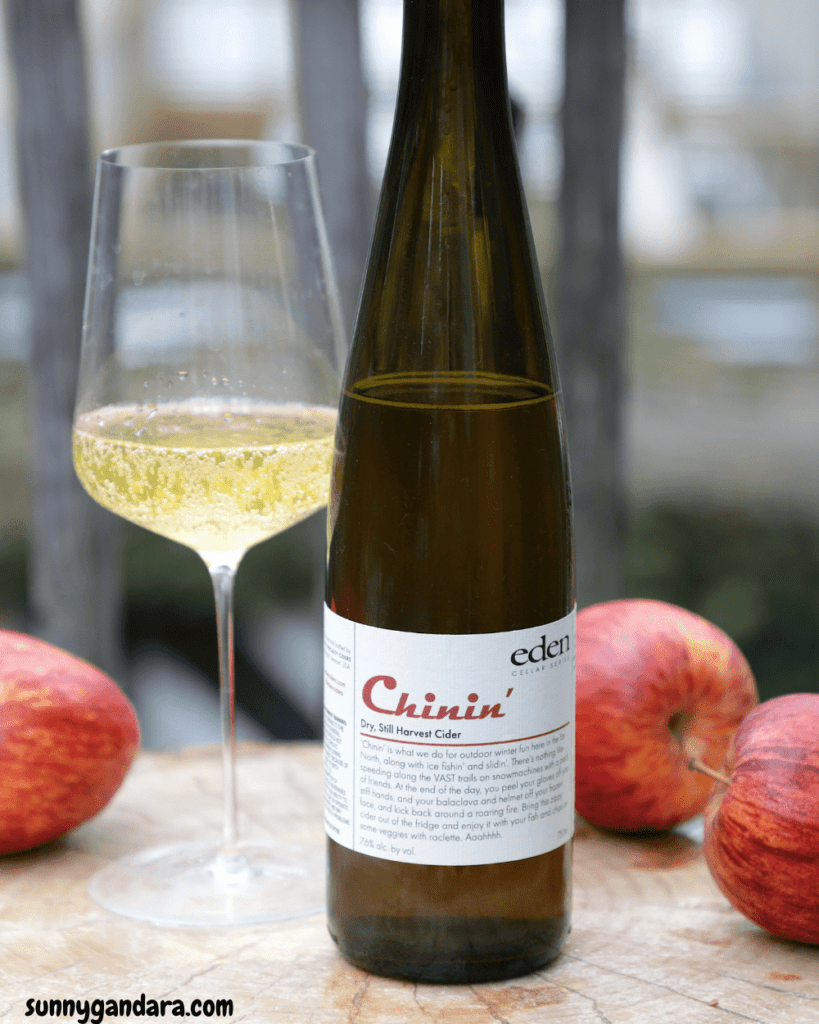 FOOD PAIRING
Just as in the wine industry, when was searching for food pairing suggestions online, the classic (might I add old and tired) animal-based options came up like pork and chicken and only "root vegetables" came up under the myriad of options we have available to us in the plant kingdom. Both industries have a long way to go to realize that they are missing so many incredible flavor experiences by looking beyond the five "protein" sources from animals. But I digress…
I had this cider with a simple but delicious pasta dish with seared Impossible spicy sausage, onions and peppers. I found that the sweetness of the onions and peppers and the spicy kick of the sausages matched well with the sweetness of the fruit. The cider has a sound structure that is capable of standing up to a hearty dish like this. I also de-glazed the pan with some of the cider (always cook with the wine – or cider – you want to drink!) when sautéing the peppers, which added a nice depth to the pasta dish.
I could also see a creamy sauce work well as the bright acidity would help cut through the creaminess or even other slightly spicy foods like some Thai or Mexican dishes. There is also an inherent earthiness to many ciders which I think would pair well with my Moroccan tagine with chickpeas and vegetables. A vegan cheese tray would be fabulous.
Check out Eden's website where you can learn more about this wonderful producer, where you can find their ciders near you and also join one of their cider clubs!
Stay tuned for more posts from me on ciders and this vibrant drink category and be sure to follow my new Instagram account, The Plant Curious Table. I have a lot more to talk about as well as brands to taste… this is a very exciting category and one you should not miss out on!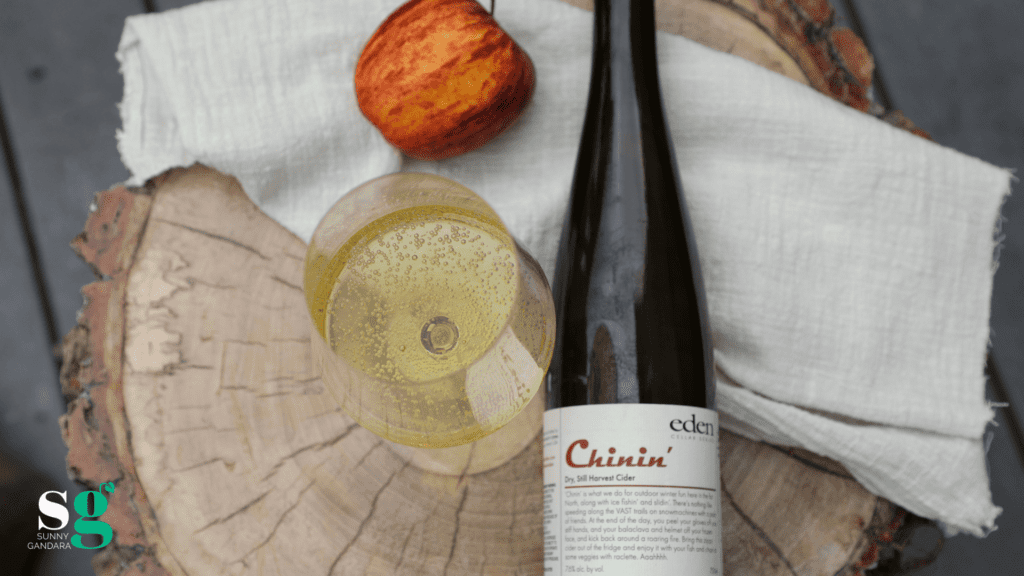 NOTE: This post is not sponsored, all content here has been picked by me because of a personal and authentic interest in the individual brands/wines/ciders/spirits I feature.