I know I'm not alone when I say that champagne is one of my favorite wines to drink, but it is also one of the categories that can be tricky if you're looking for organic and vegan wines. It's estimated that less than 10% of the entire Champagne region farms organically. Only 4% of the champagne estates are certified organic, with 8% of the total Champagne area. Although there is a growing trend of moving towards more sustainable viticulture and more estates signing up to go organic, a lot of work still remains.
I love under-the-radar champagne, and you can rarely find me drink the big Champagne names (nothing against them as they are wonderful too), because there is so much to discover! I love seeking out tiny producers and supporting their work, as there are so many passionate people who are committed to producing quality wines without sacrificing the environment. 
Often called 'grower champagnes', these are also often a much greater value and provide excellent quality. 
There are too many champagnes I love to list them all but I've listed a handful of wines below that I've tasted the past year which I felt stood out. These are all terrific and perfect to toast with on Global Champagne Day or any other day!
Some of my recommendations:
Champagne Doyard Vendémiaire Blanc de Blancs Premier Cru
Fermented and aged in 60% stainless steel, 40% older 288 liter barrels.
Aged for 52 months on the lees.
Doyard practices organic farming (no herbicides or pesticides) and makes wine from intensely concentrated grapes that are selectively pressed and vinified in wood. A richer style champagne that will stand up to heartier dishes. Wonderful structure and spice. 

Although this is their entry level wine, this bottle provides fantastic complexity for the price, something I'm always excited to discover!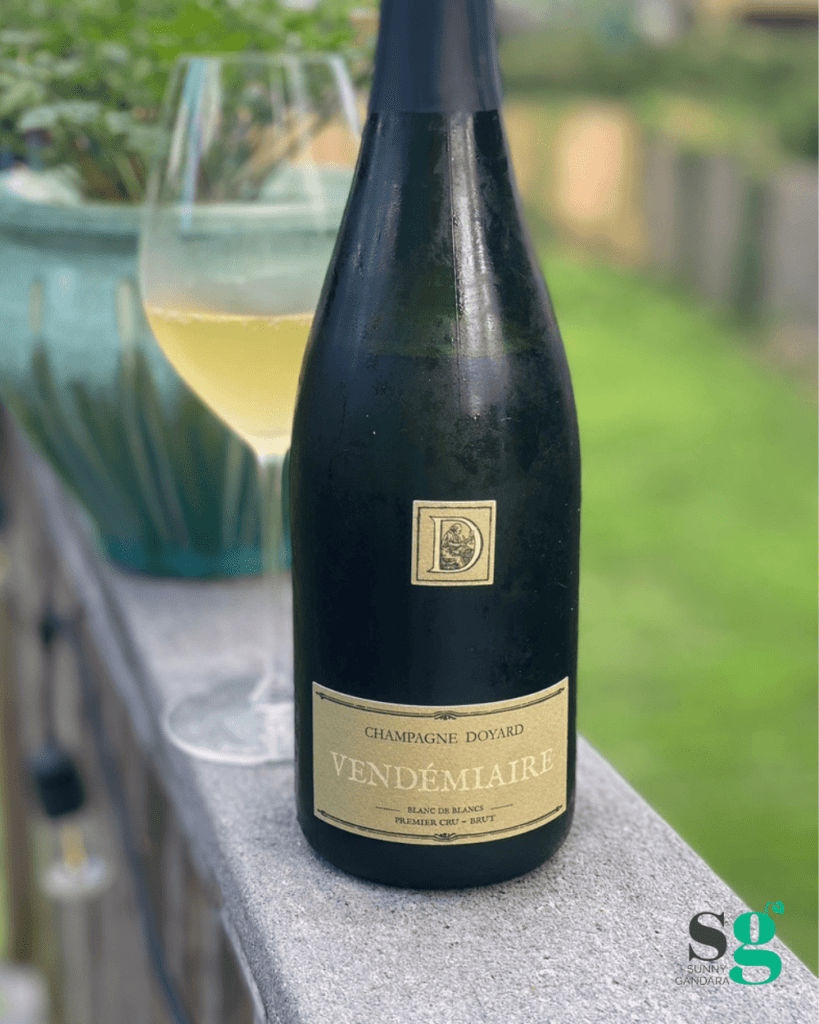 Rémi Leroy Brut Nature Champagne
This natural, artisan champagne hails from the Côte de Bar and is a blend of 65% Pinot Noir, 30% Chardonnay and 5% Meunier. It's vinified in 80% stainless steel and 20% wood and aged for 3 years on its lees. No dosage, but rich and flavorful due to perfectly ripe grapes and aging on the lees.
Rémi farms organically and has a very hands-on approach in the vineyards. He uses green cover ensuring soils are well aerated to promote biodiversity and balance in the vineyards.
He applies indigenous yeast, does not fine or filter the base wines and uses minimal sulfur additions.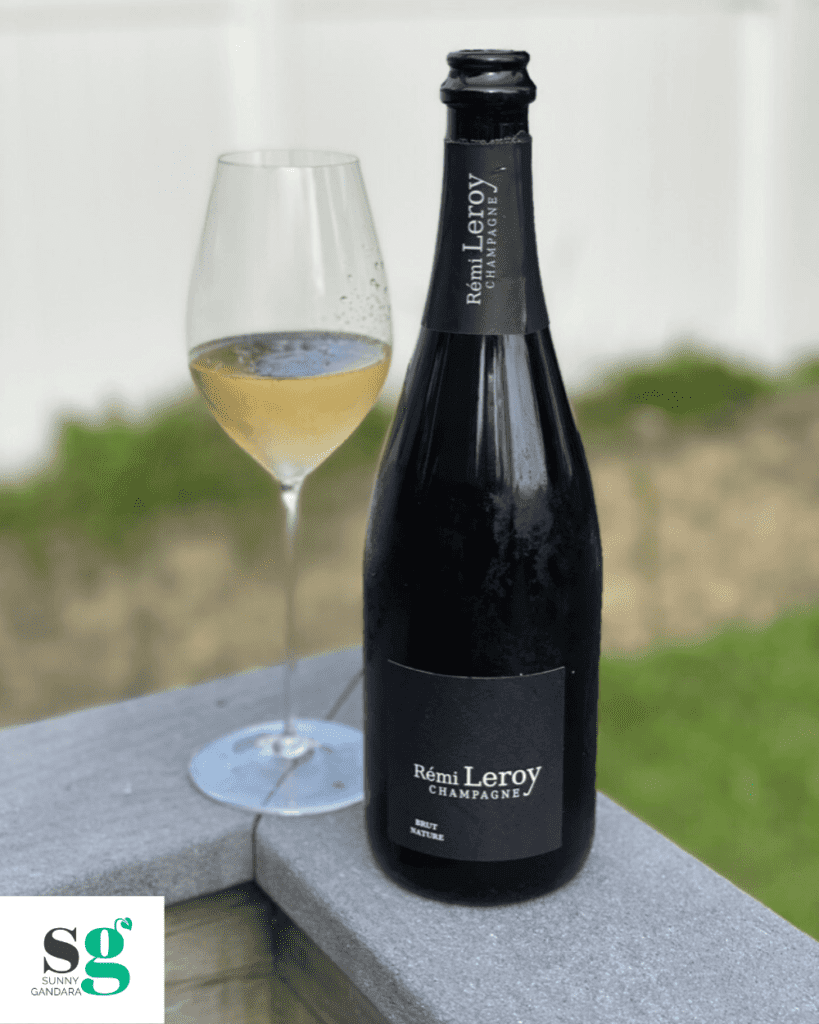 R.H. Coutier Blanc de Blancs Champagne
This gorgeous Champagne is produced from 100% Chardonnay grapes from the Grand Cru village of Ambonnay, which is a rarity as this village is known almost exclusively for its Pinot Noir based wines. A creamy, yet mineral driven wine, this is some superb stuff.
Organic, unfined and unfiltered champagne.
Lelarge Pugeot Nature et non Dosé
Champagne Lelarge-Pugeot is a boutique, organic grower in Montagne de Reims. The Lelarge family has been making wine since 1789 and Champagne since 1930. Today the estate is run by seventh generation husband and wife Dominique Lelarge and Dominique Pugeot and their children. They are strong believers in letting the grapes thrive as naturally as possible in order to express the pure essence of terroir.
They practice biodynamic principles in the vineyard and were certified organic in 2013. This cuvée was made naturally without additives, and half of the wine was fermented in stainless steel and half in three year old French oak barrels. The wine underwent natural malolactic fermentation aged for 1 1/2 years on its lees in bottle. A simply beautiful wine that I still remember vividly and need to purchase more of!
Biodynamic, organically farmed and vegan-friendly. Spontaneously fermented and unfined and unfiltered.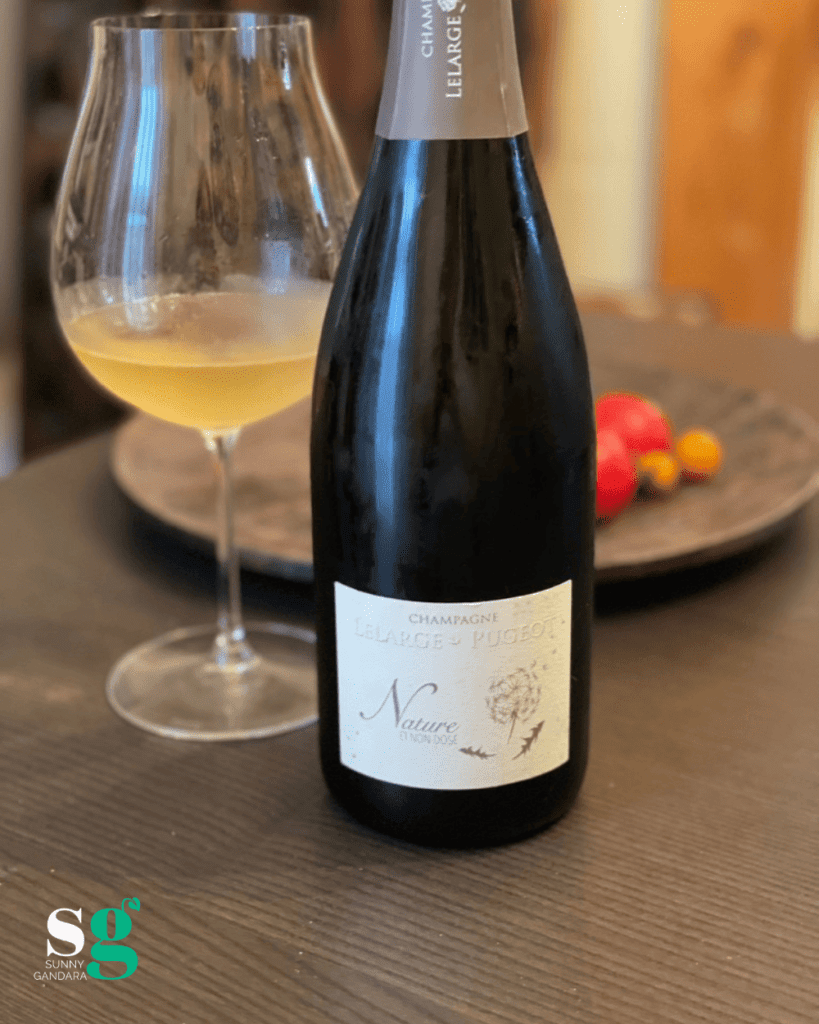 Champagne A.R. Lenoble Intense Mag 15
This 100% family-owned winery produces one of my go-to champagnes that is a blend of 45% Meunier, 40% Pinot Noir and 15% Chardonnay. What gives it an extraordinary elegance is the high percentage of reserve wines (a whopping 45%) with over three years of aging on its lees. 

Beautifully aromatic, fresh and well balanced with a long length, A.R. Lenoble farms organically, and this wine is also vegan!
Champagne Sadi Malot Les Crêtes Blanc de Blancs Premier Cru
Organically farmed from 100% Chardonnay, and crafted from 45+ year old vines, this wine is raised in 600 liter casks and aged for 54 months on the lees prior to disgorgement. Very pure with that fresh minerality I love in quality champagne. Another great value wine!
Champagne Fleury Blanc de Noirs Brut
Biodynamic since 1989, this estate dates back to 1895. Jean-Pierre, who currently runs the vineyard, holds the distinction of being the first biodynamic grower in Champagne, how about that! Jean-Pierre Fleury has done a lot of work to promote more sustainable farming practices that many producers now follow. Fleury is also considered a leader in Pinot Noir-based champagnes.
A Blanc de Noir from Pinot Noir, this is bone-dry, full bodied with all the gorgeous black cherry flavors you'd expect in a 100% Pinot Noir champagne.
Low-intervention, this is a natural, unfined, unfiltered wine which makes it vegan!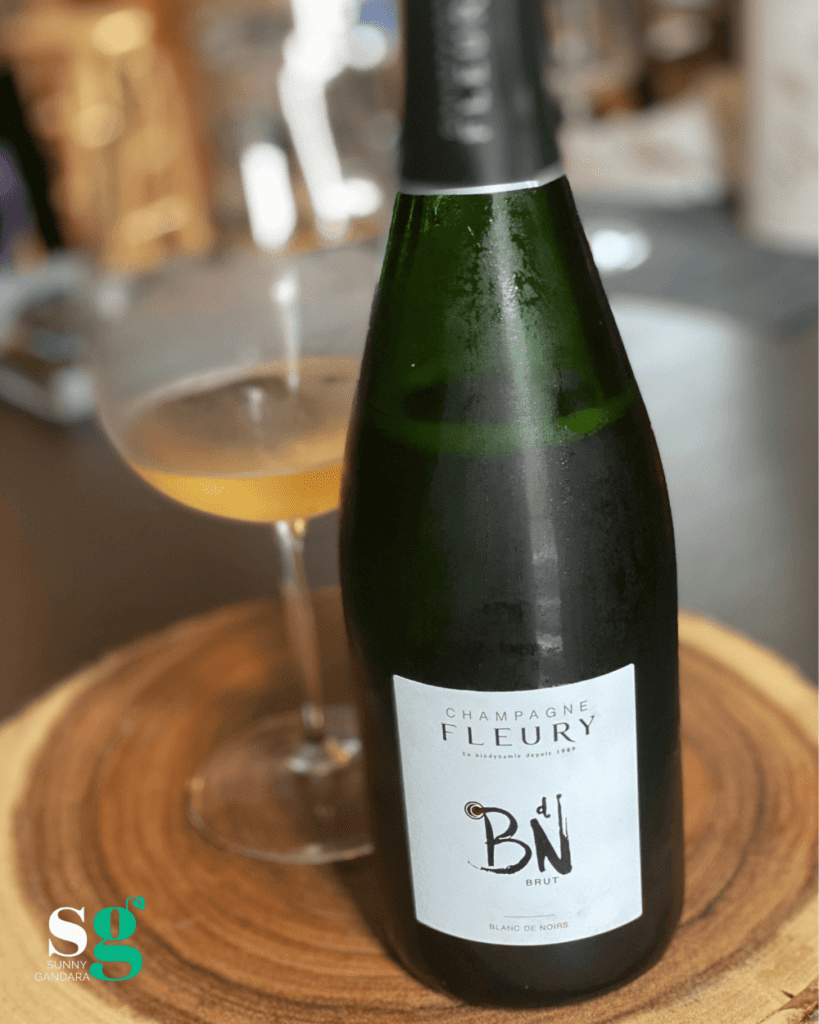 Suenen Oiry Blanc de Blancs Grand Cru Extra Brut
This winery has an interesting story, currently led by semi-pro basketball player Aurélien Suenen, who left basketball around the year 2000 returning to the family estate to help his father who was in declining health. He is as committed to turning the vineyards towards organic and biodynamic practice as he is to his athletic endeavors, implementing organic and some biodynamic practices with the aim of rejuvenating the land and local ecosystems.
Aurélien is one of the 3% of producers in the Côte de Blancs to farm organically, and one of the 8% in Champagne overall.
Crafted from 100% Chardonnay from the distinctly chalky terroir of Oiry, this wine is fermented with native yeasts, and spends 9 months on its lees with only 3 grams/l of dosage. Full bodied, yet light and lovely with an intense flavor that will definitely leave an impression!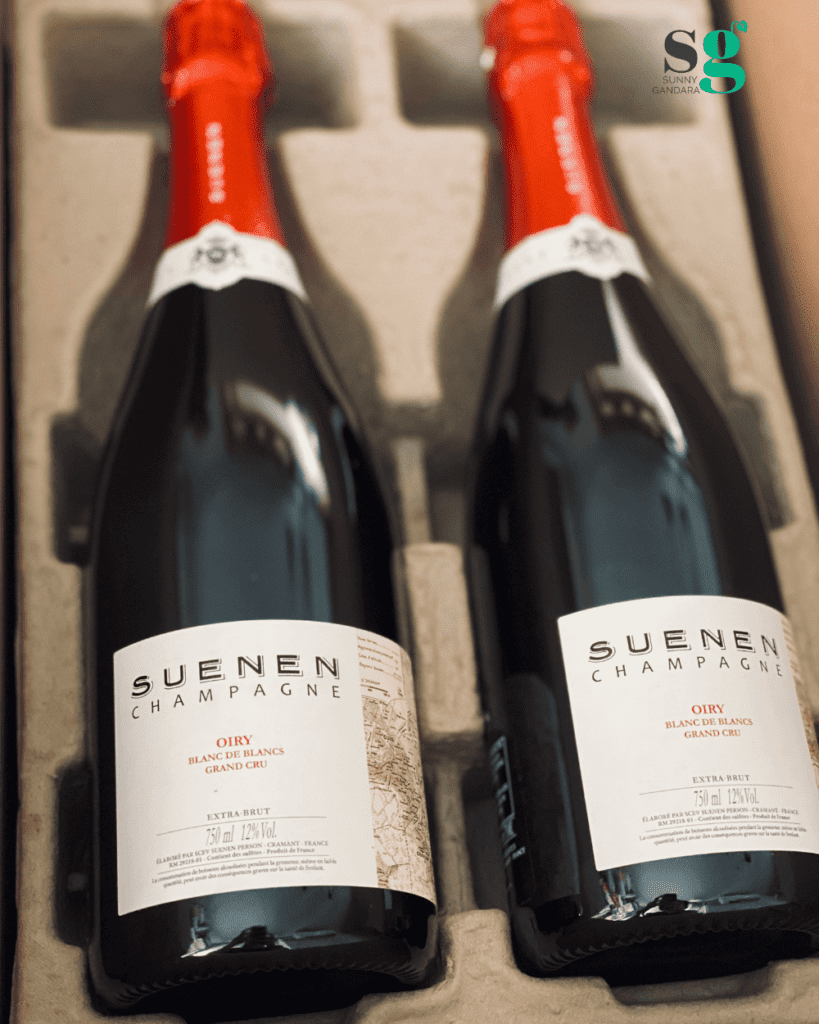 Michel Fallon Ozanne Grand Cru Blanc de Blancs
Ok so this is not a champagne that is neither cheap nor easy to find but was gifted to me and now I'm slightly obsessed.
An impeccable wine of immense purity and length, this has an oxidative character with a combination of citrusy, nutty and yeasty notes. Rich, complex and full bodied.
Michel Fallon worked under the eyes of Anselme Selosse for years as his cellar master and now received guidance on his own wines from Selosse.The name "Ozanne" is the historic name for the village of Avize, where Selosse's cellars and top vineyards are located.
Fallon's farming methods are based on the permaculture ideas and teachings of Masanobu Fukoua, a Japanese farmer known for his natural farming, while pulling techniques from organic, biodynamic and other forms of natural farming to create a hand crafted approach that suits his specific vines and site.
Vinification: Native yeast fermentations in barrel, with no additives and little to no interference of any kind, and cultivated native yeasts MCR for secondary fermentations in bottle. The wines are both fermented and aged in barrel, with long periods of time spent on the lees in both barrel and bottle.
Only 850 bottles per year are produced of this wine.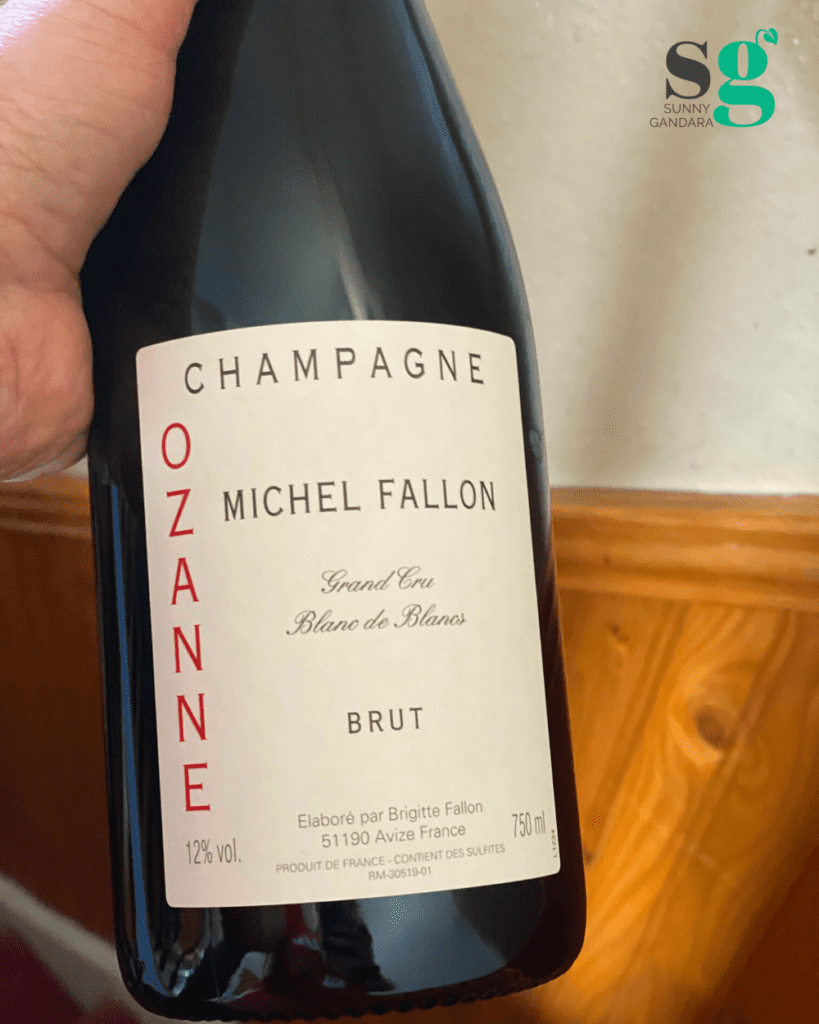 Champagne Geoffroy Expression Premier Cru Brut
This has consistently been one of my favorite champagnes so guess my excitement when I found out this wine qualifies as vegan!
This grower-producer can trace its history in the Valley of the Marne all the way back to the 17th century. The wine is a blend of 41% Meunier, 31% Pinot Noir and 8% Chardonnay and is aged on its lees for 42 months.
Geoffroy employs integrated pest control, avoiding all chemical weed killers. Rather, they plant cover crops, till the soils and encourage predatory insects to combat vine pests. A lovely and balanced wine with flavors of lemon curd, quince, almond and some elderflower accompanied with a fine line of bright acidity throughout.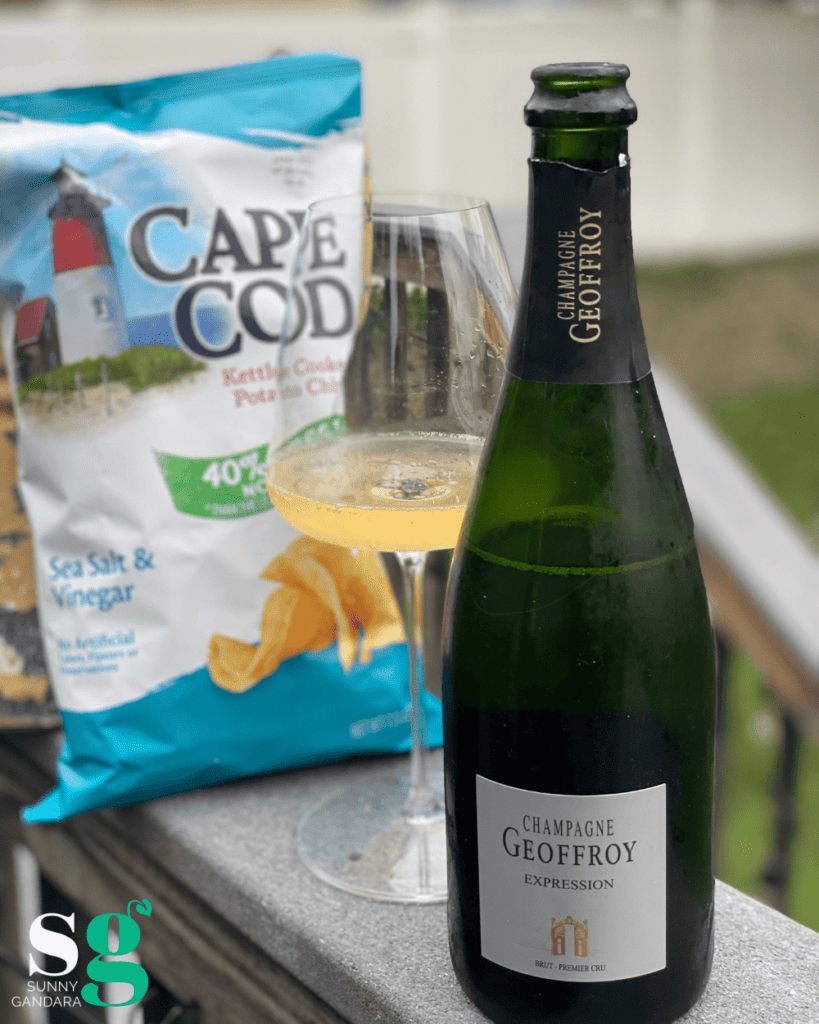 That's my quick round-up for champagnes for Global Champagne Day this year!

There probably will be a part 2, 3, 4 and 5 to this blog post because there is a wealth of other producers that deserve to get a mention but this is a start!

My general food pairing recommendations for champagne:
I like to drink champagne at all hours of the day (ok that may sound like I've got a problem), so think about breakfast and brunch dishes where there might be some egg-inspired meals.
Try my recipe for shakshuka made with Just Eggs, or enjoy your bubbles with Scandinavian open-face sandwiches which often consists of 'difficult' ingredients and flavors like salt, acidic and umami notes. 
In general, don't think about champagne as just something to have as an aperitif or with light hors d'oeuvres, there are so many different styles of champagne with a myriad of flavor profiles and weight that would be perfect partners to main courses such as creamy pasta dishes, a lightly spicy Pad Thai, sushi, fried dishes and curries, to mention only a few examples.
Of course, should you not want to whip up a full meal as you're popping the cork, I'm totally fine with you just opening a bag of salted chips or order a side of French fries from your nearest restaurant. The salt in these foods paired with the crisp acidity in champagne is the best combo ever!