The food that a large number of people have the most difficulty giving up when going vegan, is not read meat—but in fact, eggs. Besides cheese, it's the one product I hear about all the time because of its ease of preparation, low cost and supposed "nutritional content". The latter can be discussed in great detail because the way hens are reared today, more disease and unfavorable ingredients are in eggs than you would care to think about. I suggest watching this video, which explains why the USDA does not allow the Egg Board to call eggs nutritious or that they are part of a healthy diet.
When looking at breakfast menus across the world, and especially in the United States, it's hard for many to fathom this first meal of the day without egg in it. Whether scrambled, over-easy, hard-boiled, or made into an omelet, we've been thoroughly brainwashed to think this is a healthy and wholesome start to the day.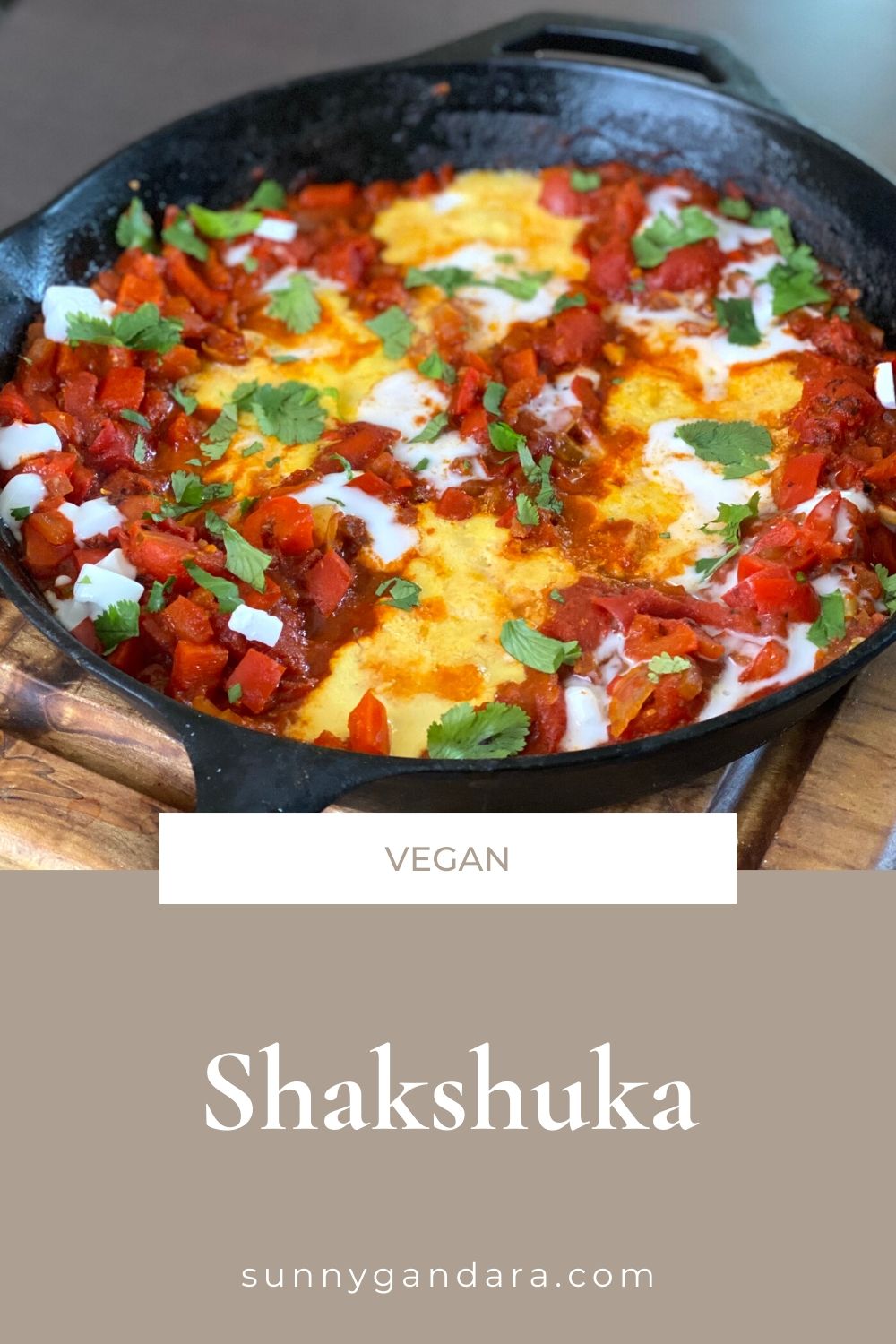 But let's look at it a little closer: One egg contains as much cholesterol as a Big Mac burger, as well as being high in saturated fat. About 60% of the calories in an egg comes from fat, most of it being saturated fat. This can harm heart health and also contribute to prostate and colorectal cancer as well as diabetes.
If you're an animal lover, you might like to know that chickens are some of the most abused animals in the world. About 94% of the eggs produced commercially in the U.S. come from caged hens. They are not able to spread their wings or even move around and many die in their cages, even without being removed. Imagine the disease and horrific conditions these animals live under—and people eat their flesh and secretions without much thought.
While I typically don't often write about animal welfare, I think it's important to share sometimes about how animals really live because I know my readers want to know where their food comes from. Some of the facts are very hard to take in and accept, but I believe in the power of speaking the truth and being informed.
Back to the recipe at hand: I was inspired to create some dishes with the fabulous product Just Eggs, which is a revolutionary product from the company Just Eats (who also produces a fabulous mayo by the way). It is made with mung beans and colored yellow by turmeric, and is sold as a liquid in a bottle. It is very similar to real eggs in both texture and flavor once cooked, with about the same amount of calories, fat, and protein per serving. Just Eggs are now rolling out a worldwide campaign to become available in all corners of the world, and have also reduced their cost and I can now get a bottle for about $6, whereas I had to pay $10 just a few months ago.
Shakshuka is a one-skillet recipe traditionally made with eggs baked in a tomato and red pepper sauce that is spiced with cumin, paprika, and cayenne. It originated in North-Africa but is now very common in Israel and throughout the Middle East where it's typically enjoyed for breakfast.
It's an impressive looking dish made with everyday ingredients that pack a ton of flavor, and I always have incredibly happy guests when I serve it at my house either for breakfast or brunch. I've replaced the egg with both tofu and sliced sweet potato before with great luck, but this time I used Just Eggs and was incredibly happy with the result.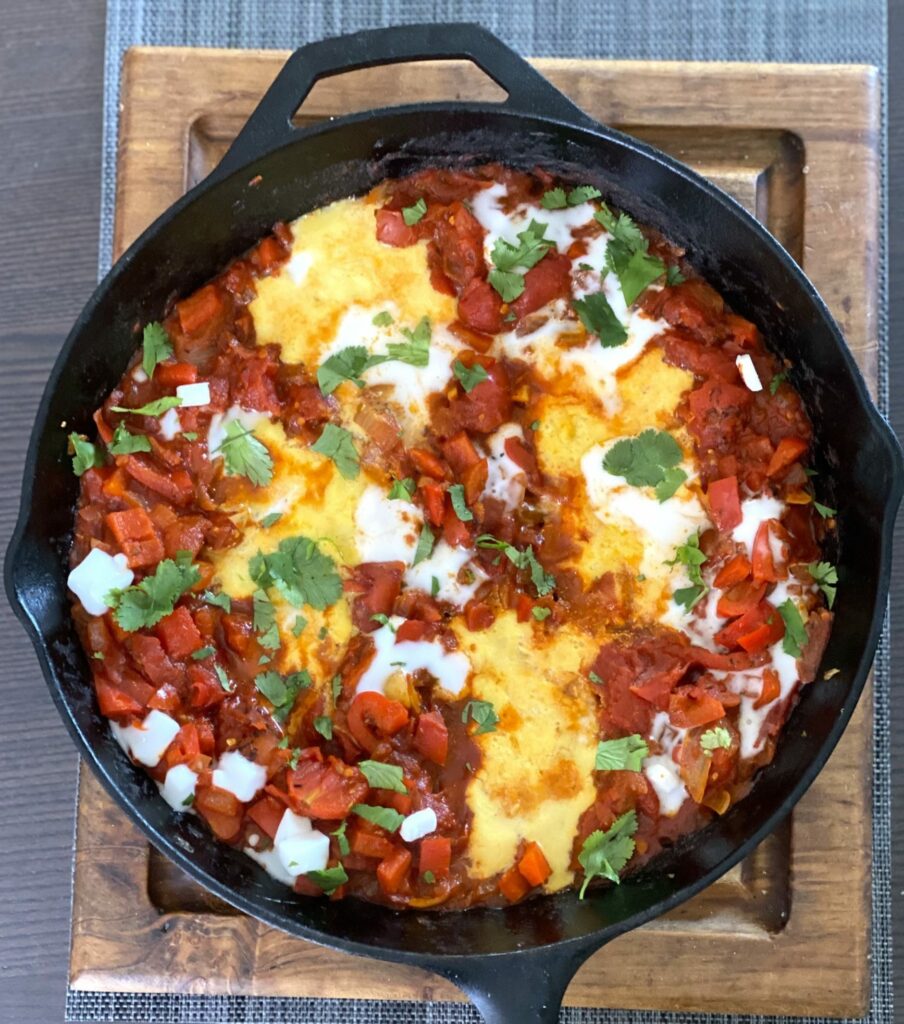 Garnish with some fresh cilantro and crumbles of vegan feta (I love the one from Violife) and scoop up the sauce with a chunk of good, artisan bread and you've got a hearty, healthy meal that you will remember for days!
VEGAN SHAKSHUKA
Recipe adapted from the Just Eggs website
1-2 tbsp olive oil
1 Vidalia onion, finely chopped
3 garlic cloves, minced
1 chili in adobo sauce with its juices
1 medium red bell pepper, finely chopped
1 heaping tbsp tomato paste
1 x 28 oz can organic diced fired roasted tomatoes
1 tsp smoked paprika
2 tsp ground cumin
2 tsp ground coriander
1 tsp chili powder (freshly made if possible!)
1 tbsp kosher salt
½ tsp red pepper flakes (optional, omit if you don't like spicy)
1 cup Just Eggs (or substitute tofu or sliced sweet potatoes)
Fresh cilantro for garnish
Vegan feta for garnish (I used the one from Violife)
Vegan yogurt (optional) as a topping
In a 12-inch heavy-duty non-stick skillet (If you have a cast-iron pan that's perfect), heat the olive oil over medium heat and add in the onion, pepper, and garlic with a pinch of salt. Saute for about 5 minutes until soft.
Add in the chili in adobo sauce and tomato paste and spices and coat well. Add the canned tomatoes with another pinch of salt and cook uncovered for about 15-20 minutes, while stirring occasionally, until the sauce is starting to thicken.
When the sauce is thick enough, using a spatula or large spoon, make 3-4 wells in the sauce and pour about ¼ cup of Just Eggs into each of the wells. Reduce the heat, place a lid on the pan and simmer for about 5 minutes.
Sprinkle some feta cheese over the surface and cook for another 3-4 minutes until the liquid egg is set.
Remove skillet from heat and garnish with fresh cilantro. Serve with pita bread or other fresh bread and a little vegan yogurt too if you wish. Tastes even better on the 2nd day—that is if you have leftovers!