I
am feeling so much passion for today's blog post as it has to do with a country I care very much about; Italy.
Close to my heart for several reasons, Italy was the first country I moved to after graduating from high school in Norway. I was dying to leave my country to discover the big world out there, and for some reason, I felt really drawn to Italy. I am not going to go into detail about my year there, but it's safe to say I had the best time of my life and where my love for food and wine started, as well as an interest to cook with fresh, seasonal ingredients.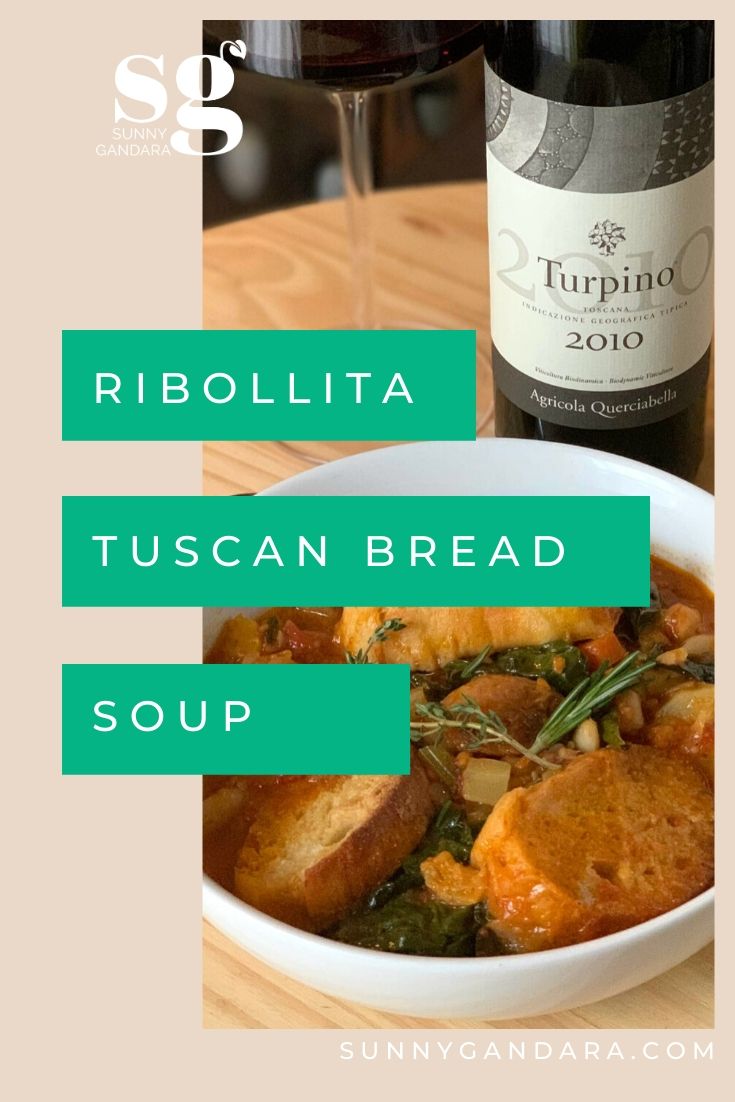 Full disclosure: Today, besides blogging about food, plant-based nutrition, wine, and vegan living, I work for an Italian winery called Querciabella. This winery represents everything I wish all businesses stood for: quality products, honesty, respect for the environment while honoring tradition, a desire to be of service and the utmost professionalism.
I was so fortunate to meet the owner a while back, where I shared my admiration for his wines, philosophy about winemaking and life in general (we are both vegans). Last year, the timing was such that I had the opportunity to be able to help represent them here in the United States. To say it is my dream job is an understatement.
Back to the blog post at hand: Armed with both more knowledge about Italian food and some excellent Italian wine I was inspired to re-create a dish called ribollita, a classic I eat almost daily when in Italy.
According to the Oxford Companion to Italian Food, ribollita is 'a Tuscan specialty which may have originated in using up Saturday's leftover stewed dried beans prepared for Friday, a lean day, recooked with vegetables and served over slices of stale bread, pane raffermo, toasted or hardened in the oven, and anointed with the rich peppery local olive oil. It is now one of the iconic glories of CUCINA POVERA, and figures on the menus of Tuscan restaurants with a pride in the specialties of the region.'
As with so many (Italian/ Tuscan/ insert region or country) recipes, a million variations exist, each one claiming that this is the 'authentic' one. But with Siena and Florence both arguing about where it was invented and the dish becoming very popular across the board, it becomes increasingly difficult to tell the difference between authenticity and dogma. From what I've gathered over the years, what should always be included is beans and cavolo nero, or black / Tuscan kale.
What is true, is that cooking methods vary. One version layers the toasted stale bread over the vegetables, moistening it all with the cooking liquid, the heating slowly in the oven covered with a layer of thinly sliced onions drizzled with olive oil. Another version simmers the bread, hardened in the oven or toasted, layered in the pot with the beans, vegetables and cabbage.
There are many wonderful vegetable stews in Tuscany, including minestrone alle toscana (cooked beans, puréed beans and vegetables over toasted bread) and minestrone alla fiorentina, which is similar but made with chopped ham and ham bones, with garlic, thyme and rosemary browned in olive oil. There's also a soup called zuppa di faginoli, which cooks white beans with a soffrito of onion, celery, garlic and parsley, adding cavolo nero simmered in the beans' cooking liquid and pouring it over toasted stake bread.
My version takes inspiration from all of these—the most important is at the end, be sure to dress it with plenty of high quality, Tuscan olive oil. Make sure the dish rests a while before serving, to allow it to cool down slightly and let the flavors set in.
You definitely want to drink a local wine with this rich soup, so a hearty red from the hills of Tuscany is perfect. Luckily I work for one of the top wineries in the region, Querciabella. We farm both organically (certified since 1988) and biodynamically (since 2000) and are also 100% vegan from the soil to the glass. This means that no animal by-products like egg whites, whey or isinglass are used in the fining process of making the wine, and no animal manure, fish bones or fish meal is used in the soil as fertilizer. We forbid the use of pesticides, herbicides and synthetic chemicals, and believe that it's not enough to only farm 'with' nature, but we aim to give back to nature and leaving it in a better place than we found it. This involves green manure and creating a poly cultural environment in the vineyard.
I will write more about Querciabella's farming practices and winemaking in a separate blog post but urge everyone to seek out this small, high quality producer (I promise I make no extra money writing this post!).
Turpino is Querciabella's fantastic wine from Maremma, the gorgeous coast of Tuscany, and is one I believe is an under-the-radar wine everyone should know. A blend of Cabernet Franc, Syrah and Merlot, it shows the full body, silky nature of where it's from with an elegance only Querciabella can produce, in my opinion. Rich, ripe red fruit with earthy undertones, this 2010 vintage is drinking perfect right now at 10 years old. Its developed complexity shines due to the fairly simplistic but deep flavors of the soup.
There aren't many other culinary experiences that top this one: drinking great wine and eating a simple, rustic soup brimming with flavors. Simple food to me always taste best and when made with love and with quality, seasonal ingredients you are guaranteed a pleasing meal. Buon appetito!
Ribollita
5 tablespoons good quality olive oil (Tuscan if possible)
1 Vidalia (sweet) onion, chopped
1 large carrot, chopped
1 celery stalked, chopped
3-4 garlic cloves, chopped
1 tsp red pepper flakes
Salt and pepper to taste
2 ½ cups cooked cannellini beans (from 1 cup dried beans)
*Tomato sauce made from 1 lbs whole peeled tomatoes (canned if out of season) – see below for directions
4 cups vegetable stock
3-4 fresh thyme sprig
2 fresh rosemary sprig
1 large bunch chopped kale
5-6 thick slices of bread (baguettes or whole grain)
½ cup vegan parmesan (I like the one from Go Veggie)
To cook the beans:
Soak the beans overnight in cold water. Drain and rinse and place them in a pot covered with fresh, cold water and cook until beans are about 90% done, this will take around 1 hr – 1 hr 15 minutes.
Turn off the heat, season with salt, throw in thyme sprigs and rosemary sprigs, and let sit for about 2 hours to allow the flavors to blend and the beans to finish cooking in the hot water.
To make the tomato sauce:
Heat 2-3 tbsp extra virgin olive oil in a pot over medium heat, throw in 2-3 cloves of garlic and toast in the oil until they get golden. Add a pinch of red pepper flakes and cook for another 30 seconds. Add in the fresh or canned tomatoes with a pinch of kosher or sea salt and a sprig or two of fresh basil and let the sauce simmer for a good 30 minutes. Set aside.
To make the Ribollita:
Preheat the oven to 450° Fahrenheit.
Heat the remaining 2 tbsp of the olive oil in a large, heavy duty, thick bottomed, oven proof pot over medium heat. Add in the garlic with the crushed red pepper and let it sweat for a bit until it is fragrant and golden, then add in the onion, carrot, celery with a pinch of kosher or sea salt, let them caramelize for about 10-15 minutes.
Add the beans with the liquid along with the tomato sauce to the vegetable mixture, bring to a boil, reduce to a simmer and cook for about 30 minutes.
Add in the fresh kale at the very end, mix well until it's slightly wilted.
Top with the sliced bread and drizzle with a little olive oil and the vegan parmesan.
Place the pot in the oven and bake for about 15 minutes until the bread is golden on top.
Remove from the oven and let sit for about 10 minutes to slightly cool before digging in!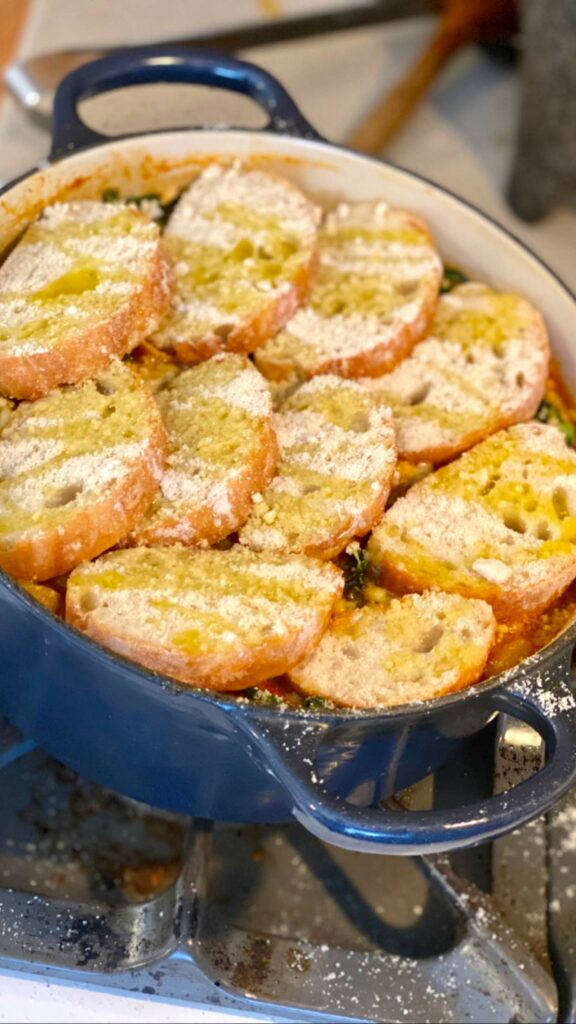 Best with a big glass of Tuscan wine, preferably from Querciabella—if you can't find the Turpino I also recommend our Mongrana or Chianti Classico. Salute!
P.S. You can find many of Querciabella's wines on wine.com. You can't go wrong with any wine you pick here!