L
iving with a meat-eater, I am constantly trying to find dishes that will appeal to someone who is used to eating animal meats. That dish has to be hearty, have a similar texture and of course be flavorful and tasty. I find that mushrooms, when prepared correctly and the right type of mushroom is used, often fulfills these criteria.
In my hometown, we are so fortunate to have an indoor farmer market during the winter months and although it's much smaller than our summer market, I always like to support the local farmers all year round.
A few weeks ago I came across a woman who grew her own mushrooms from these starter kits wrapped in plastic. I'm completely fascinated with mushrooms to begin with and obsessed with eating them in any shape, flavor, and form I can get them, so it didn't take long before my husband and I were googling where to buy these kits ourselves. We found the perfect grower kit and landed on yellow trumpets.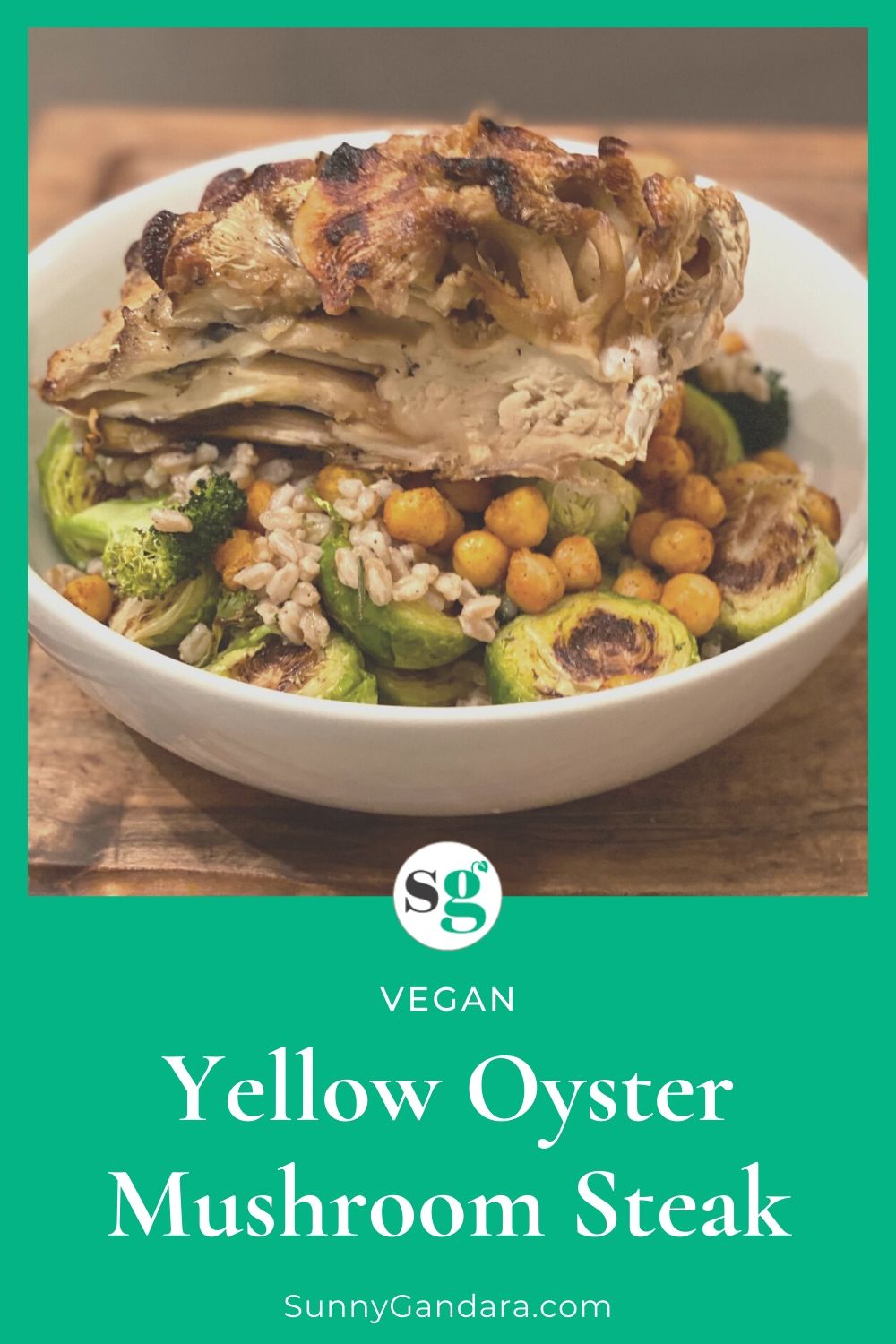 What exactly are yellow oysters?
Yellow oysters, sometimes called the golden oyster, are as gorgeous to look at as they are to eat. They grow in small "bouquets" and are relatively easy to grow and thus a perfect mushroom for beginners. Our big bouquet developed into full bloom in about 2 – 2 ½ weeks, so super quick!
Yellow oysters, like regular oyster mushrooms and so many kinds of fungi, has many health benefits. Besides being fat-free, cholesterol-free and low in sodium and calories, they pack a ton of fiber and protein, are high in iron, zinc, potassium, selenium, calcium, folic acid, B vitamins, and vitamin C. Oyster mushrooms have shown to lower cholesterol, is a great anti-oxidant, boosts brain health, alleviate inflammation and can inhibit the growth of certain cancers.
Yellow oyster mushrooms are available during the fall through the winter, while the cultivated ones are available year-round. They are rarely seen in grocery stores or markets, as they are delicate and with a short shelf life that makes it difficult to transport and produce them on a commercial scale.
How to cook them?
It's important not to undercook them, as they can have a bitter taste, but when cooked just right, they develop a nutty flavor that is a tasty addition to many dishes. When roasting them as I did, the leaves become crispy and can also be used for "bacon" bits, when seasoned with smoky spices like smoked paprika or a little liquid smoke. Unfortunately, their gorgeous yellow color disappears when cooking, but the taste stays intact and that's what makes me happy!
A sneaky tip for those of you who live with non-vegans or non-plant-based family members or friends: The more 'umami' flavors you can add to a plant-based meal, the better. This mimics the salty, earthy and savory flavors you often find in meat-based dishes and also adds an incredible depth of flavor.
Mushrooms, with loads of earthy flavors, combined with miso and soy sauce, are therefore your best friend. I chose to roast the whole head/bouquet of mushrooms and leave it intact, and slice into it like a 'steak', and serve it with vegetables and grains in a salad.
There are many other ways you can prepare these yellow oysters. Sauté them with some vegan butter and garlic, a little white wine and some fresh herbs and top on toast, and you have a super delicious snack any time of the day. Fold them into pasta dishes, scrambled tofu, stews, soups, and tacos…the options are endless!
I look at this whole roasted mushroom steak as the new "cauliflower" steak – just much more similar in texture and flavor to meat. Not to mention way healthier, better for the environment and the animals!
YELLOW OYSTER MUSHROOM STEAK
1-2 large heads of yellow oyster mushrooms
Olive oil
Salt, pepper
*Miso butter (recipe below)
Miso Butter
2 tablespoons white miso
2 tsp sake (optional)
4 tbsp vegan butter, at room temperature
Stir together miso, sake if using and butter in a small bowl until smooth.
You can do this step ahead of time and cover in plastic wrap and refrigerate or freeze until ready to use.
To prepare mushrooms:
Preheat oven to 425° Fahrenheit.
Place the mushroom on a large cast-iron pan or on a rimmed baking sheet. Drizzle with olive oil, salt, and pepper. Dot the mushroom with 2-3 tbsp of miso butter and place in oven. Roast for about 30-35 minutes, basting occasionally until mushroom hearts are tender and the petal are golden and crispy.
Serve with your favorite grains and vegetables and a sesame miso vinaigrette. I roasted some brussels sprouts, chickpeas and broccoli and served it over farro and drizzled with a sesame miso vinaigrette (recipe below).
Sesame Miso Vinaigrette
¼ cup organic vegetable oil
2 tbsp fresh lime juice
2 tbsp white miso
2 tbsp tamari or soy sauce
1 tbsp rice vinegar
1 tsp toasted sesame oil
1 tsp toasted sesame sedes
1 tsp grated peeled ginger
Whisk all the ingredients together in a small bowl. Keeps in an airtight container in the fridge for about 1 week.