O
ne of my favorite comfort meals is a creamy soup paired with a grilled cheese sandwich. In the summer I love a good tomato soup made from fresh tomatoes I've grown in my garden, but in the winter there's nothing quite like a broccoli-cheddar soup. The green color makes me happy too, which I find particularly welcome on a cold and grey day.
The most satisfying part of being a cook to me is making a meal that is very simple but has a depth of flavor that catches you by surprise. That is exactly what this soup does, and as I write this I am craving another bowl!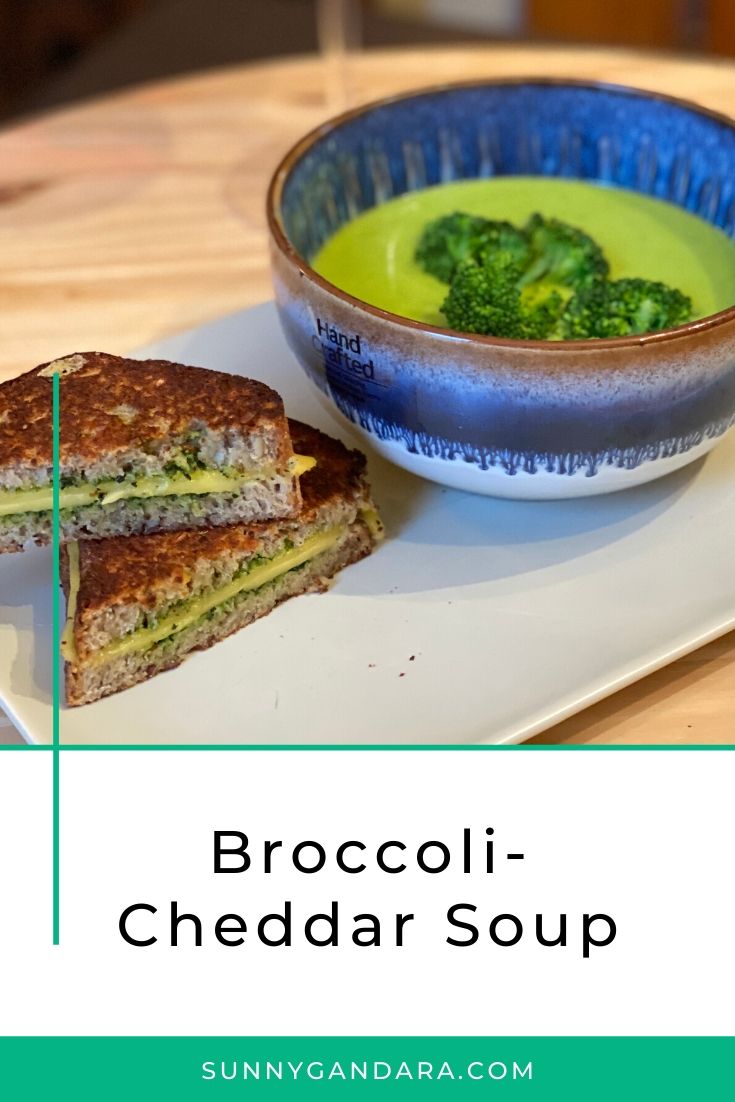 The trick to getting this soup so tasty is the technique: how you cut the vegetables (thin), when you add them in, layering it with flavor and also adding a little spinach at the end to increase that green, vibrant color. I mean, how could you not smile looking at this soup?
The technique is also very important when you make the grilled cheese. You want to achieve that golden, crispy crust on the outside, and have the cheese be gooey inside.
If the heat is too high you will burn the outside, and also don't be tempted to put too much cheese on the sandwich, as you want that perfect cheese-bread ratio. Make sure you use good quality bread for the grilled cheese. I like a good sourdough or a rustic, artisan loaf I buy at the bakery (Although not necessary). Otherwise, the best option is to make your own: This bread is perfect for this purpose!
When it comes to cheese, you can use any kind that melts. My favorite of the vegan cheeses for this purpose thus far is Violife's smoky provolone cheese. I add a thin layer of pesto on the inside of my sandwich, then I smear a generous layer of butter (vegan, of course) on the outside of the bread—this is what will help with that golden crusty and buttery, delicious taste.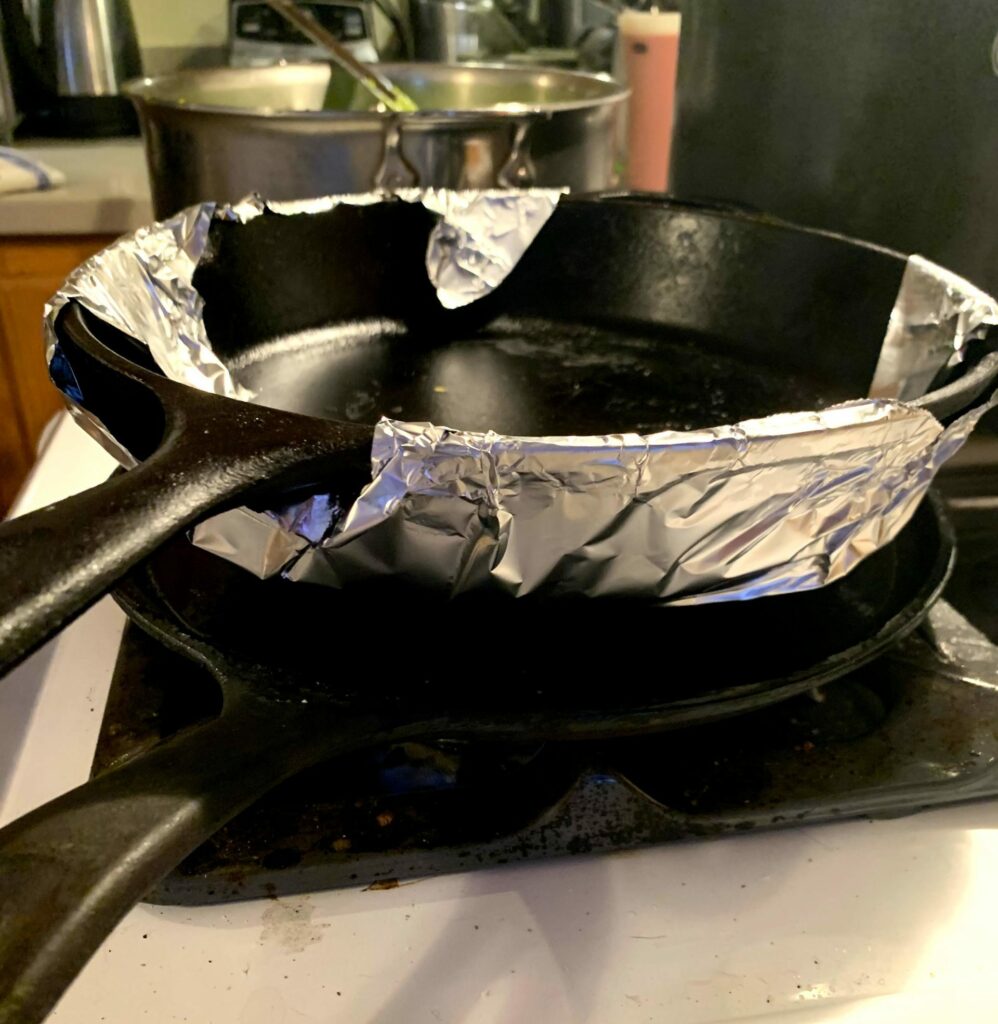 I will plan on doing a cooking demo in my Facebook group in the future about how to make the perfect grilled cheese sandwich—so stay tuned, and make sure you're part of my group!
In the meantime, I hope you will try out my broccoli-cheddar soup. Make sure you slice the broccoli as well as the potato thinly so you don't need to cook the soup too long. Overcooking vegetables is when the green color starts to fade and they start looking brown and ugly…just a little trick!
Serve this soup to your non-vegan friends and don't say anything… I bet they will be surprised that this has no dairy in it!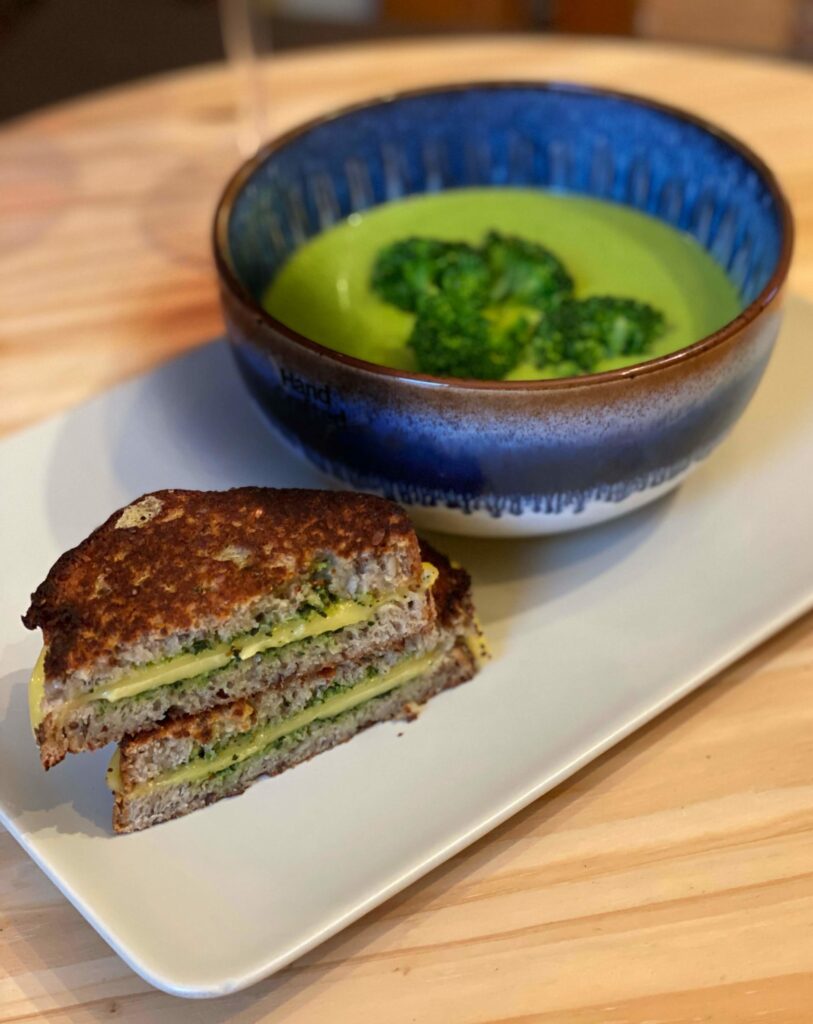 BROCCOLI-CHEDDAR SOUP IN QUARANTINE
Serves 2-3
3 tbsp olive oil
2 cloves garlic, smashed
Pinch of red pepper flakes
1 Vidalia onion, sliced thin
Kosher salt to taste
1 large Yukon gold potato, sliced thin
2 heads broccoli sliced thin, both stalks and florets
1 cup water
1 cup non-dairy milk (I used Oatly oat milk)
1 ½ cups vegan shredded cheddar cheese (I use and like Violife)
Two big handfuls of spinach
Salt and pepper to taste
In a heavy-duty soup pot or Dutch oven, heat olive oil over medium-low heat, add in the garlic with a pinch of red pepper flakes, and toast the garlic for about a minute until fragrant and lightly golden.
Toss in the onion with a pinch of kosher salt and lightly sweat the onions for about 5-6 minutes until soft. You don't want any color to the onion. Add the sliced potato and broccoli stalks (not the florets yet), cover with a lid for about 5 minutes—this helps the cooking process.
Next, add the broccoli florets (they should be thinly sliced also) and mix it around with the onion-potato mixture, then pour in the water and non-dairy milk. Bring to a simmer, reduce heat to medium-low and cook gently for about 15 minutes or so, until broccoli and potatoes are tender. You can check this by inserting a fork or a cookie tester.
Throw in the cheddar cheese, turn off the heat, and let sit for about 4-5 minutes.
Ladle the soup into a high-speed blender and add the spinach and puree until smooth. You may need to do it in batches, but this is a fairly small recipe so you may get away with just doing it once.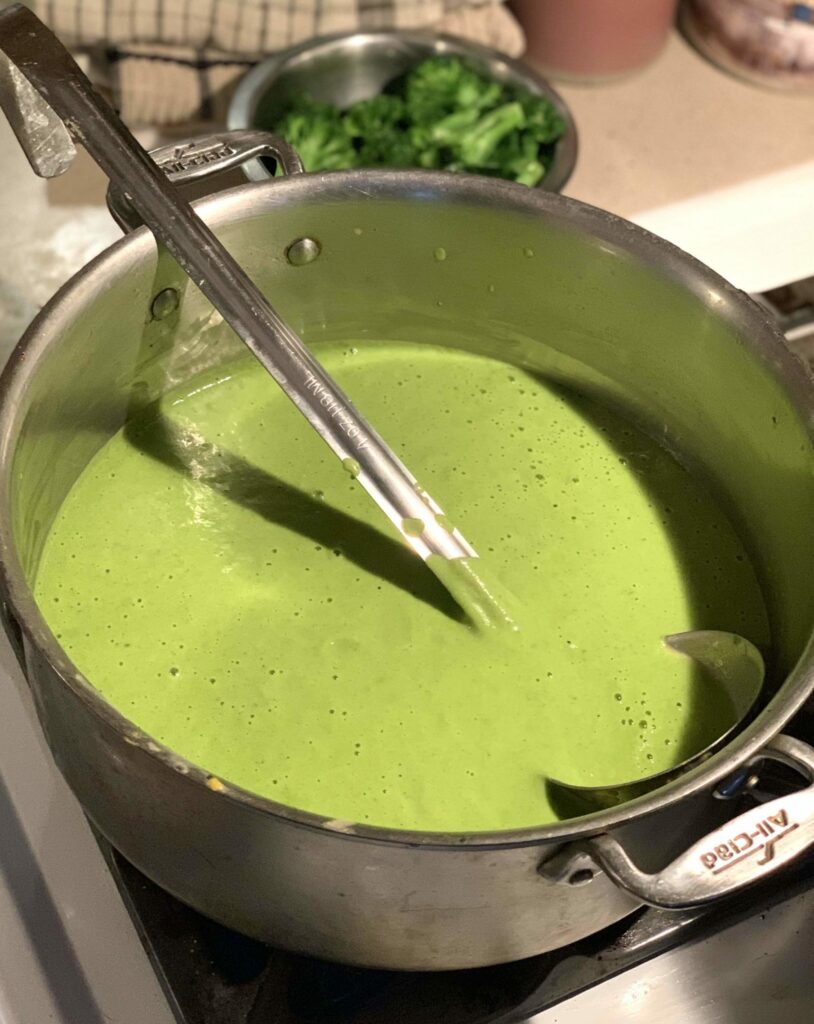 Taste the soup and season with salt and pepper. Serve warm with a grilled cheese sandwich.
Ahead of time: Lightly steam the remaining ½ head of broccoli (thinly sliced) and use it to garnish the soup when ready to serve.