Coming from a chef background, I typically love to make everything from scratch and as a vegan, I'm a fan of whole, plant-based foods when cooking. On the other hand, I'm a vegan married to a non-vegan, who is also a chef and happens to be a meat-lover.
While you may think that may pose challenges, oftentimes it can be solved by creating exquisite, plant-based dishes, and also sometimes with the help of a wonderful plant-based meat product. I am here to tell you as long as you get a little creative and resourceful and stay dedicated to your desire to eat more plant-based foods, your significant other, children, friends and family will make big strides towards eating more plants too! (it's contagious 🙂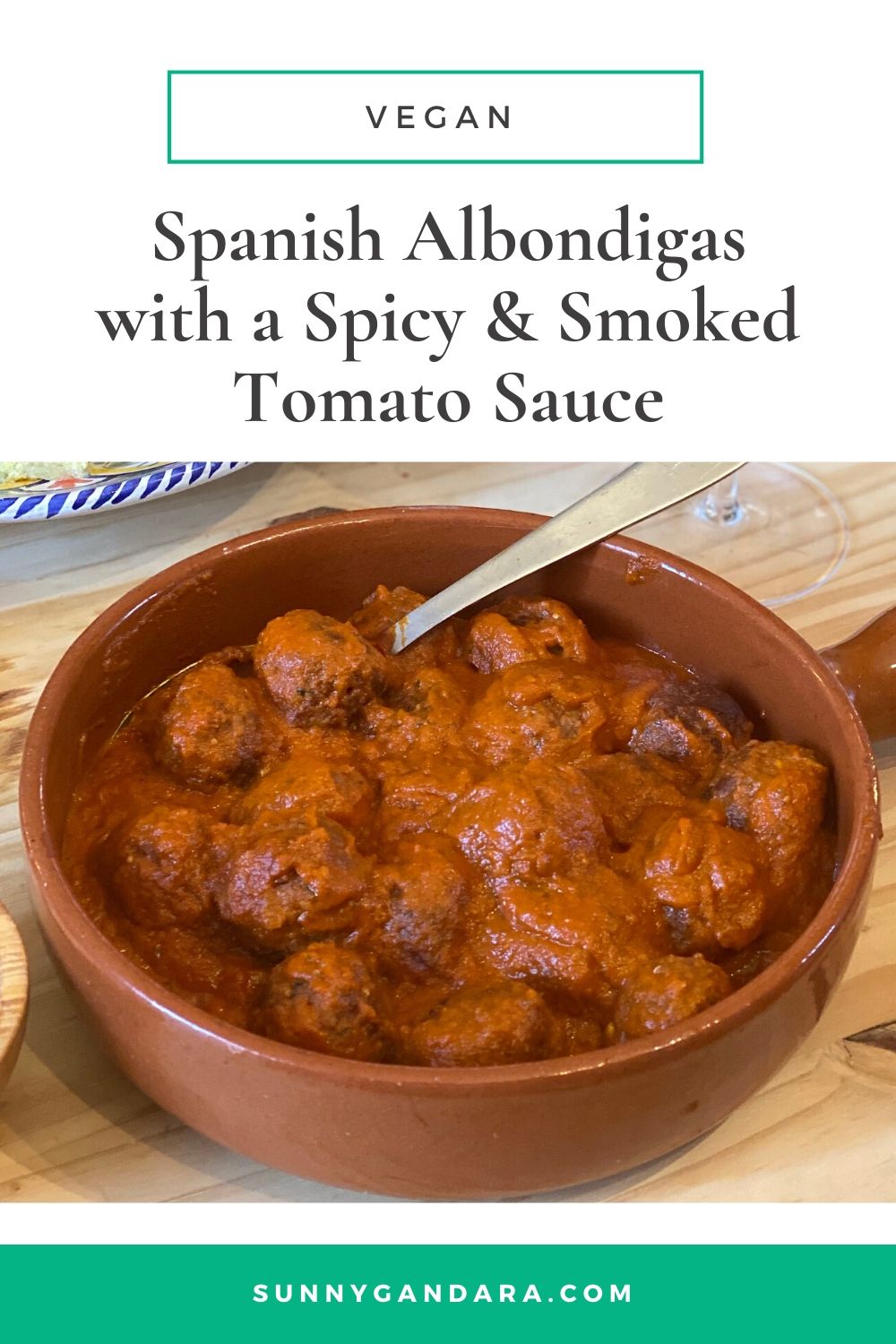 I'm a big fan of Beyond Meat for several reasons. Firstly, they make incredible products that most meat-eaters like (most can't even tell the difference when they are eating it!). Made from a combination of pea, rice, and mung bean protein, Beyond Meat burgers, are free of soy and gluten and have less saturated fat than burgers made from beef. In addition to their patties, they also make sausages (regular and Hot Italian) as well as "ground beef". I used the latter for the recipe I will share with you today.
Secondly, I love their philosophy behind why they do what they do. Personally, I feel much better supporting companies whose mission I agree with. Why do we need animals to feed the planet? We don't. There is a better way to create food, and that is from plants. This will help improve human health, better utilize the world's resources, positively impact climate change and of course, reduce animal cruelty. Just recently, in response to the Covid-19 pandemic, Beyond Meat has decided to donate one million burgers to food banks and those in need.
Thirdly, while Beyond Meat is not necessarily a "health food" and is regarded as processed (much like regular ground beef, by the way), it's a product that can safely be included in a healthy diet in moderation.
Plus if I can inspire someone to look to non-animal-based foods once in a while and still enjoy their food—in my book that's a victory!
So back to the recipe: "Albondigas" is Spanish for meatballs. They are traditionally served in tapas bars in Spain. Spiced with cumin, coriander, nutmeg, and red pepper flakes, these tiny meatballs are also a staple in North Africa and the Middle East. They are often accompanied by a slightly spicy and smoky tomato sauce that also compliment their wonderful 'patatas bravas'—the best home fries you'll ever get.
I've always had a love for Spanish food ever since my parents had a vacation home in Spain when I was a young girl and we traveled there every summer. I was introduced to the Spanish culture very early on in life, and today I even have a Spanish sister-in-law from Madrid!
Spanish cuisine can be both easy and challenging to veganize. Naturally, there is a lot of 'jamon', cheese, eggs, and other animal products, but there are also a plethora of wonderful vegetable dishes. With such fantastic products available to us as I mentioned earlier, making albondigas is a walk in the park.
Don't fret if you can't find Beyond Meat where you are—any plant-based minced /ground "meat" will do. Here in the U.S., you have wonderful products from Gardein, Sweet Earth, and Quorn just to mention a few brands.
If you don't want to use any of these, you can easily make your own meatballs from scratch, try this recipe for inspiration swapping out with the spices I mentioned above. The smoked paprika is essential, as I find it adds that authentic Spanish taste, as well as being a great replacement for the smoky, saltiness of 'jamon' (jam) that the Spanish so often use. It is also a great 'umami' addition to many savory plant-based dishes.
I like serving my albondigas alongside other Spanish tapas such as tortilla espanola, olives, roasted peppers and chickpeas, and of course—a nice glass of Rioja.
You can also add them into sandwiches, pasta dishes, or any other dish you think you'd want meatballs added.
SPANISH ALBONDIGAS WITH A SPICY-SMOKED TOMATO SAUCE
Makes 20-25 meatballs
For meatballs:
2 tbsp olive oil plus extra for sauteing the meatballs
1 small Vidalia onion, chopped
5-6 cloves garlic, minced
2 tsp ground coriander seeds
2 tsp ground cumin seeds
½ tsp freshly grated nutmeg
¼ tsp crushed red pepper flakes
1 tsp smoked paprika
1 cup panko bread crumbs
2 tbsp chopped fresh flat-leaf parsley
1 lbs (453 g) / 1 packet Beyond Meat ground
Salt, pepper to taste
For tomato sauce:
2 tbsp extra virgin olive oil
1 small Vidalia (sweet) onion
4-5 garlic cloves
1 tbsp tomato paste
½ cup dry white wine
½ tsp Cholula chipotle hot sauce or other hot sauce (alternatively: 1 canned chipotle chili)
3-4 fresh thyme sprigs, de-stemmed and chopped
1 x 28 oz can organic fire-roasted tomatoes, chopped
1 bay leaf
Pinch of sugar
2-3 tsp red wine vinegar
Make the tomato sauce first:
Heat a medium to large saute pan over medium-high heat, add the onion and garlic with a pinch of salt and saute for 4-5 minutes until translucent and soft.
Add in the spices and saute for another 30 seconds until fragrant, then the tomato paste, hot sauce, and fresh thyme.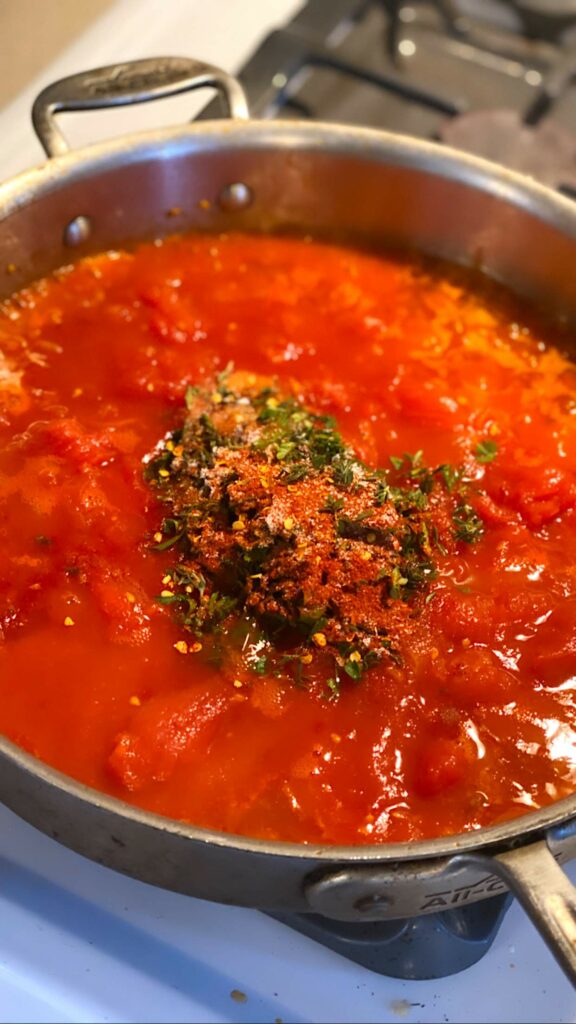 Combine well and deglaze with white wine and cook until evaporated, then add in the can of tomatoes and bay leaf and simmer for 20-30 minutes until sauce thickens and flavors combine.
Season with the red wine vinegar at the end as well as salt and pepper. Remove the bay leaf, let cool for a few minutes, then carefully transfer the sauce into a blender and blend until the sauce is smooth. Pour back into a shallow pan and keep warm while you make the meatballs.
Now let's make the meatballs:
Grease a baking sheet with a little oil and set aside.
In a medium saute pan, add a little olive oil then saute the onion and garlic with a pinch of salt for about 5 minutes until translucent and soft.
Add in the coriander, cumin, nutmeg, red pepper flakes, and smoked paprika and combine well, saute for another minute until fragrant. Turn off the heat and set aside.
In a bowl, combine the Beyond Meat ground beef (or make the meatballs according to the recipe I linked to above), with the sauteed onion-spice mixture, panko bread crumbs, flat-leaf parsley and season with salt and pepper. Combine with your hands, and then roll into 1-2 inch meatballs and place on the prepared baking sheet.
Heat a large skillet over medium heat, add in the olive oil and fry up the meatballs 6-7 at a time, until golden outside, about 3-4 minutes.
Transfer meatballs into the tomato sauce until you are done, heat through, and serve with other tapas or just a big chunk of good bread and a glass of full-bodied, Spanish red wine.
Note: You can make the meatballs ahead of time and store in the fridge for 2-3 days or freeze them until you are ready to make the complete dish.