I have a special love for Spain, its people, culture and cuisine. Perhaps it stems from my early childhood years when my parents owned a summer home in Benidorm on the east coast of Spain, all the way to today as I now have a sister-in-law from Madrid who is as Spanish as they come 🙂
Part of her family actually hails from the Basque region of Spain, which has a huge centuries-old cider tradition. The Asturian 'sidra' style here is still, unfiltered, bone dry and refreshing, based on high acid, high tannin apple varieties made with native yeasts, often producing funky, cheesy notes. You might see them pouring sidras from height in bars as a typical 'show' and it's part of regular daily life when it comes to drinking and eating.
At a modest alcohol of about 6%, these ciders are perfect with many plant-based meals that often can be more delicate than traditional animal-based dishes.
Basque food is not exactly vegan friendly, typically heavy on meats, fish and cheese but there are certain common plant-based ingredients and flavors that are easy to riff on and make a super delightful plant-based meal from. Think roasted peppers, smoked paprika, beans and nuts.
But enough about Spain… let's talk about the real reason that inspired this blog post!
Last year I met Eleanor Leger, the co-founder and owner of Eden Ciders (her parner is her husband Albert), a small cidery located in Newport, Vermont and who makes some of the best ciders in the country. They are truly considered legends in their industry.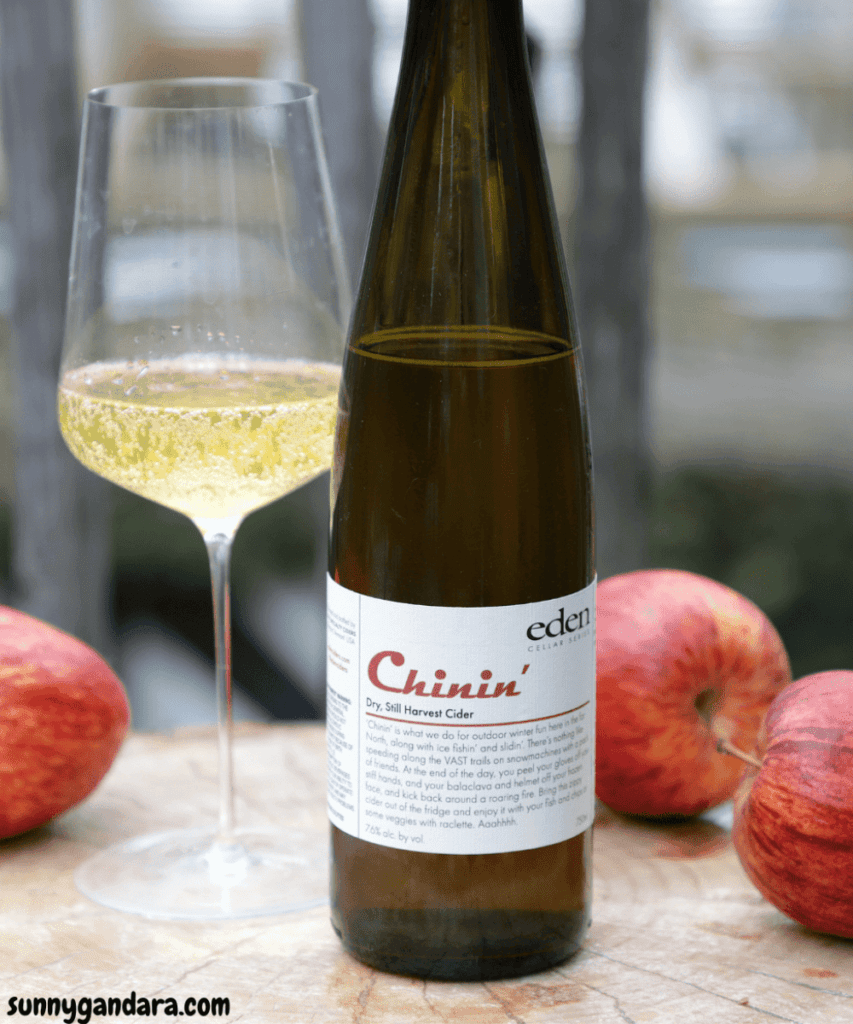 A former software executive with an Economics degree from Harvard (not impressive at all!) Eleanor was seeking a new way of life and became inspired to make cider. She was initially attracted to making ice ciders, for which they are known today, perhaps not the easiest entry to cider making but her resume should be telling that Eleanor can tackle a challenge or two.
Fast forward to today, Eden Ciders grows over 35 varieties biodynamically and has a long standing relationship with the same local growers year after year. When you purchase one of their ciders, you can know that you will be supporting small farmers who truly care about the environment they work in and are passionate about what they do. This is a true love project!
While they are especially known for their amazing ice cider (more about that in an upcoming blog post) Eden Ciders' approach to cider making seems to be very wine inspired, and as a wine professional (and wine lover) certainly can appreciate that. Their ciders are unique and innovative, reflecting the rare apples they use coupled with low intervention methods to let the fruit and terroir shine.
Eden Ciders' Cinderella Slipper instantly took me back to some of the Basque ciders I tried years ago that made me fall in love with this category when I was a wine buyer at a local retail store.
Made from a variety of 20 different apples, the Cinderella Slipper is still and crisp and with an unspoken elegance that you can only experience through tasting, you cannot do it justice by only describing it in words.
The cider has a lovely combination of both citrus and ripe yet sophisticated orchard fruit as well as more savory notes of hazelnuts and earthy tones that I thought would pair really well with a complex dish such as a Basque-inspired red bean and chorizo stew. Unfined and unfiltered, this is also vegan and as natural as they come.
I highly recommend you trying out my special recipe for vegan Chorizo and test it out on some of your meat-loving friends. Let's just say it's not going to ruin this dish, I aim to please those carnivores!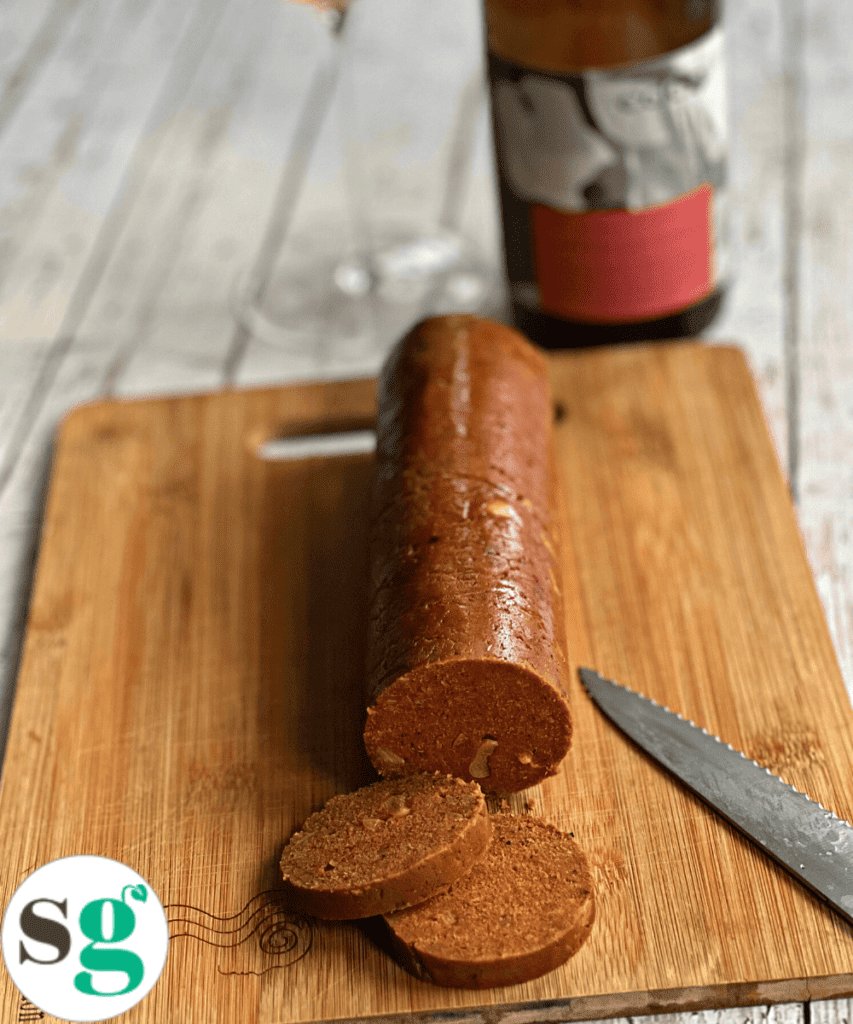 *This recipe and blog post was created as a special collaboration with Eden Cider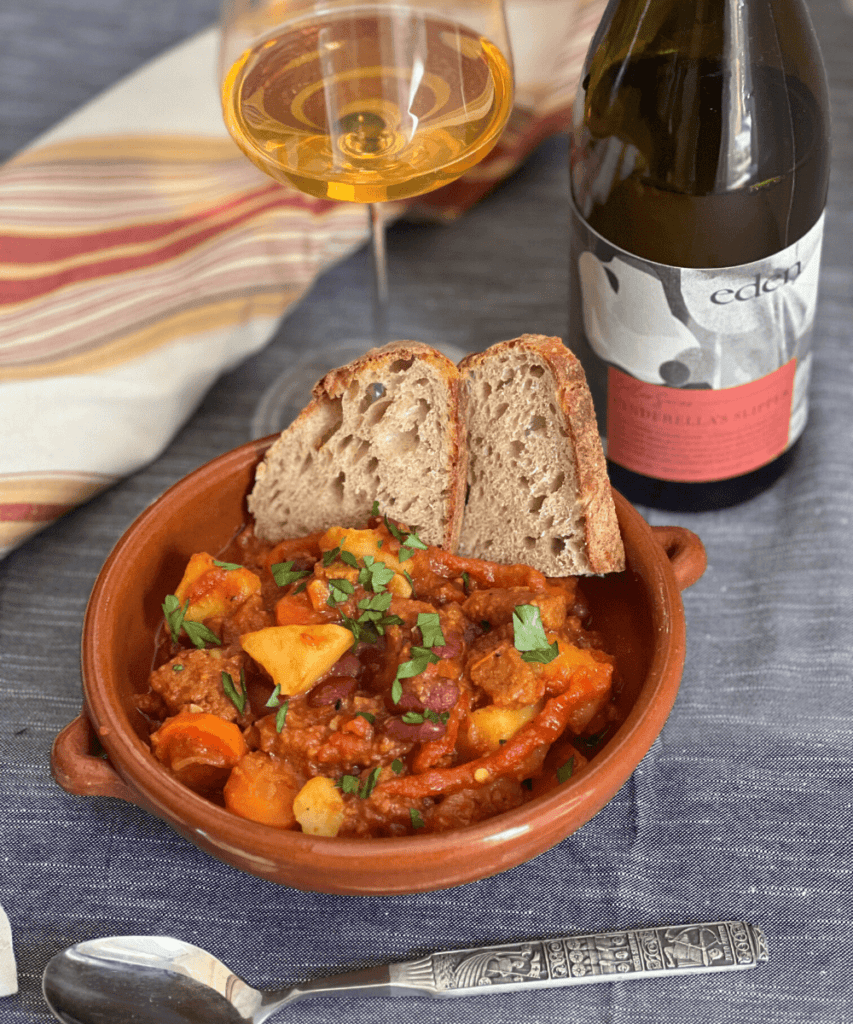 BASQUE-STYLE RED BEAN AND CHORIZO STEW
2 tablespoons olive oil
1 onion, diced
3-4 garlic cloves, peeled and crushed
2 medium carrots, peeled and diced
1 tablespoon smoked paprika
1 tablespoon ground coriander
1 tablespoon ground cumin
1 chile in adobo sauce, chopped finely plus 2 tsp sauce
Pinch of saffron
3 medium roasted peppers
1 x 15 oz (425 grams) can diced fire-roasted tomatoes
1 log vegan chorizo or homemade*, sliced into rounds
3 cups (530 grams) cooked kidney beans
2 cups (5 dl) vegetable stock or bean broth
Fresh parsley, chopped for garnish
In a heavy bottomed soup pot, heat up the olive oil over medium heat and add the onions, garlic and carrots with a pinch of kosher or sea salt. Sauté for 3-4 minutes until onions start to get translucent. Add in the smoked paprika, ground coriander, cumin, chile in adobo sauce and pinch of saffron and combine well and cook for about 30 seconds until fragrant.

Add in the roasted peppers, can of tomatoes, chorizo, kidney beans and vegetable stock and simmer lightly for about 20-30 minutes until all the ingredients have a chance to marry and combine well.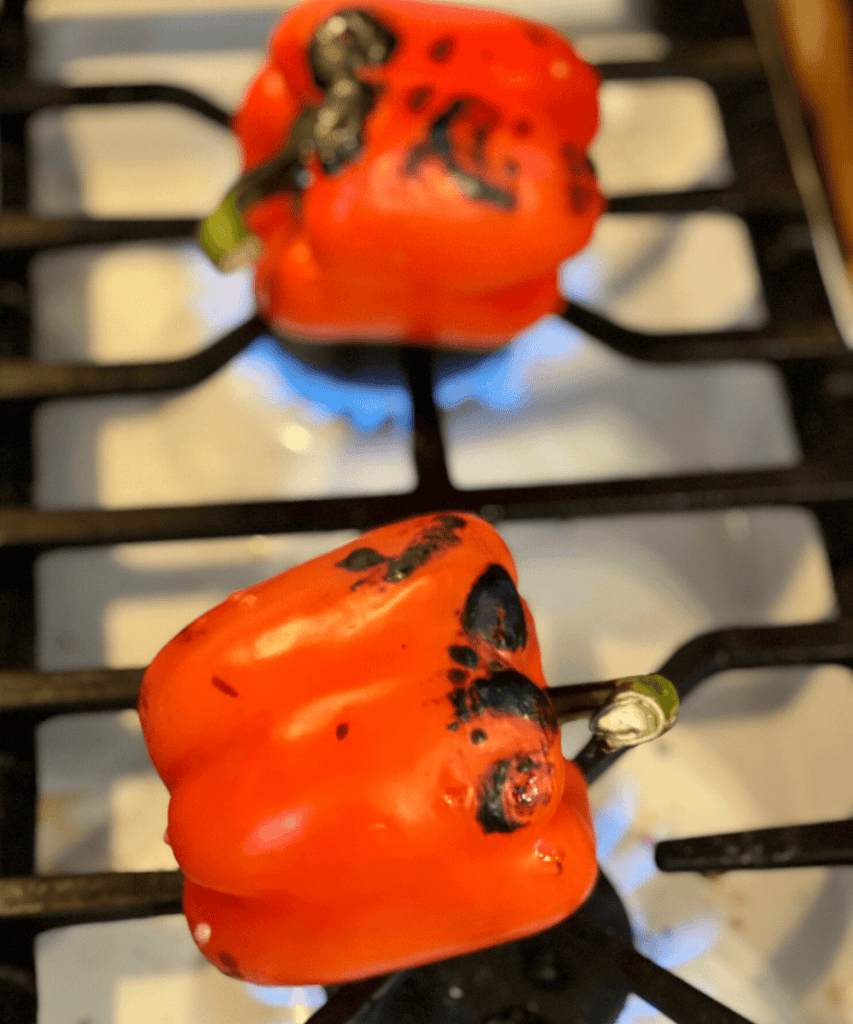 Garnish with chopped parsley and serve hot with thick slices of crusty bread and a glass of the Eden Ciders Cinderella's Slipper…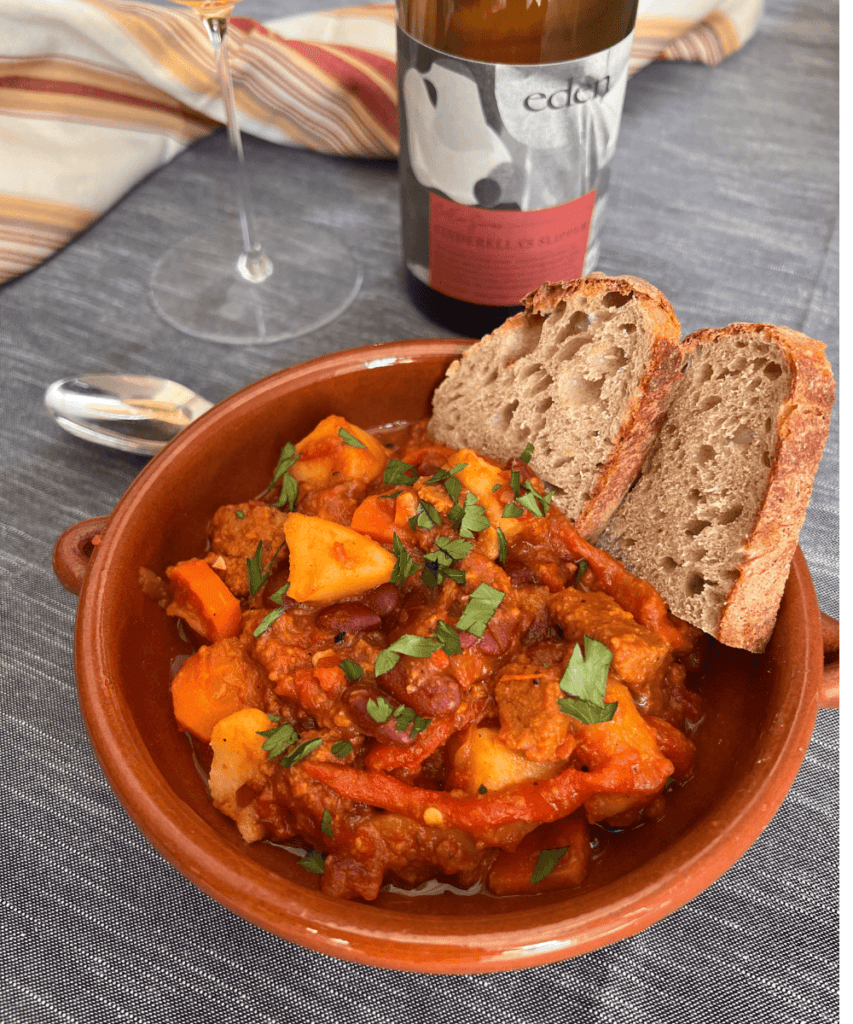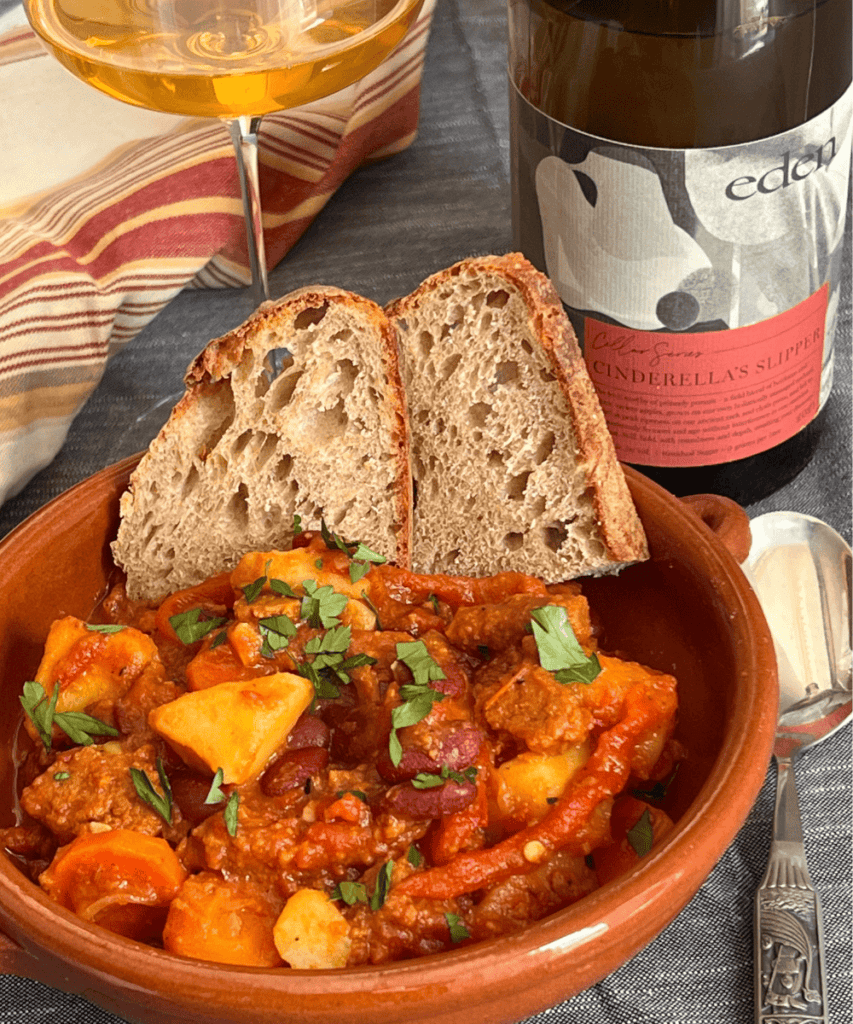 *Homemade Chorizo Recipe
1 ¼ cups (140g) vital wheat gluten
⅓ cup (30g) chickpea flour
10 cloves garlic
2 tablespoons smoked paprika
1 tablespoon onion powder
1 teaspoon freshly cracked black pepper
2 tablespoons kosher or sea salt
1/2 teaspoon red chili flakes
½ teaspoon ancho chili powder
½ cup (125 ml) water
¼ cup (70 ml) olive oil
2 tablespoons tomato puree
3 tablespoons soy sauce
1 tablespoon beetroot powder (optional, for color)
2 tablespoons red wine vinegar
1 teaspoon sugar
1 chili in adobo sauce plus 1 tablespoon liquid, chopped finely
Peel the garlic and blanch in boiling water for 5 minutes, remove from water, let cool, then dice in small chunks.
Combine all the dry ingredients in a large bowl, and mix together all the wet ingredients in another bowl. Introduce the wet mixture into the dry ingredients and mix with a spatula and then your hands, kneading just until everything comes together and you have firm dough. Be careful not to over-knead the dough.
Shape the seitan chorizo into a log that is about 10 inches (25 cm) long and 2 ½ (5 cm) inches in diameter. Wrap the long tightly in a piece of aluminum foil and twist the ends. Wrap it once more in a second piece of foil and closely twist together.
Insert a steamer into a large pot filled with a little water and bring to a light simmer. Place the chorizo inside the steamer, cover with tin foil and a lid and steam the chorizo for about 50 minutes.
Remove from heat and let cool, before placing in the fridge to chill for several hours or preferably overnight.

Slice and sauté when ready to enjoy!