I liken curry to the ultimate, wholesome fast food for the culinary vegan- so many flavors can be produced in no time at all and it's healthy to boost. But what to drink with it to take it to the next level?
As a wine professional, most times when I cook a curry, I always ponder which wine to pair with it. Although I often find decent alternatives, in secret, I tend to resort to beer. Because it just works. It's thirst quenching and I love the bubbles and lighter alcohol to just softly support all the complex flavors I get in curries.
More recently, however, I've been increasingly exposed to the wonderful world of cider. At the recent annual convention of the American Cider Association, I had the pleasure and privilege of being the keynote speaker where I spoke about the role of cider in a plant-curious market. I was pleasantly surprised at the positive reception that the cider community gave me and the openness with which they received my message. Because cider is so super food friendly, it only made sense that its people would convey the same receptiveness.
If you are not a beer or wine drinker but would love a drink that's in between and moderate in alcohol, refreshing and have layers of flavor your soda or water couldn't possibly produce, do consider a good quality cider. There are so many styles, so no matter what your taste preference, you are bound to find something that will entice your palate.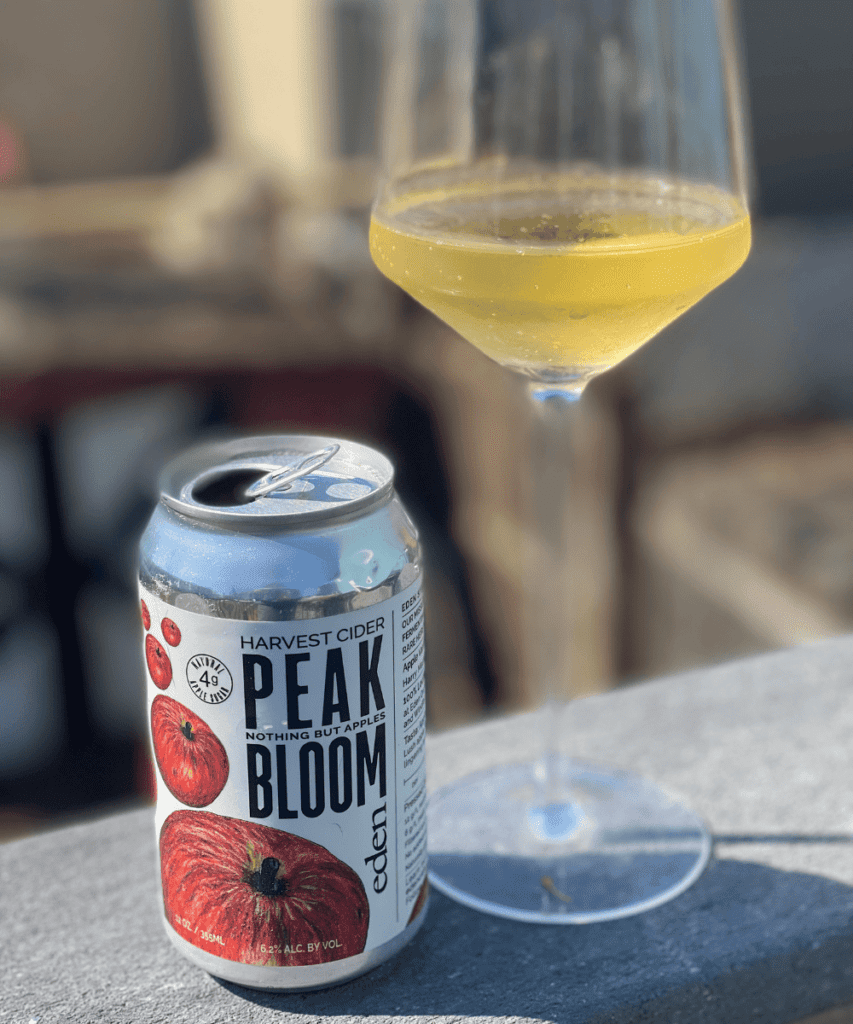 Enter Eden Ciders, a small cidery located in Newport, Vermont. Female owned by the wonderful Eleanor Leger, who is a legend and pioneer in the American cider world, they produce a plethora of super exciting, artisanal ciders that especially appeal to the wine lover (read: me!)
These ciders are elegantly made, and with that I mean a light hand that allows the fruit (and variety of apples) and terroir to shine, showcasing just how complex ciders can be. They produce a variety of styles from deliciously sweet ice ciders (for which they are known), to sparkling and bone dry and still versions, to well made, easy going ciders in cans, like the Peak Bloom featured in this blog post.
Peak Bloom is a blend of Dabinett, McIntosh, Empire, Spartan and Esopus Spitzenberg apple varieties from their own and nearby farms and is 100% locally and sustainably grown. I found it to be as refreshing as enticingly complex for a cider in a can. I would most definitely pop open a second can, to illustrate how much I liked it.
I just love cider with green curry, particularly. I am not sure why not more people are suggesting this pairing, perhaps because they are not aware of the amazing pairability (I might just have come up with that word) of cider with so many plant-based dishes.
I like to add a decent amount of coconut milk to match the sweetness of the appley fruit in the cider, but also to contrast the good amount of acidity present. There is a decent body to this cider, which holds its own against the sturdy flavor profile of the curry.
This curry is, as the name suggests, a mixture of green vegetables: I added green beans, bok choy, snow peas, basil and cilantro long with some bamboo shoots and corn for additional flavor and texture.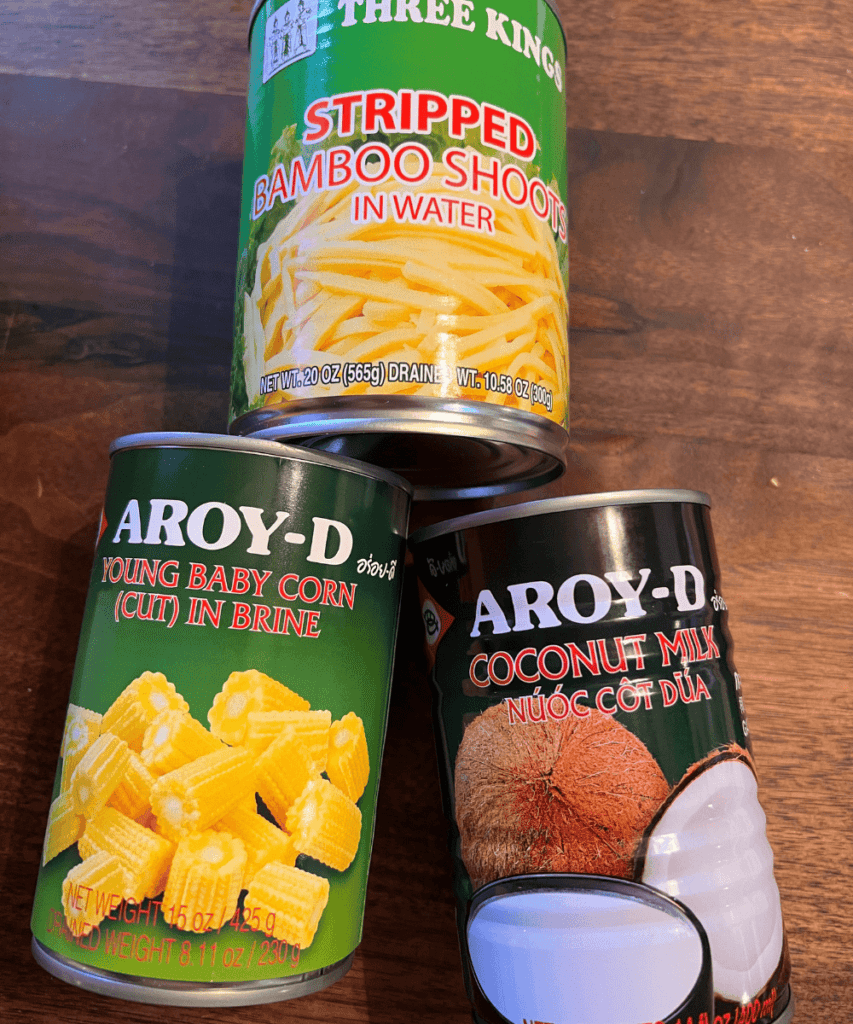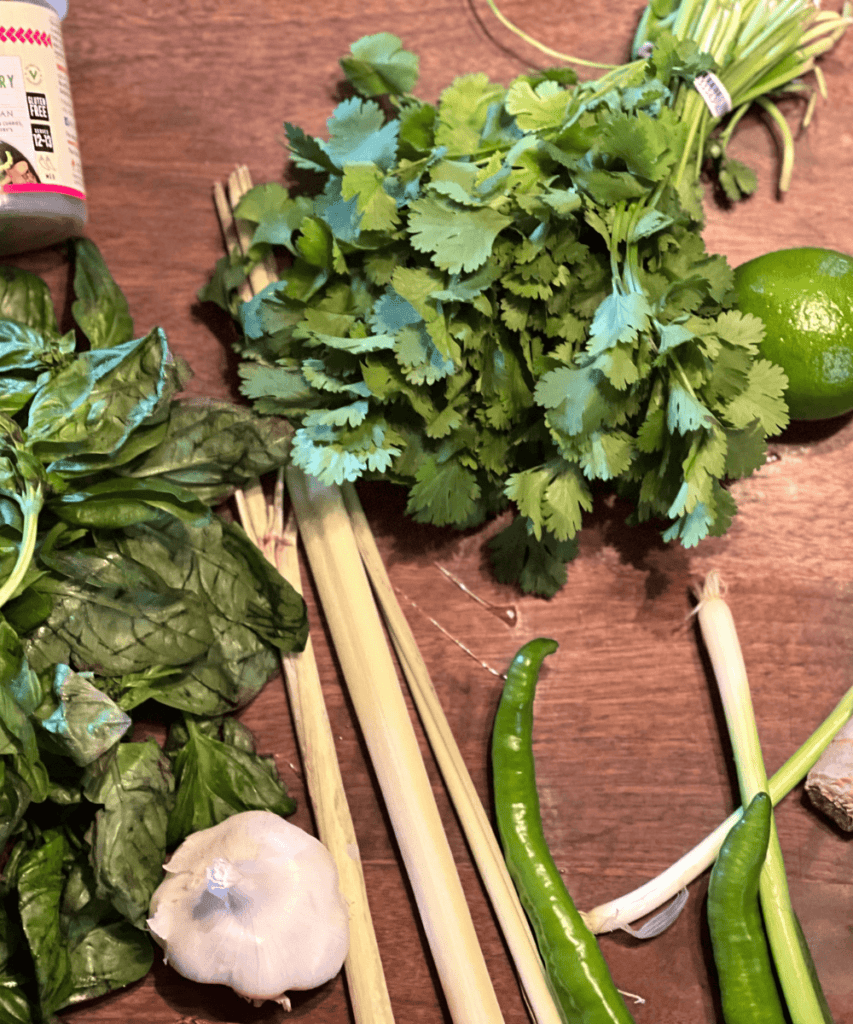 If you want to go all the way, make your own green curry paste (recipe is below), otherwise nobody will judge you if you just buy a jar at the store!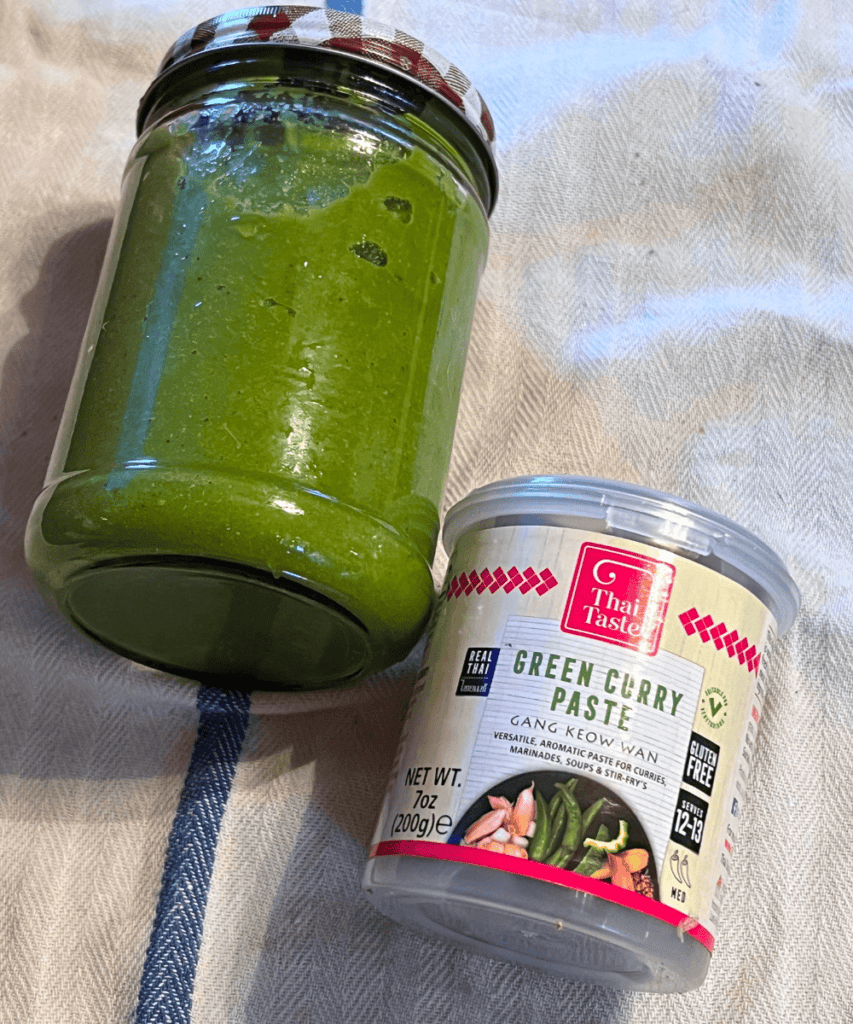 Regardless, this combo: Green Curry and Cider should be the next elevated 'fast food go-to' in your repertoire! Although there might be a few minutes of chopping and collecting ingredients – you will be rewarded with a flavor explosion unlike no other (and you can always make a double batch and freeze this curry for future delicious meals!)
Happy cooking – and drinking (in moderation) !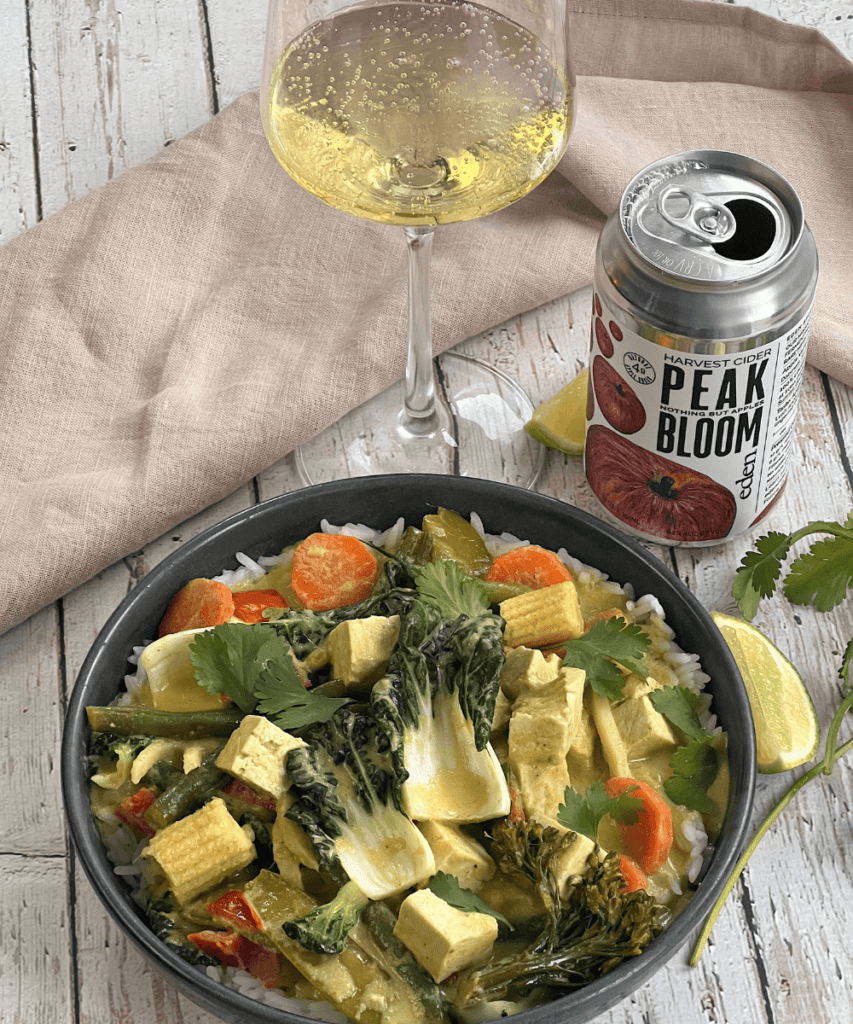 GREEN CURRY
2 tablespoons coconut or vegetable oil, divided
2 x 15 oz (425 g) cans organic full fat coconut milk
3-4 tablespoon store bought green curry paste or 1 recipe homemade green curry paste*
1 cup (220 grams) broccoli florets
2 small carrots, peeled and sliced
1 red bell pepper , diced
1 cup (60 grams) snow peas
1 small can bamboo shoots, drained (optional)
1 cup (100 grams) baby corn (optional)
1 cup (2.5 dl) vegetable stock
1 tablespoon brown sugar
2 sprigs basil leaves or 3-4 kaffir lime leaves
3-4 small baby bok choy bunches
Salt to taste
Heat the oil in a large sauté pan or wok, then add in the vegetables – broccoli, carrots, red bell pepper and lastly the snow peas. Season with a good pinch of kosher or sea salt and sauté quickly on high heat just for a couple of minutes until colors are vibrant. Remove from heat and set aside.
Add another tablespoon of oil into the hot wok, then add in the green curry paste and saute for a few seconds in the oil.
Next add in a cup of vegetable stock and stir to combine into the curry along with a tablespoon of brown sugar and finally the cans of coconut milk.
Stir to combine all the ingredients. Once combined, add in the salt, stir and allow the mixture to thicken a little and come to a light boil.
Once the mixture comes to a boil, add in some torn basil leaves and the stir fried vegetables. Combine and heat through. Serve the curry with a side of jasmine rice and a can of Eden Cider.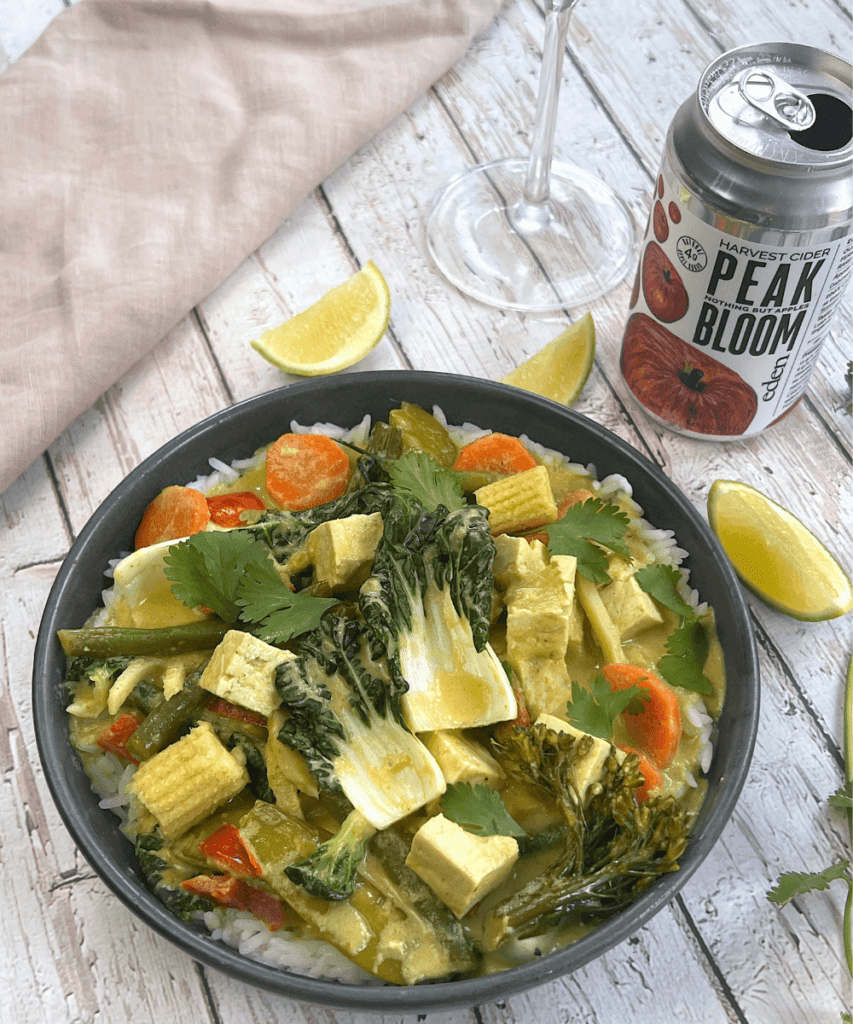 Homemade green curry paste recipe:
4 stalks lemongrass, outer leaves removed, chopped
4 green hot chillies , chopped
1/2 cup cilantro leaves + stems, roughly chopped
5 sprigs basil leaves
1 tablespoon coriander seeds , whole roasted
1 teaspoon cumin seeds , roasted
1 teaspoon whole black peppercorns
1 onion , roughly chopped
2-3 scallions (bulb & greens) , roughly chopped
4 cloves garlic
2- inch knob fresh ginger, peeled and roughly chopped
Zest and juice of 1 large lime
Salt , to taste
Combine all ingredients in a high speed blender and mix until smooth. Set aside. (Keeps in the fridge for about a month in a clean, airtight container).