Now that the days have gotten colder and the nights seem longer, there's nothing better to me than making piping hot soups, stews and casseroles. One of the dishes I've been craving the most is French onion soup. The mixture of sweet and savory is what I love the most, not to mention the simplicity of it: all you mainly need are some onions, fresh herbs, and red wine… and cheese of course!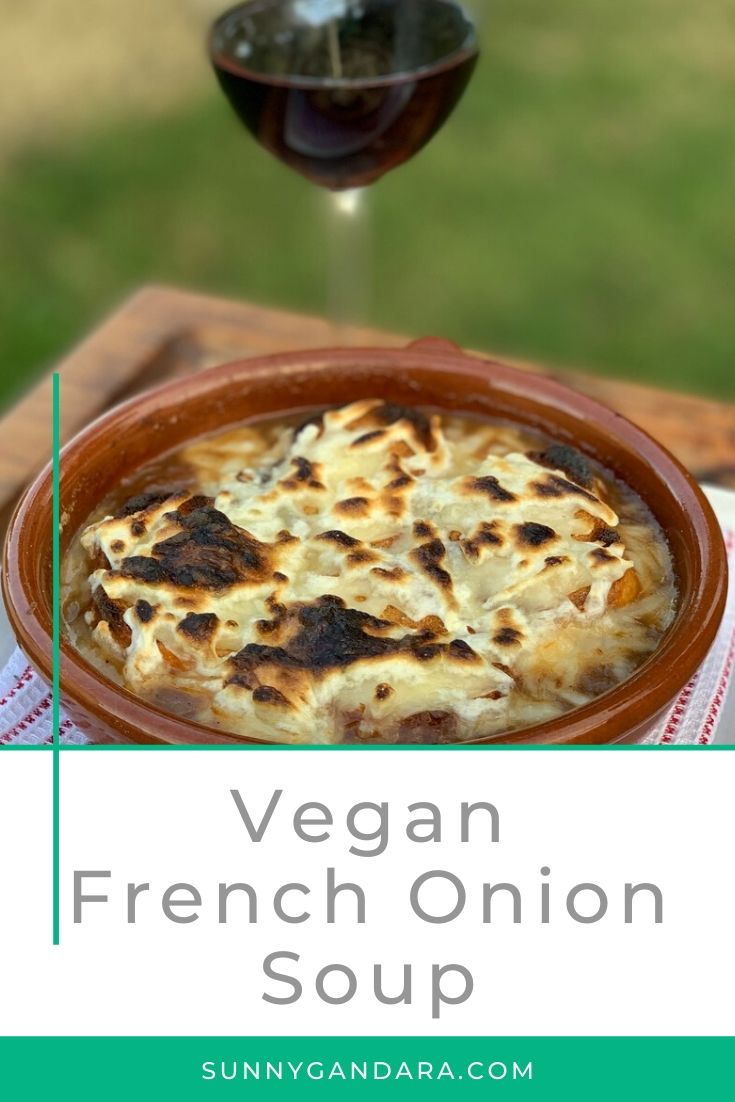 I noticed I had an abundance of onions the other day because as a member of a local CSA I would get 2-3 lbs every week. I love onions and cook with them frequently, but that is a lot even for me! A bowl of onion soup was, therefore, screaming my name.
Gone are the days when you could say "I want to go vegan, but I'd miss cheese too much" because today you can find vegan cheeses in all flavors, textures, shapes, and sizes. I love Miyoko's and Violife's cheeses the best, but you can pick any cheese you want for this recipe that is like cheddar or mozzarella like in texture. For this particular recipe, I prefer Violife's shredded mozzarella, because it melts really beautifully.
Pick up a nice crusty loaf of bread (or bake it yourself, if you're feeling ambitious) and a good bottle of red wine, and I promise this meal will take you to a happy place.
My suggestion for a good bottle of vegan wine: 2017 Domaine de Botheland Laurence & Démi Dufaître, a wonderful cru Beaujolais from Brouilly.
Vegan French Onion Soup
Serves about 4
4-5 tbsp vegan butter
6-7 medium onions, halved and thinly sliced
3 large garlic cloves, minced
1 bunch fresh oregano, removed from stalk and finely chopped
¾ cup red wine
3 tbsp all-purpose flour
1- ½ quart vegetable broth or more as needed
Salt and pepper to taste
1 small baguette, sliced and toasted
Vegan mozzarella or cheddar cheese
Heat the butter over medium heat in a large pot, add the sliced onions, garlic, and oregano. Season generally with kosher salt. If you have a super large pan, great—but if you have a regular pot, I put a lid on the pot and cook the onions for about 10 minutes so they get soft on the inside, without burning on the inside. Then after 10 minutes, remove the lid, and cook onions for another 20-30 minutes. Stir often to avoid sticking or burning.
Add the red wine and turn the heat up and bring to a simmer, reduce heat and simmer on medium-low for about 10-15 minutes or until the wine has evaporated.
Stir the flour into the onions, turning the heat down, and cook for about a minute. Stir constantly so the flour doesn't burn.
Add the vegetable broth, turn the heat back up to a slight simmer, then reduce to medium and simmer gently for another 10-15 minutes.
Taste soup for seasoning, then turn the broiler to high. Ladle the soup into oven-safe bowls, filling halfway, then place 1-2 toasted sliced baguettes on top, and then add more soup on top. Place another 3-4 toasted baguettes on top and sprinkle the vegan mozzarella or cheese on top, place under broiler and cook for 2-3 minutes until cheese melts and is golden brown. Make sure to watch carefully as it can go from zero to burnt in seconds!