There's nothing quite as satisfying as a delicious sandwich that is composed correctly. You need flavor (obviously) but also texture and the right combination of sweet, spicy, salty and tangy. Easy to put together but incredibly satisfying to bite into.. that is what makes this food so great.
You get all of that in today's featured recipe – my take on a vegan shrimp Bahn mi sandwich!
I recently discovered the vegan shrimp made by New Wave Foods, and was positively surprised at how authentic it tasted. Being Norwegian it's a food that I've missed and used to eat a lot so really happy we now have an alternative that doesn't hurt our ocean and that is not polluted like most regular shrimp. There are other companies that make vegan shrimp, such as BeLeaf and Sophie's Kitchen, so check them out!
What is a Banh Mi sandwich?
Banh Mi is a fusion of French and Vietnamese food based on a baguette. The banh mi sandwich originated in Saigon in the 1950s. Prior to that, Vietnam had long been a French colony. During that time, the French baguette was introduced and became a major part of the Vietnamese diet.
Banh mi is Vietnamese for 'bread' and the sandwich is filled with a combination of meats, vegetables, condiments, and fresh herbs.
Some of the vegetables are pickled which gives the sandwich a bright acidity with a complex flavor profile. The classic pickled vegetables are carrots and daikon, and then fresh cucumbers are added, and even tomatoes.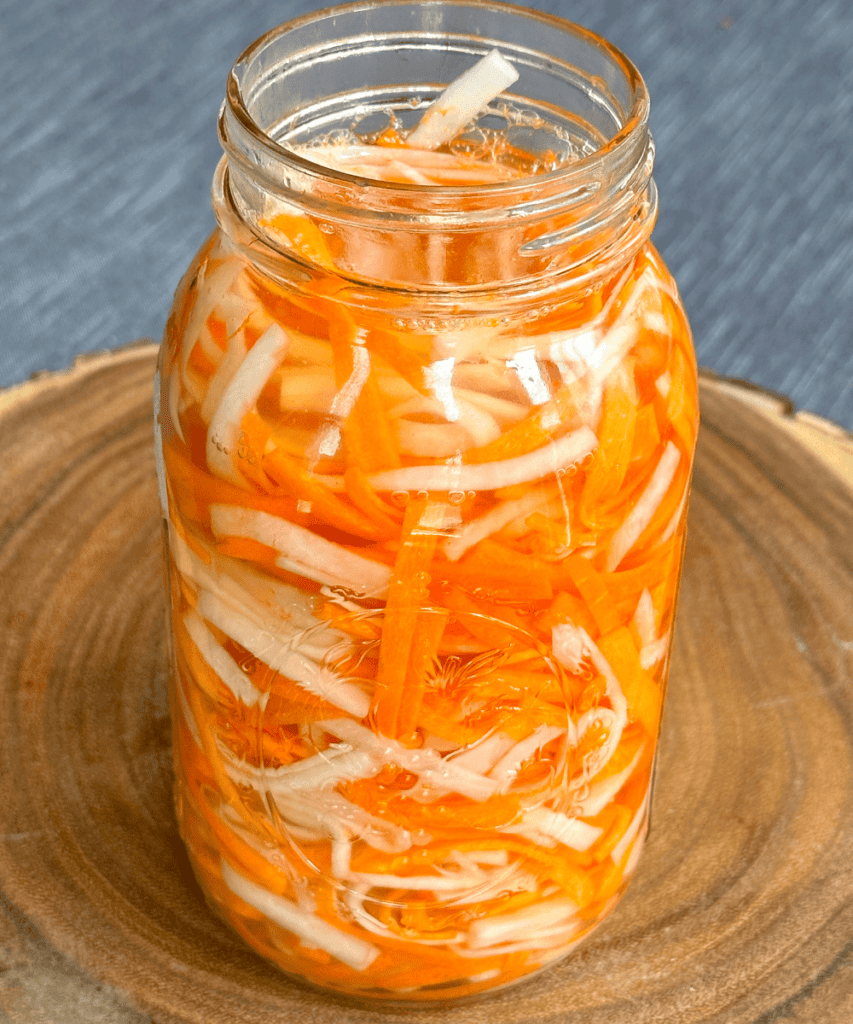 There's a spicy element included, by adding fresh chilis as well as Sriracha (A hot sauce made from chili peppers) to the mayo that is typically spread on the sandwich.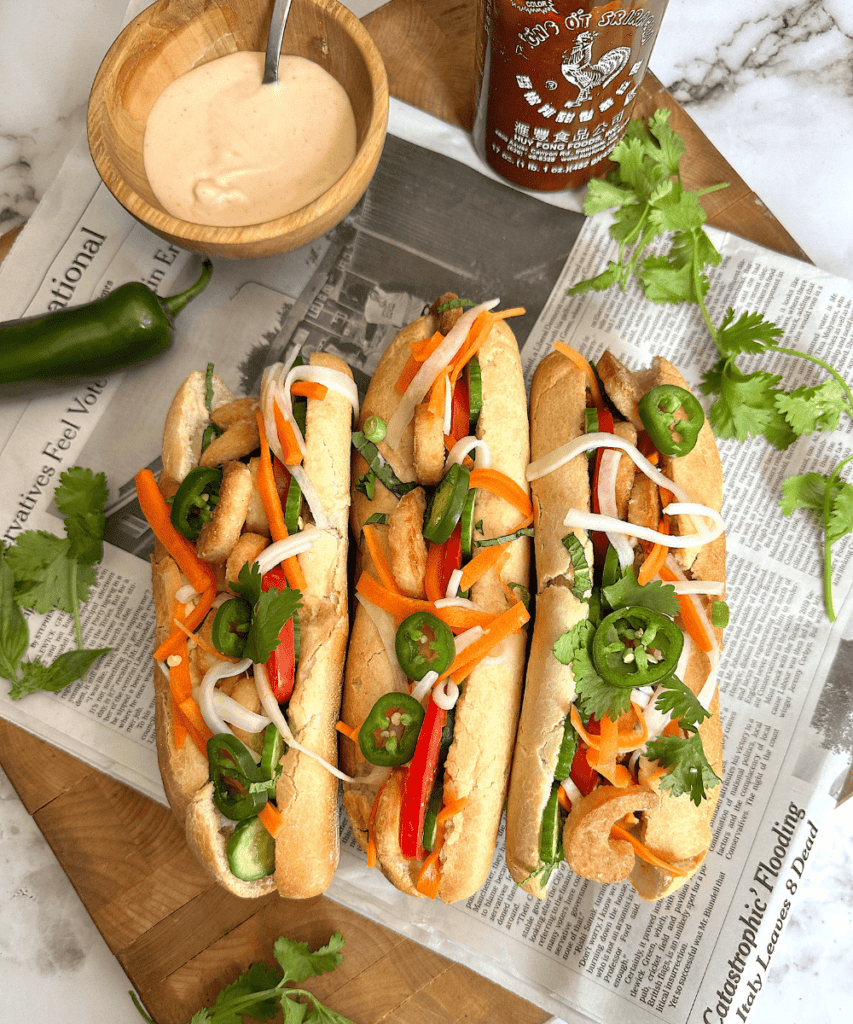 I love Vietnamese cuisine just because of what this sandwich embodies: it includes the five major flavors of salty, sweet, spicy, bitter, and sour. Fresh ingredients are always highlighted, with little oil and dairy as well as an interesting use of textures, herbs and spices.
The only thing I could do better with this recipe would be to make my own Vietnamese baguettes, which I'm determined to conquer. Stay tuned for another post I might title banh mi sandwich 2.0! 🙂
If you can't locate vegan shrimp I also highly recommend marinating some tofu blocks (including five spice powder!) and substituting that – it's equally delicious! Homemade vegan meatballs would do the trick also.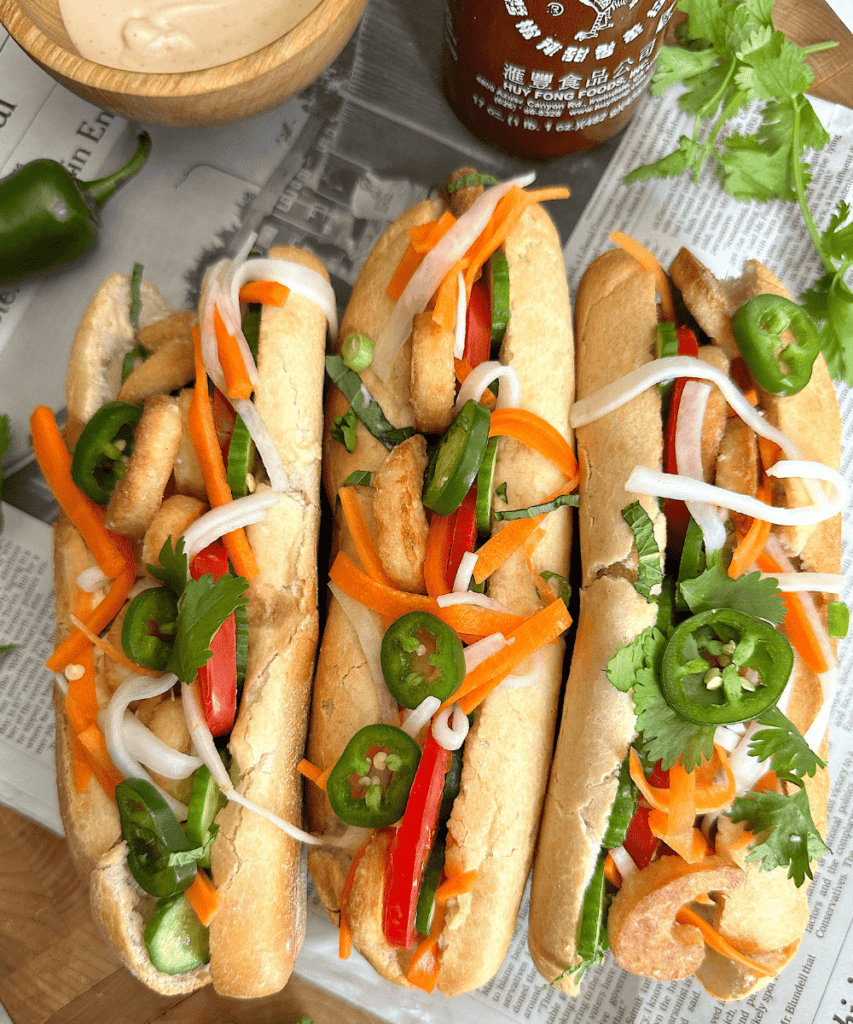 Wine Pairing Suggestions
With dishes that include a variety of textures and that have a lightly spicy touch, I almost always pick bubbles. There's something very refreshing, uplifting, and palate-cleansing about the bubbles and the typically bright acidity in these wines that make them the perfect companion.
On this occasion, I wanted to compare two different sparkling wines: One made in the traditional method from Italy, and the other a classic rosé champagne. The latter you could pair with practically anything, it's incredibly food friendly.
Cantina Tonello Io Teti Metodo Classico 2018
This lovely sparkler is from the Lessini Durello appellation in the Veneto region of Italy. The female winemaker, Diletta Tonello started a micro winemaking project at her family's winery which was founded in 1980 where she focuses on indigenous grapes.
Durella is one of those grapes from which this wine is based. It's a grape that has naturally high acidity and low alcohol, perfect for making metodo classico wines. The soil is volcanic clay which adds beautiful minerality and salinity to the wines.

Io Teti is organically produced and spends 36 months on the lees. The purity and brightness of the fruit makes this a wonderful value sparkler with lots of personality – a perfect partner to the banh mi sandwich! (Around $30 retail)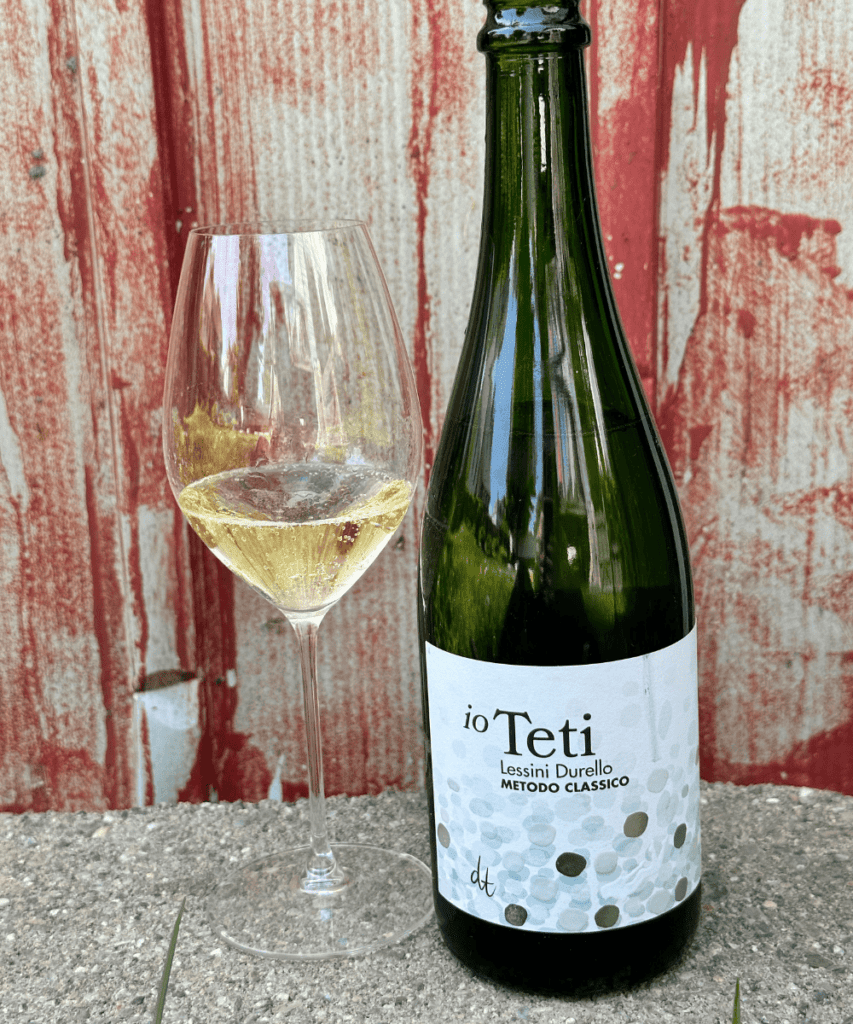 H. Billiot Fils Ambonnay Grand Cru Rosé Champagne NV
This gorgeous, full-bodied rosé champagne from Montagne de Reims is a blend of 80% Pinot Noir and 20% Chardonnay and also spends 36 months on the lees. Beautiful red fruit with delicate bubbles gives it a creamy mouthfeel and is very well balanced.
This is a tiny grower champagne domaine in Ambonnay produces champagne with lots of depth and intensity, while still maintaining an impressive elegance. (Around $60 retail)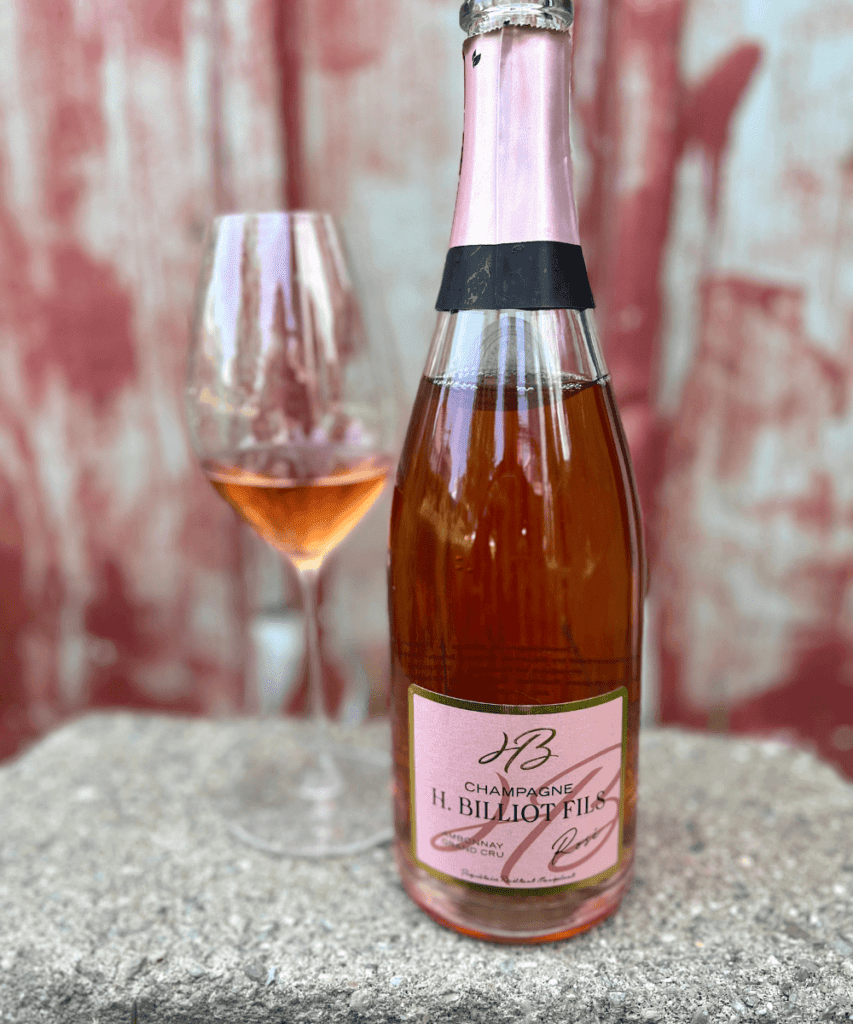 VEGAN SHRIMP BANH MI SANDWICH
Makes 4 sandwiches
4 sub rolls or 2 small baguettes, halved
1 x 250 grams pack of New Wave vegan shrimp (or other vegan shrimp)
⅓ cup (40 grams) cornstarch
1 teaspoon garlic powder
½ teaspoon ground ginger
Salt, pepper
For Pickled Vegetables:
About ½ lb (225 grams) daikon, peeled and sliced into matchsticks
About ½ lb (225 grams) carrots, peeled and sliced into matchsticks
3 teaspoons kosher or sea salt
1 cup (2.5 dl) rice vinegar
1 cup (2.5 dl) water
½ cup (100 grams) granulated sugar
Bahn Mi Special Soy Sauce:
½ cup (125 ml) soy sauce
2 tablespoons sugar
2 tablespoons water
2 tablespoons rice vinegar
1 garlic glove grated
For Sriracha Mayo:
½ cup (1 dl) vegan mayo like Hellman's
1 teaspoon Sriracha
2 teaspoons maple syrup or agave nectar
Garnishes:
½ cup (25 grams) mixture of fresh cilantro, Thai (or regular) basil, mint
4 scallions, sliced thinly
2 jalapeños, sliced thinly
1-2 tomatoes, sliced
2 Persian cucumbers, sliced
Start with pickling the vegetables:

Cut the vegetables into medium-thick matchsticks. I like using a mandoline but be careful not to slice your fingers! It's also important to use a good and very sharp knife for this part, which is the most time consuming.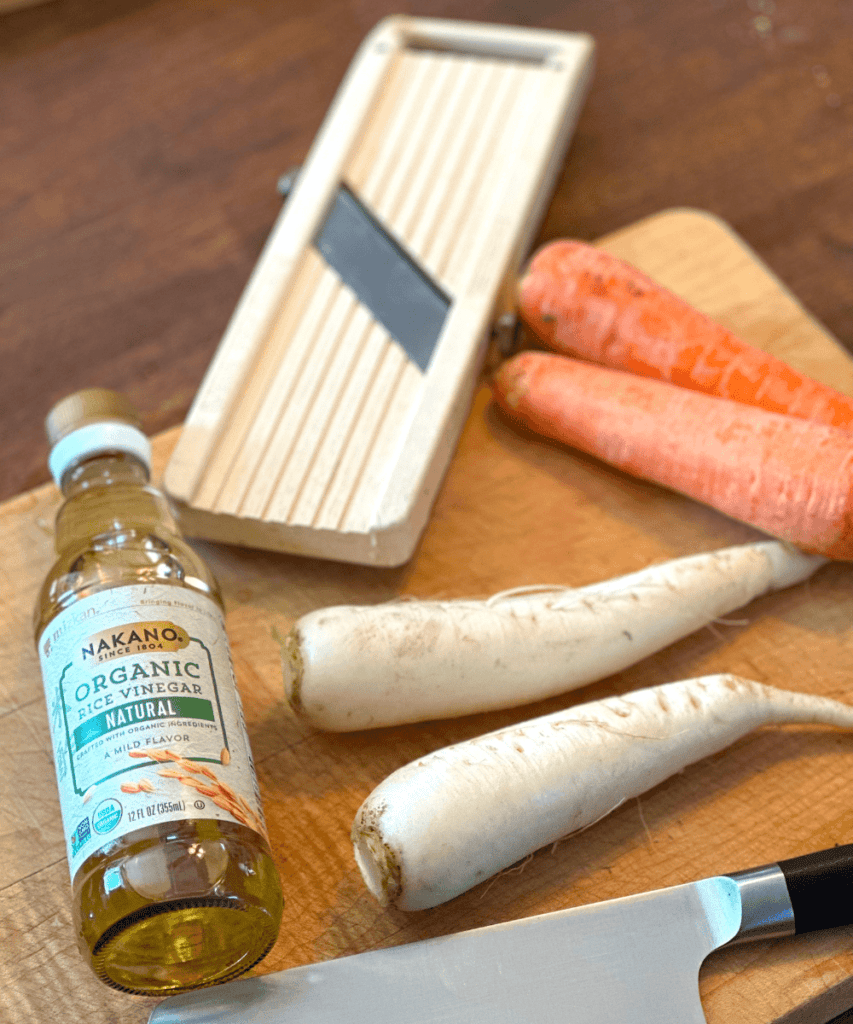 Combine the rice vinegar, water and sugar in a small pot and whisk together over medium-high heat, ensuring all the sugar is dissolved before turning off.

Let cool off a bit. While that cools off, place the cut-up vegetables in a large colander, rub with the salt, and let sit for at least 15 minutes.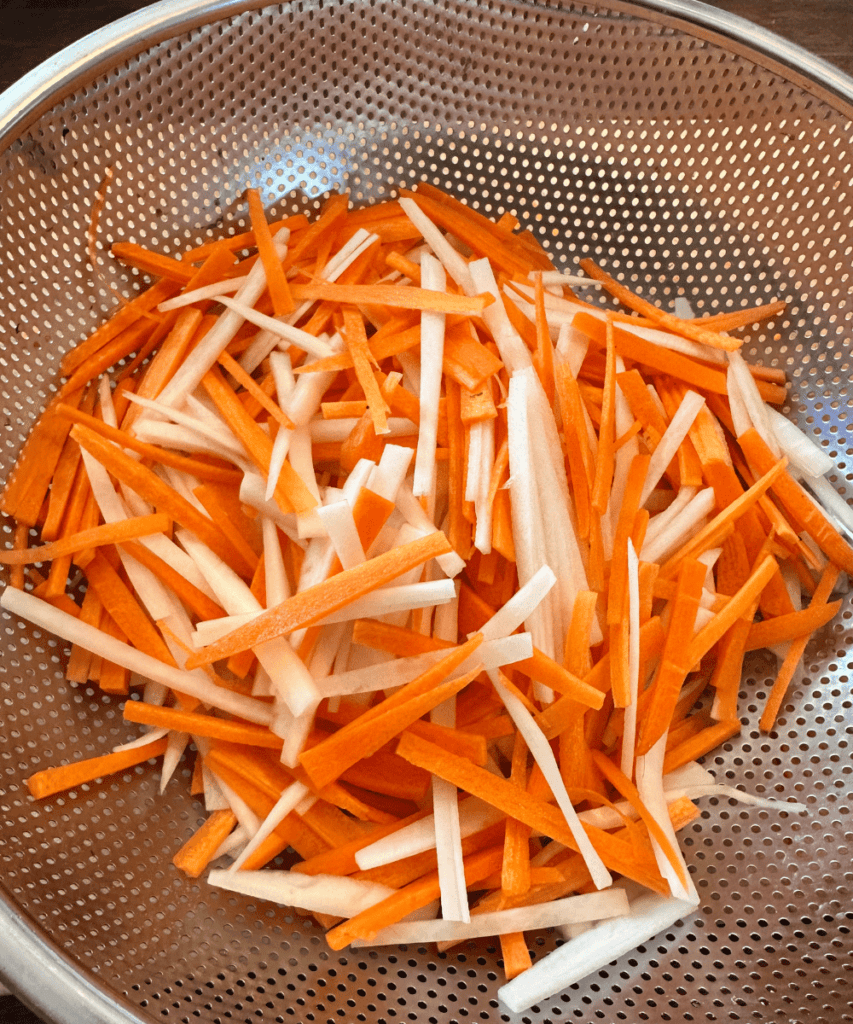 Rinse off the salt, squeeze out any excess water, and place into a clean mason jar. Pour over the lightly cooled-off pickling liquid and place in the fridge without the lid for at least 1 hour, preferably overnight, to let the flavors blend together.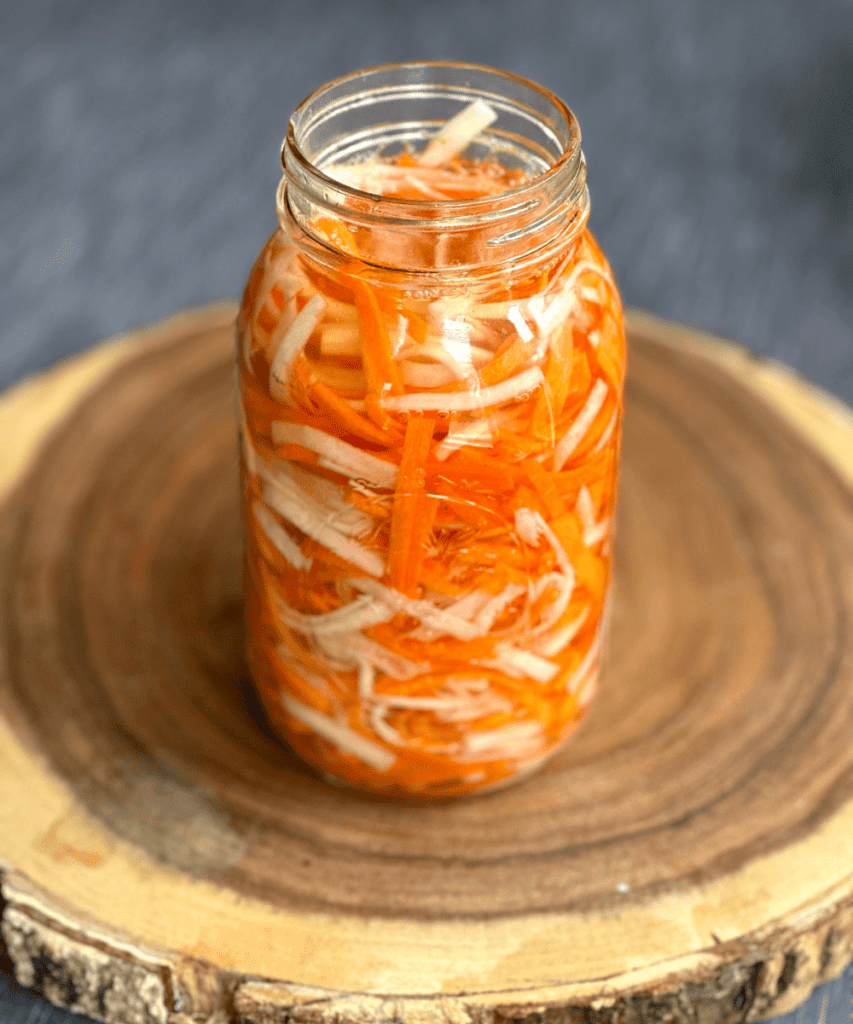 To prepare Bahn Mi Special Sauce:
Combine all ingredients in a glass jar fitted with a lid and shake well to combine the ingredients. Alternatively, whisk together in a small bowl and set aside or refrigerate until ready to use (will keep about 1 week in the fridge).

To make the Sriracha mayo:
Combine all the ingredients in a small bowl, whisk well and set aside or refrigerateuntil ready to use.
Thaw the vegan shrimp first (if it comes frozen), then boil it in water for about 4 minutes. Drain and let cool.
Add the flour, garlic powder, ground ginger, salt, and pepper in a medium bowl and whisk to combine.
To prepare shrimp:
Line a sheet pan with paper towels and set aside.
When ready to make the sandwich, heat up about ⅓ cup of neutral vegetable oil in a large sauté pan. Toss the shrimp in the flour mixture, using a slotted spoon or spider to shake off any excess flour, then add to the hot pan and cook on each side for about 3 minutes until golden brown.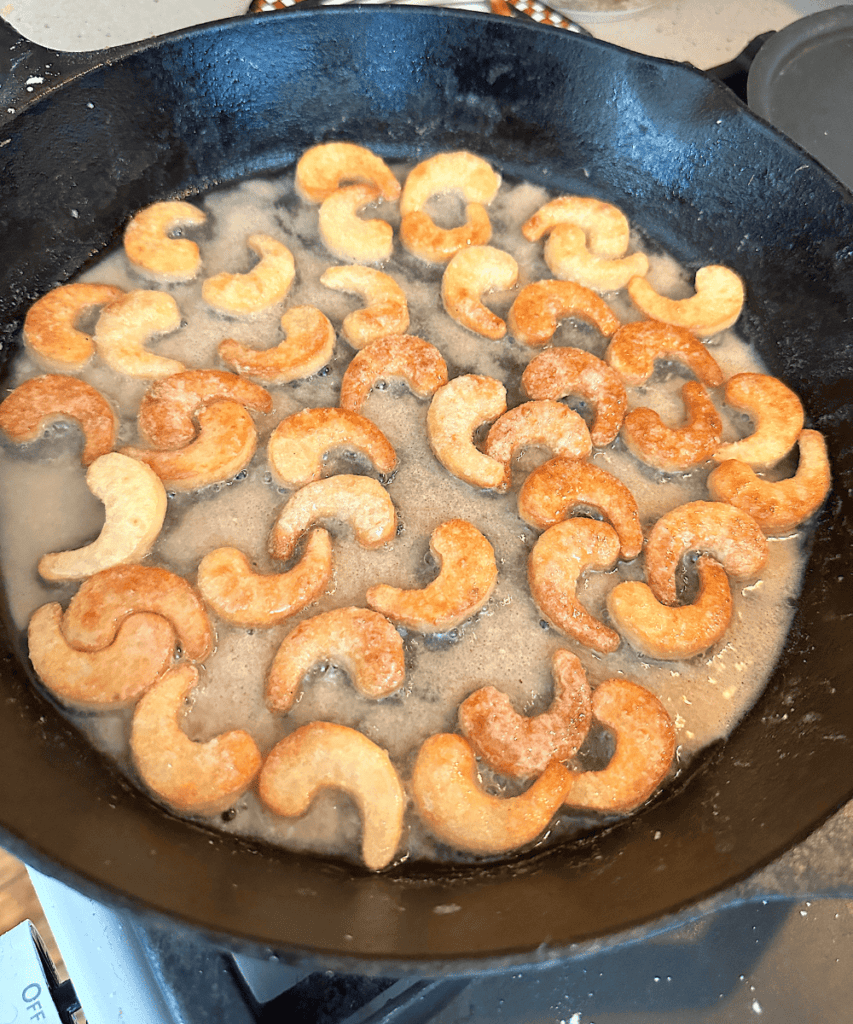 Transfer the cooked shrimp to the lined sheet pan and let any excess oil run off.
To assemble the sandwiches:
Slice the sub rolls or baguettes in half but not all the way, leaving the ends (like a book) intact.

Drizzle a little of the soy sauce onto each side of the sandwich, then follow with a generous slab of sriracha mayo.
Add some of the scallion-herb mixture, then layer with a couple of slices of tomatoes and several cucumber slices. Add in some of the sautéed shrimp, then top with the pickled vegetables and 2-3 slices of jalapeño.