This blog post was inspired by a fun tradition in Norway every May 17th, the country's Constitution Day: organizing a champagne breakfast!
On this day, Norwegians gather in the morning to huge tables of foods from smoked salmon and scrambled eggs with dill, potato salad, rundstykker, dips, cheeses, cold cuts, and sweet treats like cream cake and pavlova, and of course… lots of champagne and/or sparkling wine!
If you'd like to make plant-based versions of these dishes, I've linked to blog posts and cooking classes where you can find all the recipes for the relevant foods. Well worth checking out and for more Norwegian cooking classes and courses you can visit my shop page.
Traditional foods served at champagne breakfasts on May 17th are dominated by meat, fish, and dairy dishes.
I think that eating lighter this early in the day is better, but still, make a special and festive meal.
Bite-size foods such as blinis (mini pancakes) with a variety of delicious toppings are perfect! And of course, champagne is a fantastic pairing with blini. Stay tuned for a separate blog post on my pick for this pairing.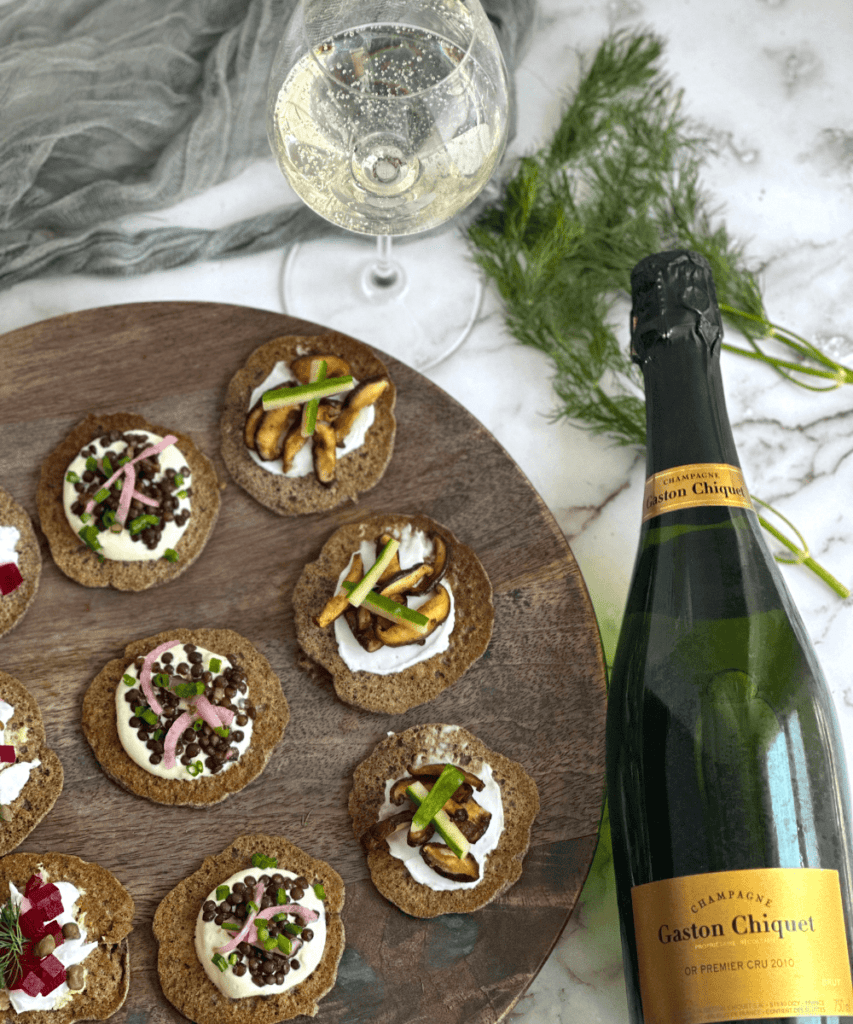 There are many similarities between Russian and Norwegian cuisine, which may not seem so odd, considering we are neighbors. We both love beets, horseradish, dill and sour cream… what could go wrong with that combination, right?
This is a meal that will leave you happy and satisfied but not stuffed to the tilt so you can continue your day and still find room for some ice cream and (vegan) hot dogs (two of Norway's most popular foods on May 17th) later in the day.
You can play around with wine pairings too if champagne isn't your thing (but shouldn't it be?!) or select one of the champagne cocktails I've included below.
Blinis are tiny, savory pancakes made with buckwheat, which gives them a unique flavor and look. They are a traditional dish of Russian and Ukrainian cuisine and are served with a variety of toppings such as butter, sour cream, jam, chopped and fried vegetables, mushrooms and so much more.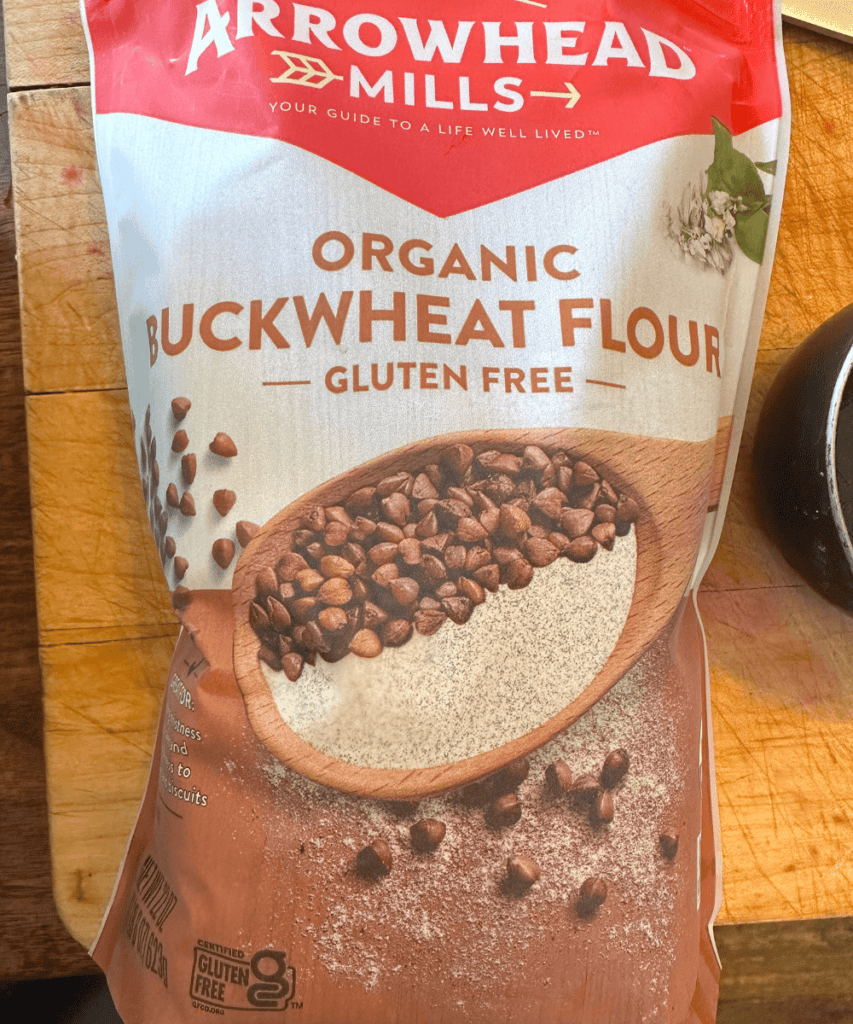 Traditional blinis are yeasted, which requires a lot of time, and I'll cover this version in another blog post in the future. Since we are doing quite a lot of work with all the toppings in this recipe, I decided to use baking powder and baking soda, treating the blinis more like a traditional pancake batter. To offset the tanginess of a yeast batter, I made a vegan 'buttermilk' adding apple cider vinegar to soy milk.
I prefer soy when making buttermilk as I find it to thicken up and curdle the best of all the plant-based kinds of milk out there, but you can certainly substitute another unsweetened, plain non-dairy milk such as almond, cashew, or oat-based version.
Folding in a little aquafaba, a stand-in for egg whites, also lightens up the batter much like yeast does. Try it out and let me know what you think!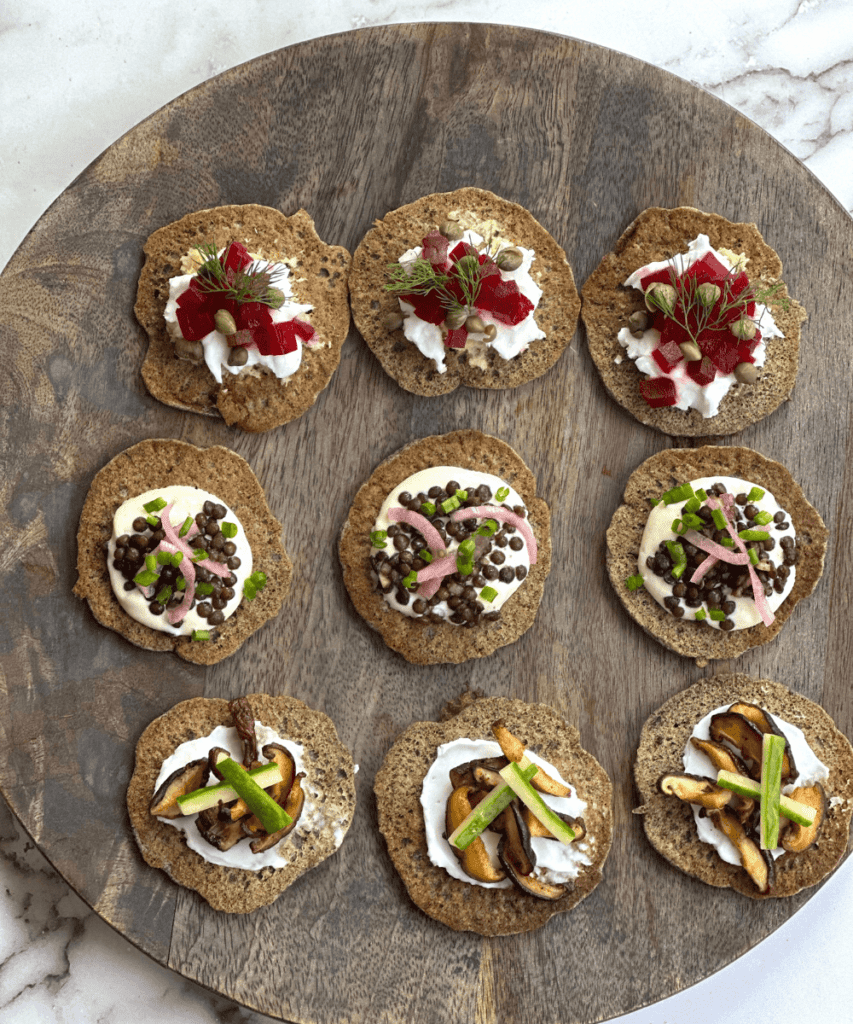 Vegan Blini
Makes about 40 blini
2 cups (475ml) organic unsweetened soy milk
1 tablespoon apple cider vinegar
1 cup (140 grams) buckwheat flour
1/2 cup (70 grams) all-purpose flour
3 teaspoons sugar
1 teaspoon kosher or sea salt
1/2 teaspoon baking powder
1/4 teaspoon baking soda
3 tablespoons (42 g) unsalted butter, melted
3 tablespoons Just Eggs (optional)
4 tablespoons aquafaba, whipped
¼ teaspoon cream of tartar
Vegetable oil for cooking
Sour cream or crème fraiche, for serving*
Adjust the oven rack to the middle position and preheat the oven to 150°F (65°C) or the lowest setting your oven allows.
Combine the soy milk and apple cider vinegar in a small bowl or jar and set aside.
In a medium bowl, whisk together buckwheat flour, all-purpose flour, sugar, kosher salt, baking powder, and baking soda.
In a separate medium bowl, whisk together buttermilk, melted butter, Just Eggs, and vegetable oil. Add the soy milk mixture to the bowl with the dry ingredients and fold in with a rubber spatula until just combined.
In the bowl of a stand mixer, whisk the aquafaba with the cream of tartar until stiff peaks form, about 4 minutes. Using a rubber spatula, carefully fold the aquafaba into the batter until just combined.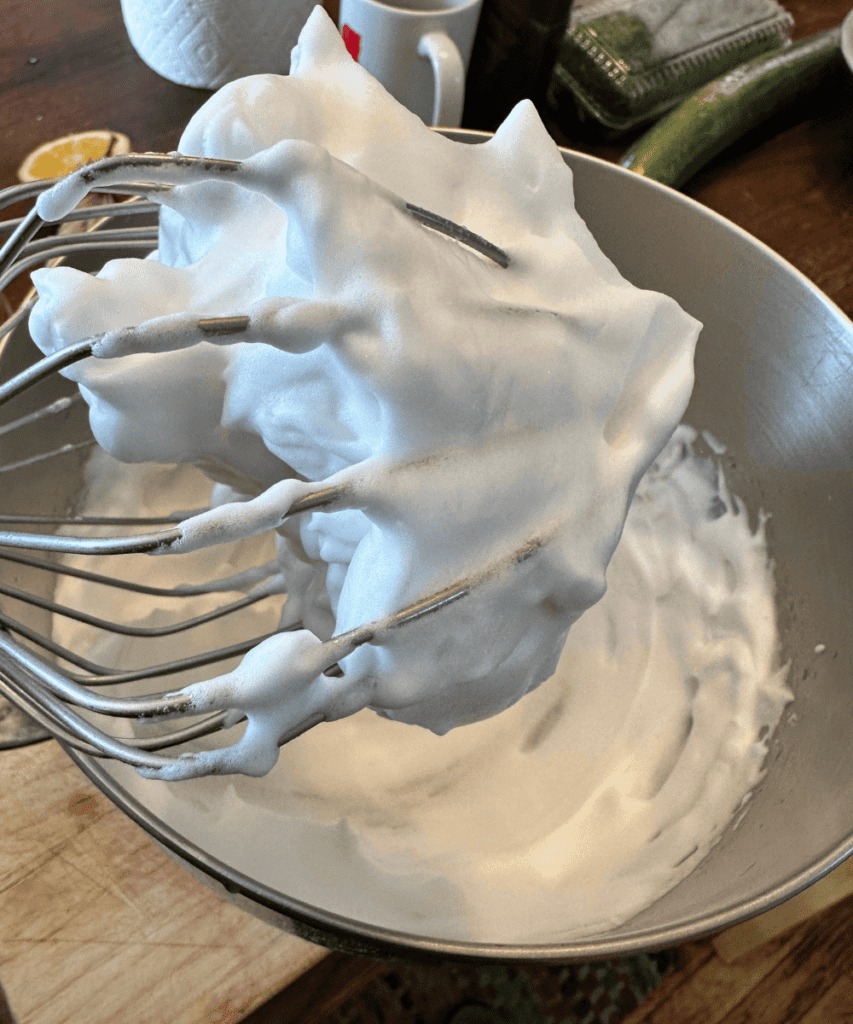 Heat a large nonstick or cast iron skillet over medium heat, drizzle a paper towel with a little vegetable oil, and coat the skillet. Using a large spoon, place a large circle of batter in the skillet.
Cook until bubbles start forming on the blini's surface, about 2 minutes, then flip and cook for another minute or so until golden and set.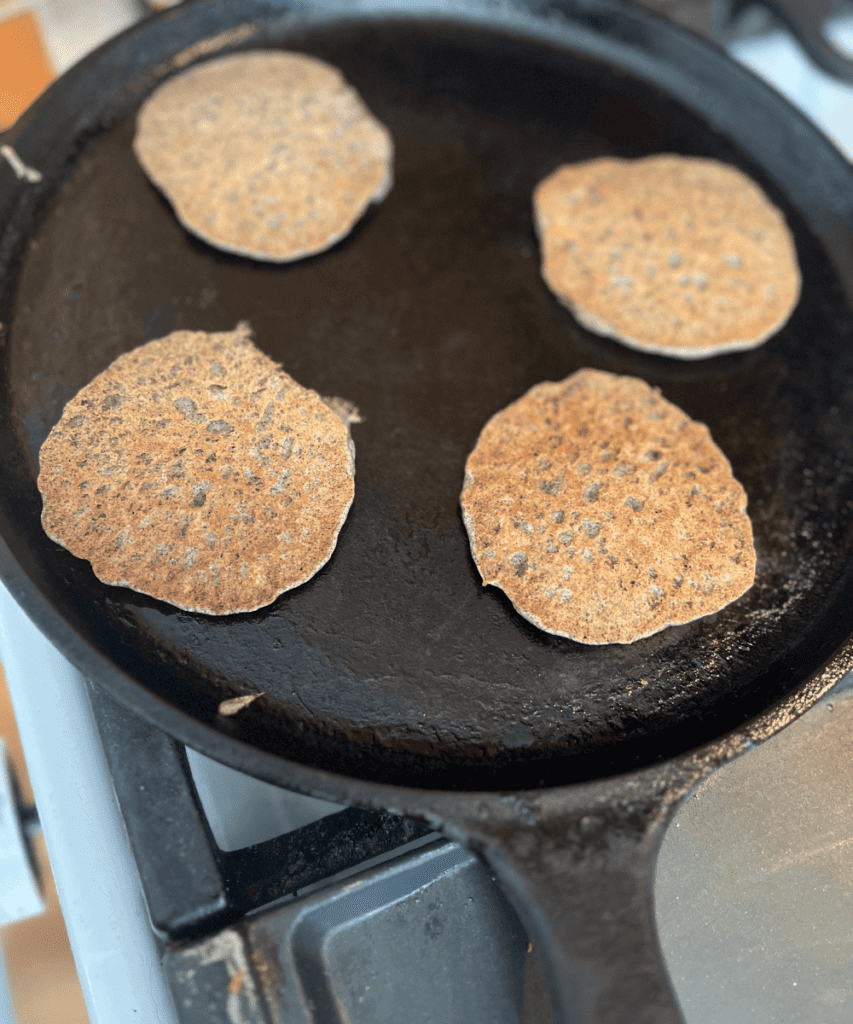 Wrap the cooked blini in a clean kitchen towel, place on a wire rack set on a rimmed baking sheet, and transfer to the oven to keep warm. Repeat this process until all of the batter is used up.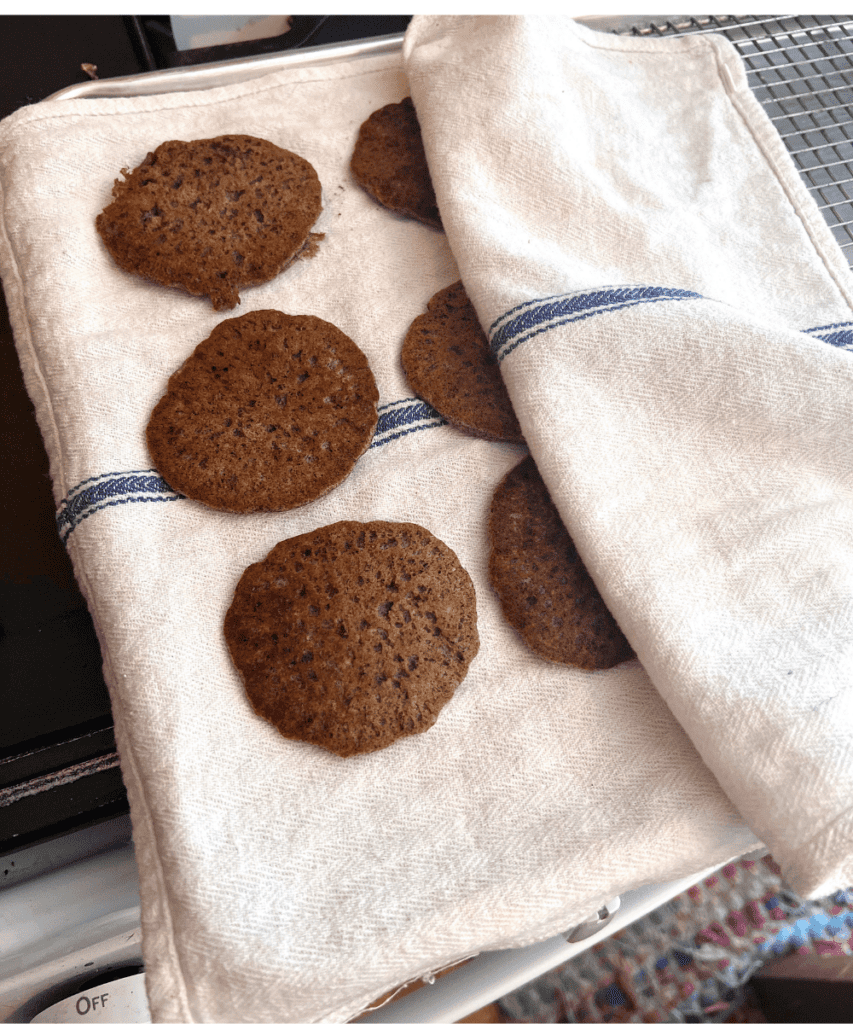 Serve the blini with some of the topping ideas below.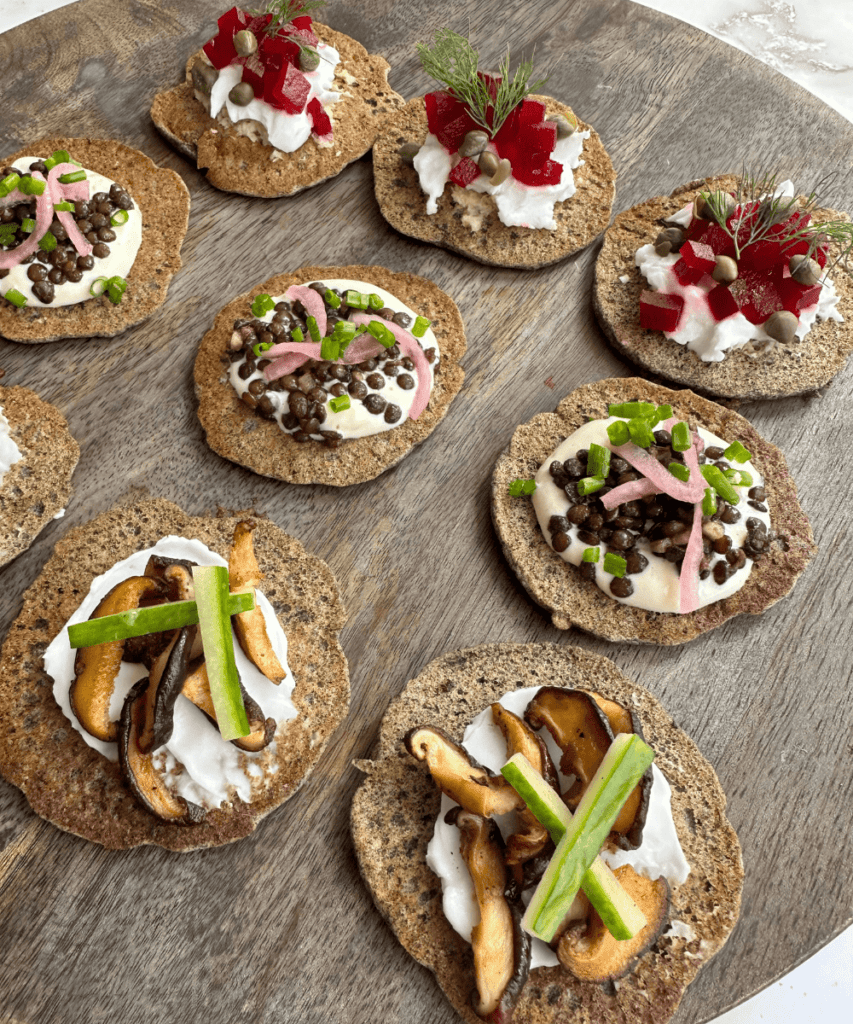 Beluga Lentil Caviar
½ cup (100 grams) Beluga lentils, cooked
3 teaspoons olive oil
1 teaspoon seaweed dried & ground (optional)
Juice of ½ lemon
2 teaspoons balsamic vinegar
1/4 red onion finely chopped
Salt, and pepper to taste
Creme fraiche or sour cream
Whisk together the oil, seaweed if using, lemon juice, balsamic vinegar, and red onion and pour over the cooked puy lentils. Season well with salt and black pepper.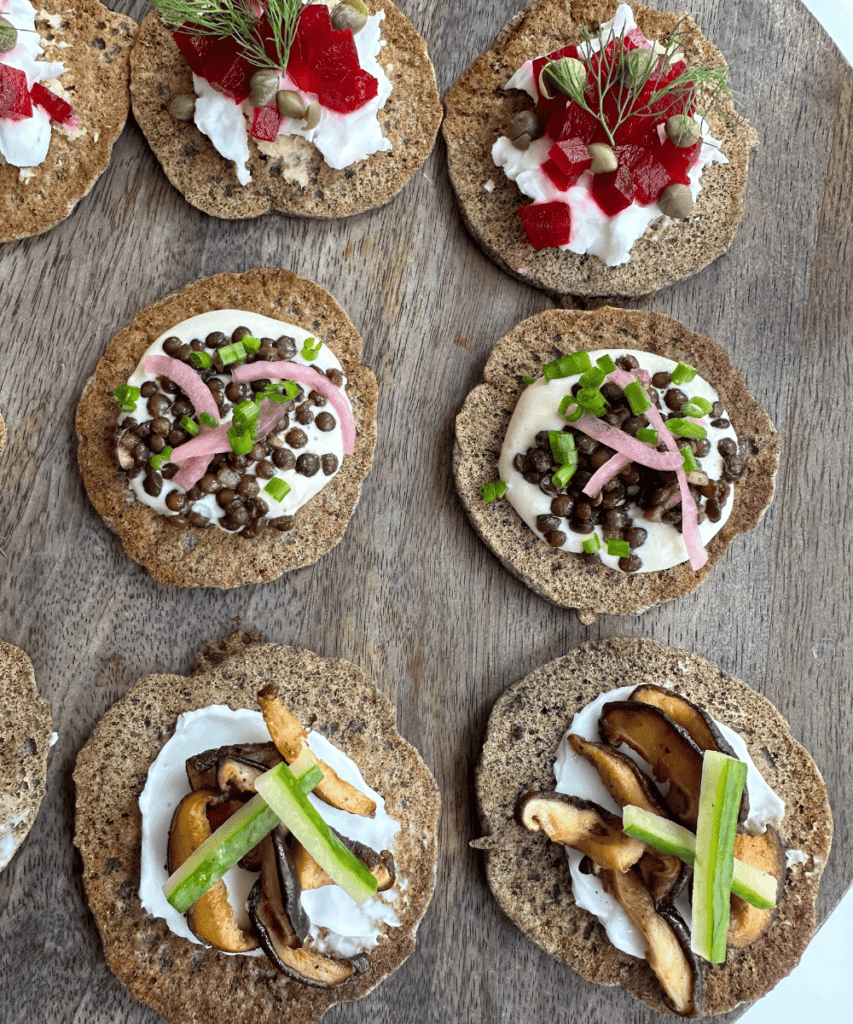 Vegan Creme Frâiche
1 cup (140 grams) raw cashews, soaked in water for at least 2 hours
3⁄4 cup (1.75 dl) unsweetened plain vegan yogurt
2 teaspoons apple cider vinegar
1 teaspoon maple syrup or agave nectar (optional)
1/2 teaspoon salt
Place cashews, vegan yogurt, vinegar, maple syrup or gave and salt into a blender or food processor.
Process until creamy and smooth, about 1-2 minutes.
Refrigerate for at least one hour, or overnight and allow to thicken. Keeps in fridge for 5 days.
Glazed Shiitake and Cucumber
1 tablespoon neutral vegetable oil
5-6 shiitake mushrooms, thinly sliced
3 teaspoons soy sauce
¼ English cucumber, quartered lengthwise and seeded
Vegan cream cheese
Sauté the mushrooms in a little olive oil in a skillet for 2-3 minutes.
Pour the soy sauce over until the mushrooms are coated and starting to form a sticky glaze. Cook for a few more seconds, then remove from the heat and set aside.
Slice the cucumber into thin matchsticks.
Spread each blini with vegan cream cheese, and top with a little shiitake mushrooms and cucumber matchsticks. Garnish with pickled red onions (optional).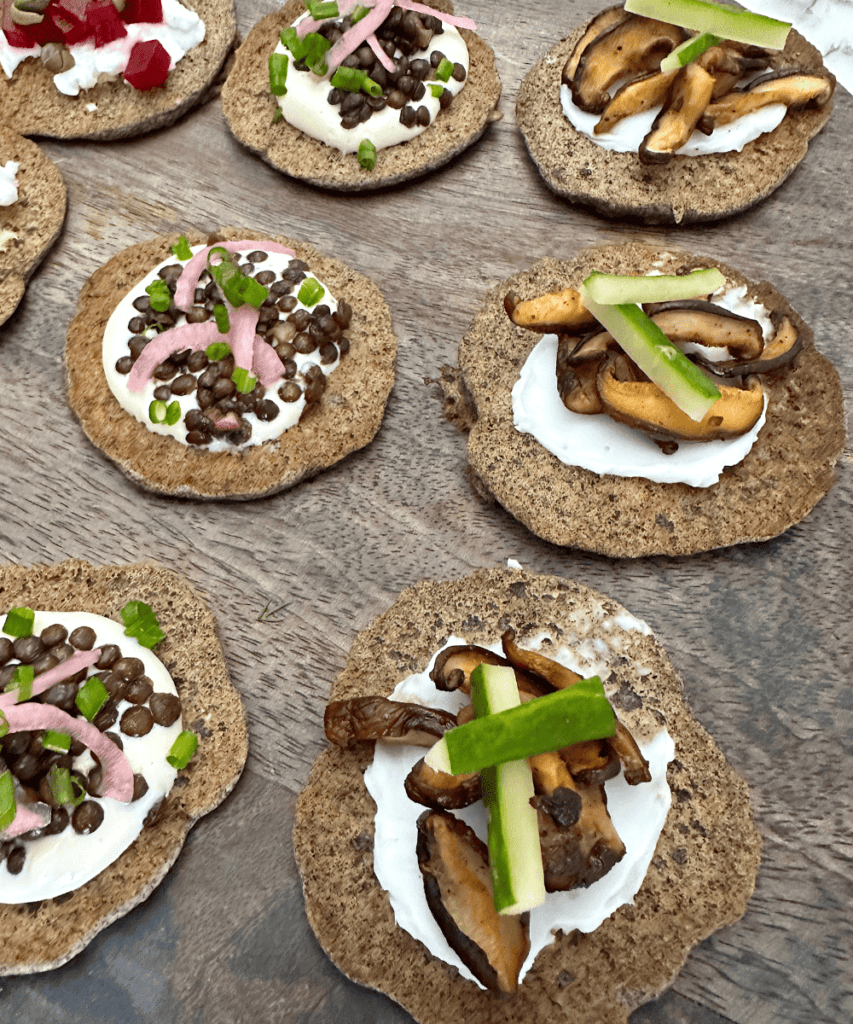 Beets, Walnuts, Horseradish, and Capers
½ cup (90 grams) pickled beets, finely diced*
1/4 cup (30 grams) walnuts, toasted
Prepared horseradish
1 tablespoon capers
¼ cup (4 tablespoons) vegan sour cream
Roughly chop the toasted walnuts.
Spread blini with ½ teaspoon horseradish, followed by the vegan sour cream and chopped walnuts. Top with pickled beets, capers and garnish with a dill sprig or two.
*You can pickle your own beets, just roasting a whole beet in the oven at 400F (200C) for about 1 hour), then slicing the beets thinly once cooled and make this pickling liquid.
Below are a couple of recipes for some of my favorite champagne cocktails which are festive and fun to play around with. You could certainly use proper champagne in these cocktails if you're feeling extra fancy, but I think a good quality Prosecco will do just fine.
This is one of my favorite Prosecco producers and what I used in my champagne (or more correctly, sparkling wine) cocktails: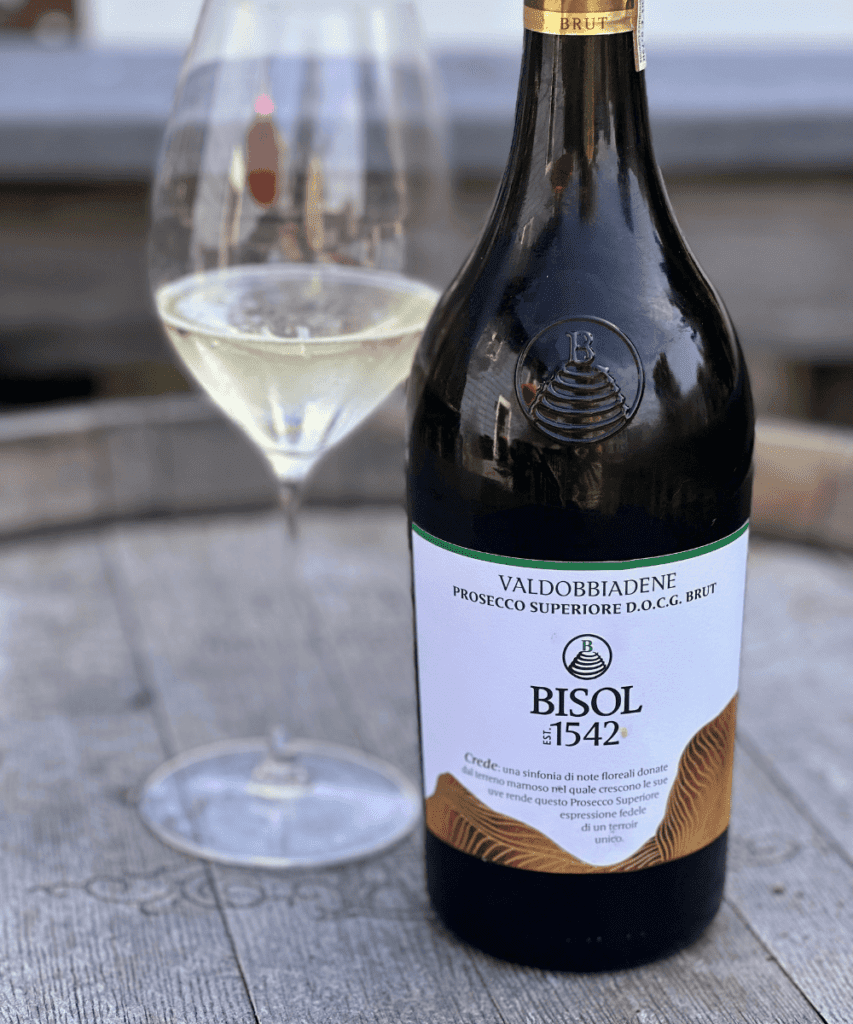 Meyer Lemon Mimosa
Makes 6 drinks
1/4 cup Meyer lemon juice (about 2 medium Meyer lemons, juiced)
3/4 cup (1.75 dl) water
1 cup (200 grams) granulated sugar
1 x 750 ml bottle of champagne or sparkling wine
1 Meyer lemon, cut into thin slices
sugar for the rim of the glass
Zest of 1 Meyer lemon for rim of the glass
Make Meyer Lemon simple syrup:
Bring sugar and water to a boil in a small pot, and stir until sugar is dissolved, about 2-3 minutes. Take the pot off the heat and add in the Meyer lemon juice. Let cool completely.
Garnish your champagne glasses. Mix the sugar with the meyer lemon zest and spread onto a plate. Rub the rim of each glass with a lemon wedge. Dip the rubbed edge of each glass into the sugar.
Drop a lemon slice into each glass.
Combine one tablespoon of Meyer Lemon simple syrup into each glass and top with champagne or sparkling water.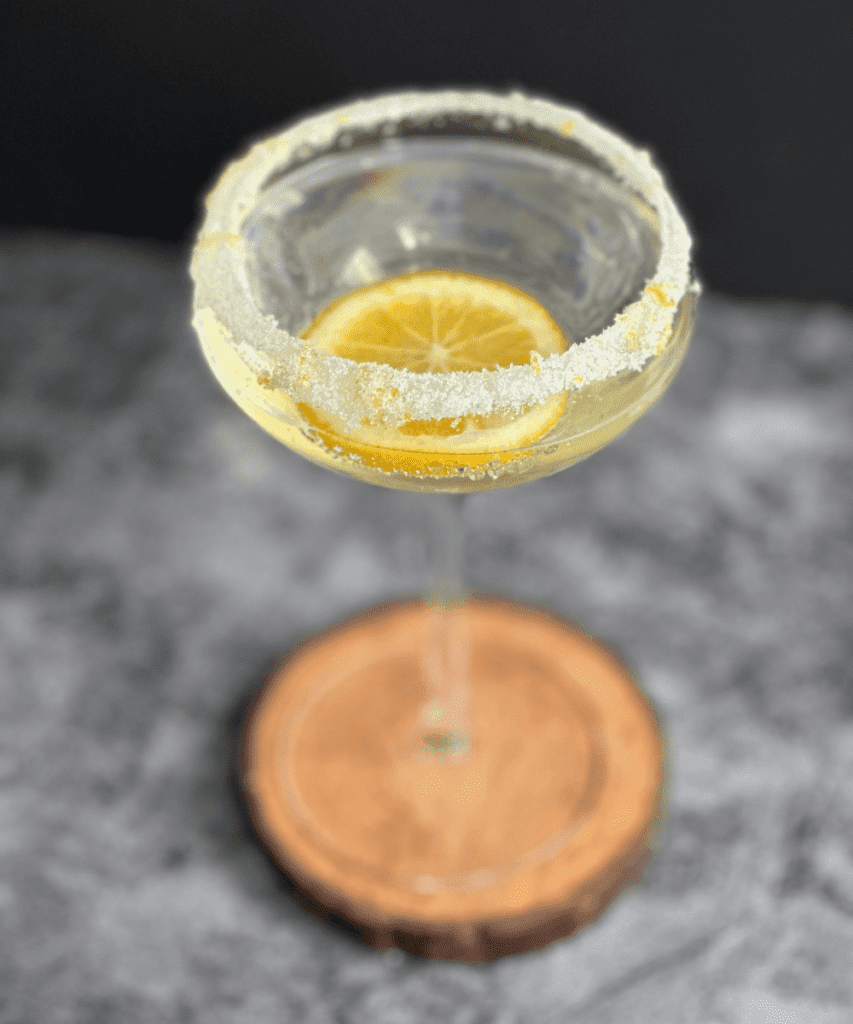 Strawberry-Rhubarb Bellini
For the strawberry-rhubarb simple syrup:
1 cup (200 grams) sugar
1 cup (2.5 dl) water
1 cup (170 grams) chopped fresh strawberries
1/2 cup (60 grams) chopped fresh rhubarb
Champagne Cocktail:
3/4 oz (2 cl) Grand Marnier or other orange liqueur
1 oz (3 cl) Strawberry Rhubarb Simple Syrup
Champagne or chilled prosecco
Puree the strawberries and rhubarb in a high speed blender until smooth and liquidy. Strain into a small bowl and set aside.To make the simple syrup, combine sugar, water in a small saucepan. Bring to a boil over medium-high heat, stirring to dissolve the sugar completely.
Once boiling, remove from heat and pour in the strawberry-rhubarb mixture and let cool and steep for about 30 minutes.
Store in an airtight container in the refrigerator for up to 1 week.
To make the cocktail, add Grand Marnier or other orange liquor and simple syrup in a mixing glass, stir to combine, and pour into a champagne glass.
Top with champagne and serve with a slice of strawberry and a mint sprig.