Today's recipe is for those times when you feel like a hearty dish that looks impressive but that you really have to put minimal effort into. If you have some leftover vegetables like carrots, onions, celery, broccoli and/or mushrooms that you are needing to get rid of but have no idea what to do with – read on.
There's nothing more satisfying than digging into a pot pie: earthy, sweet vegetables in a creamy gravy, enveloped in fresh herbs topped with a golden pastry crust. I can't think of anybody who would complain if they were served this dish.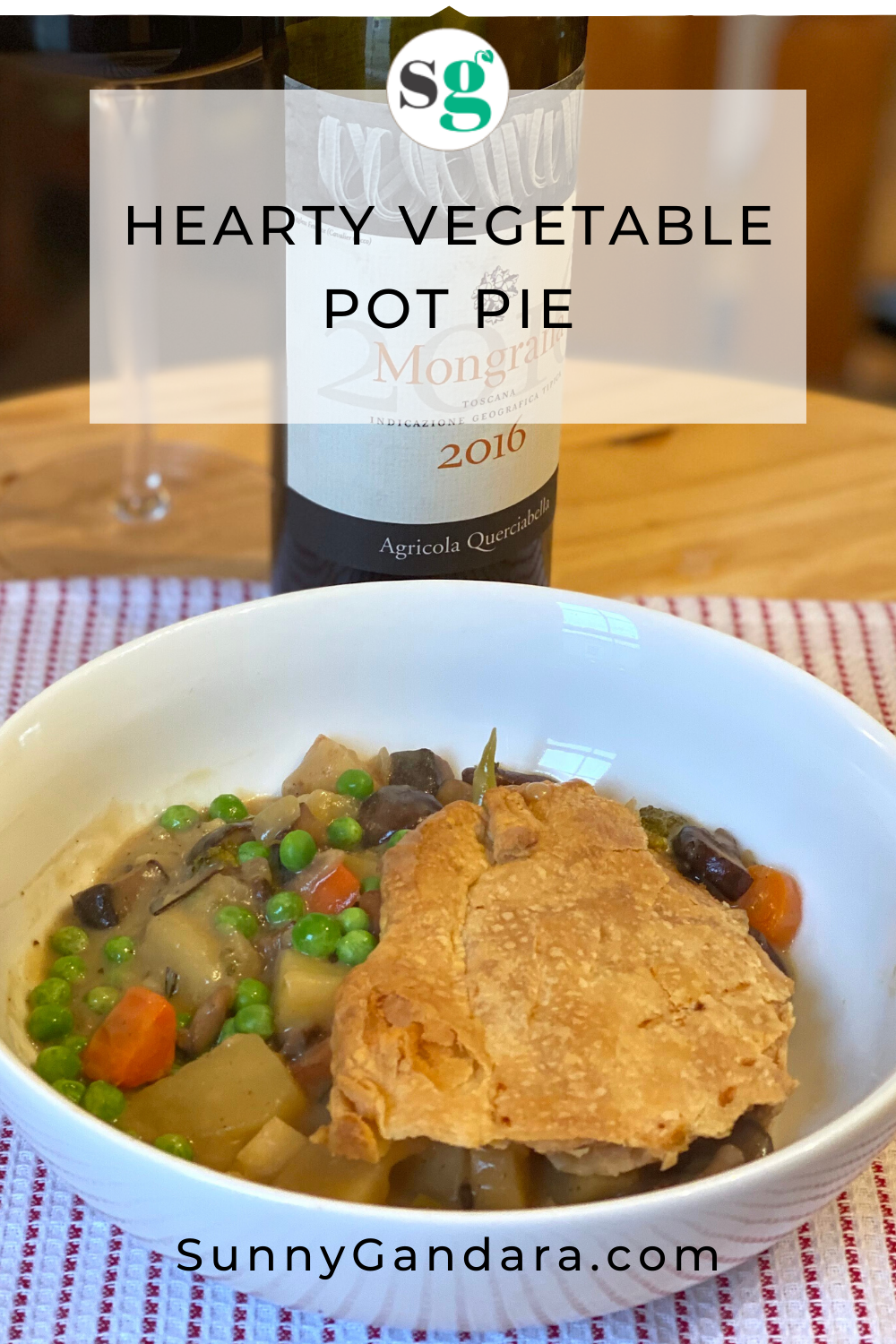 For those meat lovers in your life, the mushrooms will mimic the umami flavor of the meat as well as the texture, so make sure you add in a good amount of fungi. I recommend shiitakes, trumpet mushrooms, and maitakes.
Recently, I learned that mushrooms like Portobello, 'baby Bellas', and button mushrooms are not vegan, and I'm hesitant to use these in future recipes. Because these mushrooms grow from spores to full-size feeding off the manure, animal bones, guts, and other slaughterhouse leftovers, many vegans choose to leave them out of their diet, and others still consider them plants. Another option would be to try to grow your own, using plant-based compost. I leave it to you to decide 🙂
For this recipe, I didn't make my own crust because sometimes we just want dinner to be ready in a jiffy, so I used an already made, frozen puff pastry sheet by Pepperidge Farm. And yes, it's vegan! I think most grocery stores carry it in their freezer section. Alternatively, if you don't want to use a pastry crust, you can top the vegetables with mashed potatoes, much like a shepherd's pie, and it will be equally delicious.
I put what vegetables I had in the fridge and on the counter in my recipe, but you can add in pretty much anything you want to use and like. I love all kinds of root vegetables in this dish.
Making the 'roux' is super simple as well, just using a little flour and vegetable stock and deglaze with wine. The key is to just keep stirring and to make sure all the flour is dissolved to avoid any clumps or flour to form. This will create a silky, creamy white 'gravy' that adds to the richness of the pot pie. The herbs are essential too—don't substitute dried herbs, there is something magical about fresh herbs so well worth the trip to the store.
For a wine pairing, I suggest a medium to full-bodied red wine with generous fruit but good composition. I chose Querciabella's Mongrana 2016 which is my go-to for all types of dishes with earthy flavors.
Believe me when I say this dish gets even better when paired with the right bottle of wine, as it allows both the food and the wine to shine even brighter!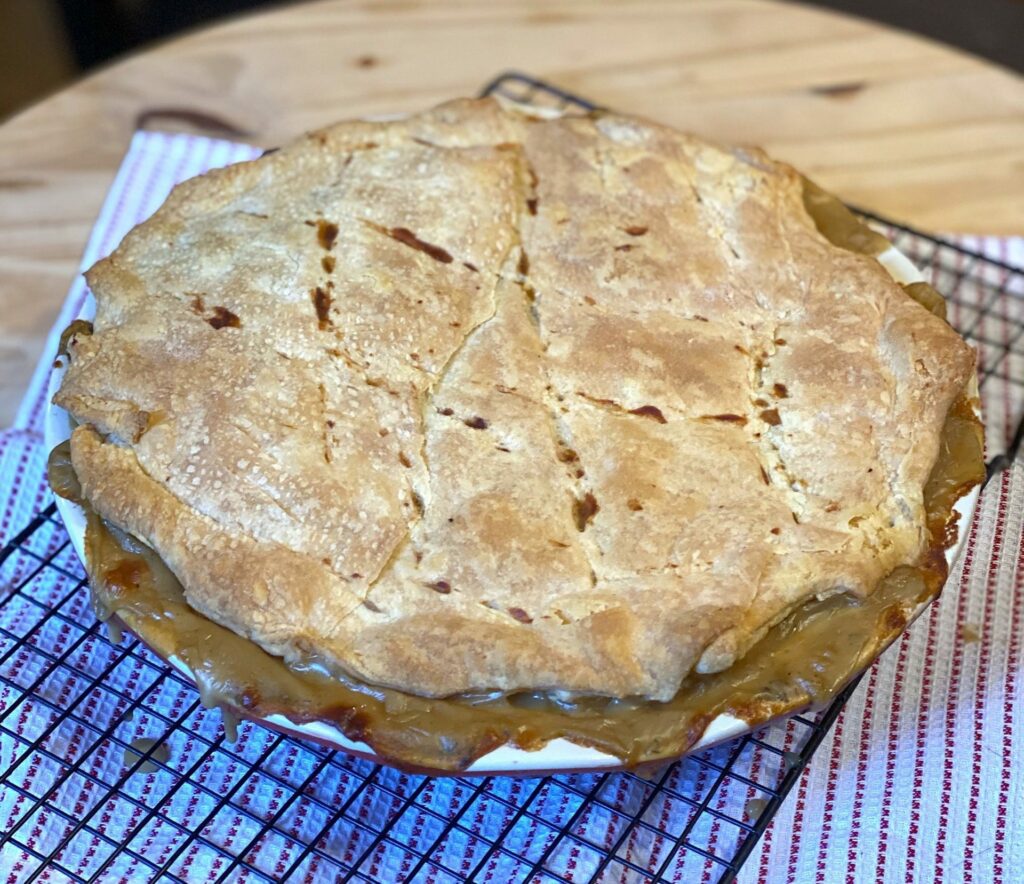 HEARTY VEGETABLE POT PIE
2 tbsp olive oil
1 sweet (Vidalia) onion, chopped
3-4 garlic cloves, minced
2 stick of celery, chopped
2 large carrots, peeled and diced
1 tbsp Dijon mustard
½ cup all-purpose flour
½ cup dry white wine
1 tbsp soy or tamari sauce
12 oz mixed wild mushrooms of your choice
1 large parsnip, peeled and diced
2 small potatoes, peeled and diced
2 tbsp fresh rosemary, de-stemmed and chopped
2 tbsp fresh thyme leaves, de-stemmed and chopped
1 tbsp fresh sage, chopped, de-stemmed and chopped
2 cups vegetable stock (or mushroom stock from dried mushrooms)
½ cup non-dairy milk (I used Oatly)
1 cup peas, frozen
Salt, pepper to taste
1 sheet vegan frozen puff pastry, thawed (I used Pepperidge Farm)
A little melted vegan butter to brush pastry sheet
Preheat the oven to 425°Fahrenheit (210° Celcius).
Lightly butter an ovenproof pan / 10-12 inch pie dish and set aside.
In a heavy-bottomed saucepan, heat the olive oil over medium-high heat, add in the chopped onion with a pinch of salt, and saute for a couple of minutes. Add in the garlic, celery, and carrots and carry on sauteing for about 5-8 minutes until vegetables start to soften.
Add in the Dijon mustard and make sure vegetables are coated. Drizzle over the flour and keep stirring until all the flour is dissolved and cooked, about 1 minute.
Turn up the heat to high and deglaze with the white wine, whisking, and preventing flour from clumping in the bottom. Cook until liquid is evaporated.
Then add soy sauce (this adds extra umami flavor), mushrooms, parsnips, and potatoes along with the fresh herbs, vegetable stock, and non-dairy milk and continue stirring. Return to a simmer and cook for about 20-30 minutes until vegetables are cooked, the flavors have blended and the sauce has thickened.
About 5 minutes before serving, add in the frozen peas, season with salt and pepper, and taste for proper seasoning. Set aside while you roll out the puff pastry.
Carefully remove the pastry sheet from the packaging, and place it on a clean, lightly floured work surface. Using a rolling pin roll out the dough until it covers the size of the surface of your pie pan with an additional 2 inches hanging over the pan. Fold in the sides. Alternatively cut off the edges to fit the pan. Using a sharp knife, cut a few slivers into the top to allow for steam to escape when baking.
Brush the top with the melted vegan butter, place in the oven on the middle rack and bake for about 30 minutes until golden brown on top and vegetable filling is bubbling.
Remove from the oven and let cool on a rack for a few minutes before digging in!
Wine Pairing Suggestion:
2016 Querciabella Mongrana
Querciabella is a vegan, certified organic, and biodynamic winery located in Chianti Classico in Tuscany, Italy. Mongrana is their affordable 'Super Tuscan" from Quercibellas' vineyard on the coast of Maremma.
It is a blend of 50% Sangiovese with 25% Cabernet Franc and 25% Merlot. It sees no oak, but rather is all about the lush fruit expression and has an impressive structure for this price point. It can be found on wine.com and select stores around the country for around $20.