This blog post was inspired by my friend, colleague, and fellow wine professional and Dame, Joyce Lin. Also a New York resident, she was born and raised in Taiwan and through her company Sip with Joyce, she focuses on the concept of creating wonderful food and wine pairings.
An exercise in tasting…
Through my company The Plant Curious Table, I always seek out maximum flavor and dishes that will exhibit this. My goal is to produce meals that non-vegans or those who are "plant curious" will not only happily eat, but will also beg for seconds!
What I love most about eating plant-based is the creativity it sparks and how much flavor it can pack as a result, while also providing a ton of health benefits.
Take today's recipe: Mapo Tofu, a Szechuan dish packed with nutrient-dense mushrooms and fiber-rich tofu, interlaced with all kinds of spices and umami-rich fermented ingredients such as Szechuan peppercorns, yacai (preserved mustard root), and fermented broad bean chili paste.
Szechuan cuisine, from the Szechuan province of China, is known for dishes with bold flavors, as highlighted in this delectable tofu recipe.
A few key ingredients
Please note I receive a small fee from the affiliate links in this post.
Szechuan (Sichuan) peppercorns

Vital in this dish and cannot be substituted. Not related to black peppercorns, these are either red or green, red being the most common. They have a floral note to them and give off a tingling sensation on the tongue. They are widely used in Szechuan cooking and if you've ever had Chinese Five Spice they are one of the five spices in that mixture.
Fun fact: They're also known to have anti-inflammatory properties and are sometimes made into tinctures and topical ointments.
Szechuan peppercorns are quite easy to come by but you can get them online here.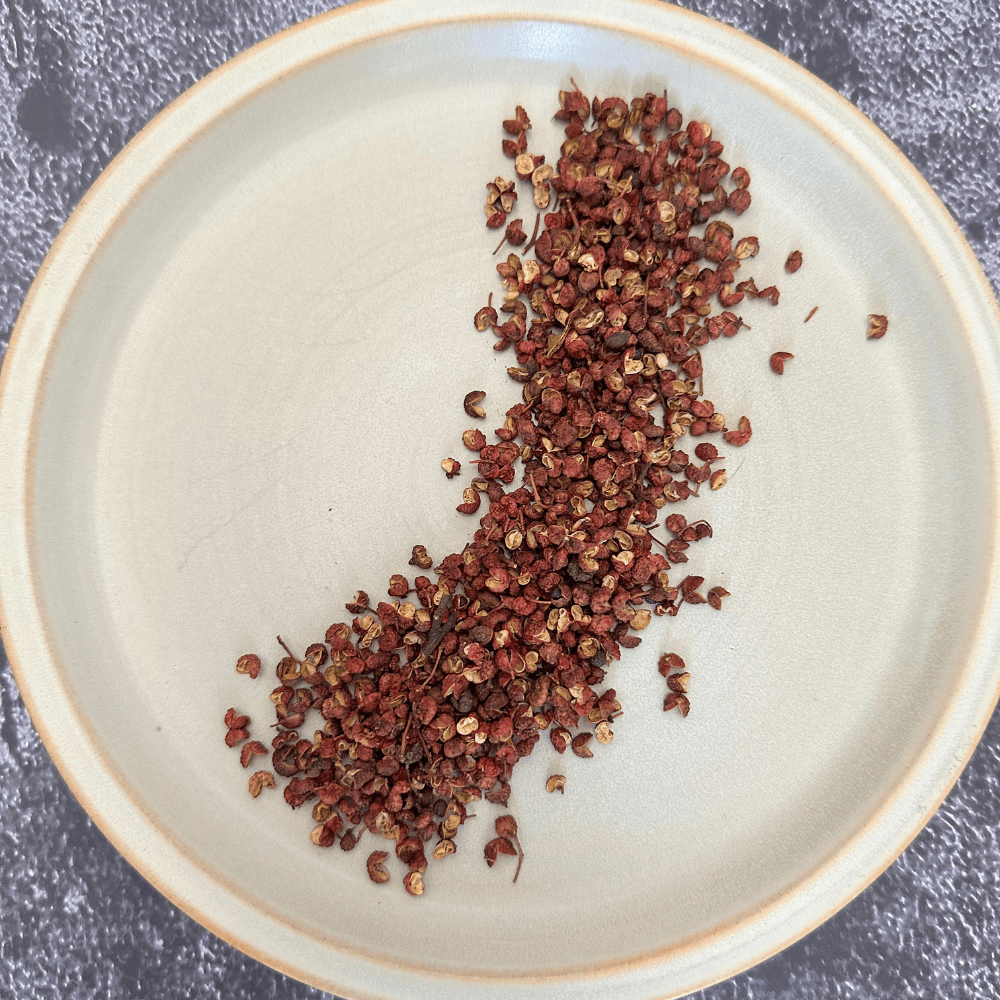 Yacai
These are lightly fermented, pickled mustard green leaves, also from the Sichuan province. The sprouts are dried, fermented in salinated water, boiled with brown sugar and once again fermented in spices. As a result of this double fermentation, the taste is described as fragrant, sweet, crisp, tender, and fresh. In addition to using yacai in this dish, you can add it to steamed or stir-fried dishes as well as soup, noodles, and filled buns to add a kick of umami. Here's where you can get them.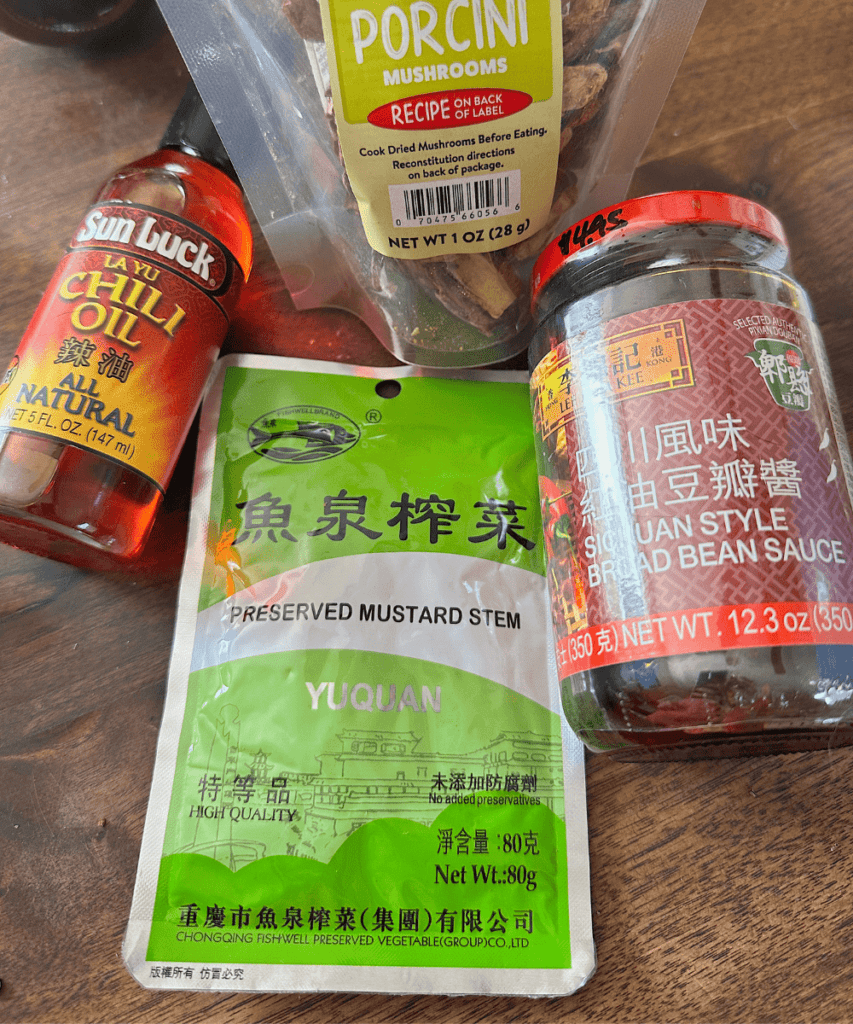 Shaoxing Wine
Shaoxing wine, also called "yellow wine", is a traditional Chinese wine made by fermenting glutinous rice, water, and wheat-based yeast. It must be produced in Shaoxing, in the Zhejiang province of eastern China. It is widely used as both a beverage and a cooking wine in Chinese cuisine. It has a heady and sweet flavor with a dry, sharp aftertaste and adds depth and flavor complexity to dishes. You can find Shaoxing wine in Asian grocery stores or you can pick up some online here.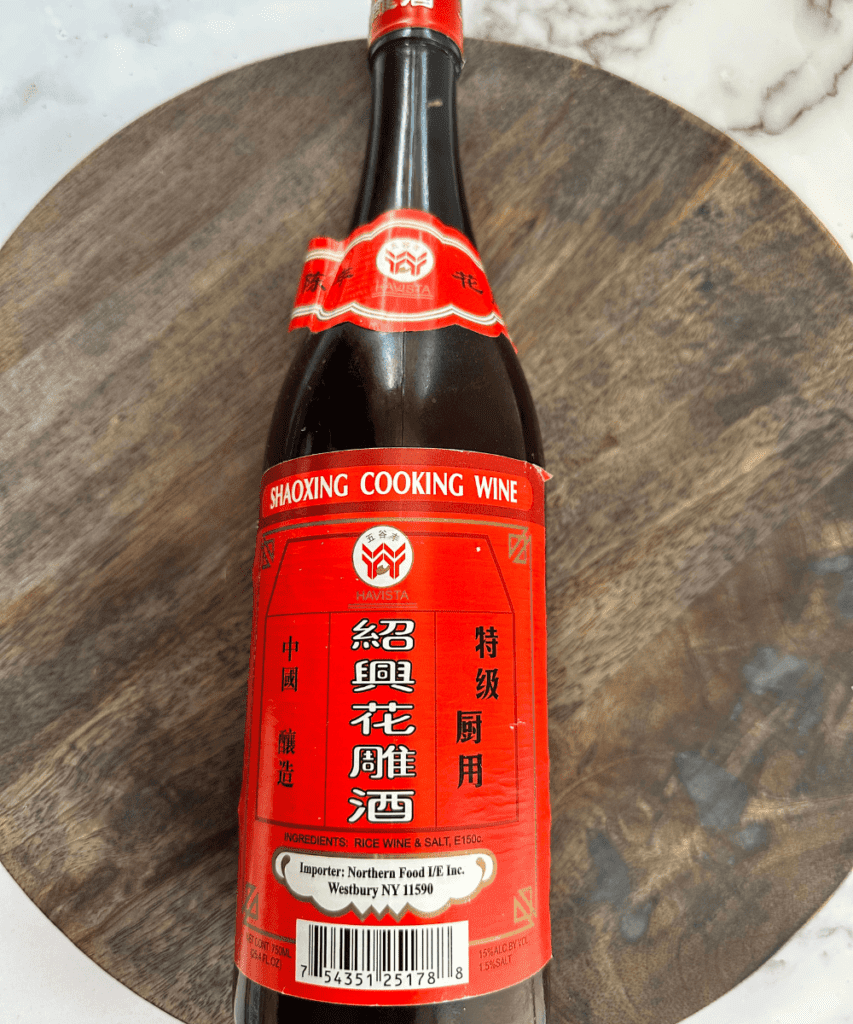 Fermented Broad Bean Paste
Known as Doubanjiang, or fermented chili bean paste, is a hot and savory Chinese bean paste made from fermented broad beans, chili peppers, soybeans, salt, and flour. Widely used in Szechuan cuisine and the foundation of mapo tofu, the paste is bright red or reddish-brown in color and has a relatively chunky texture. It has a savory flavor packed with umami notes. Grab some online here.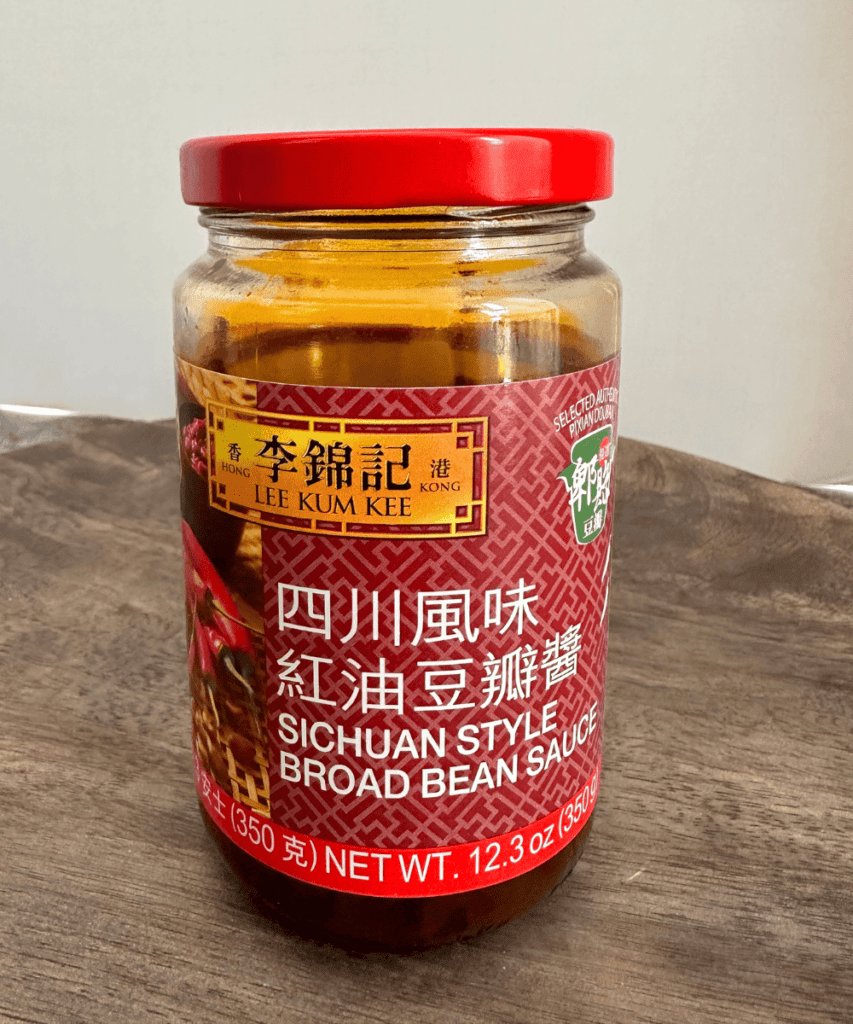 Wood Ear Mushrooms
Popular in Chinese cuisine, wood ear mushrooms are known for their crunchy texture and ability to soak up flavors. Wood ear mushrooms are a classic ingredient in hot and sour soup. Often sold dried, they need to be rehydrated before cooking with them and add earthy, umami notes to dishes. Purchase them online here.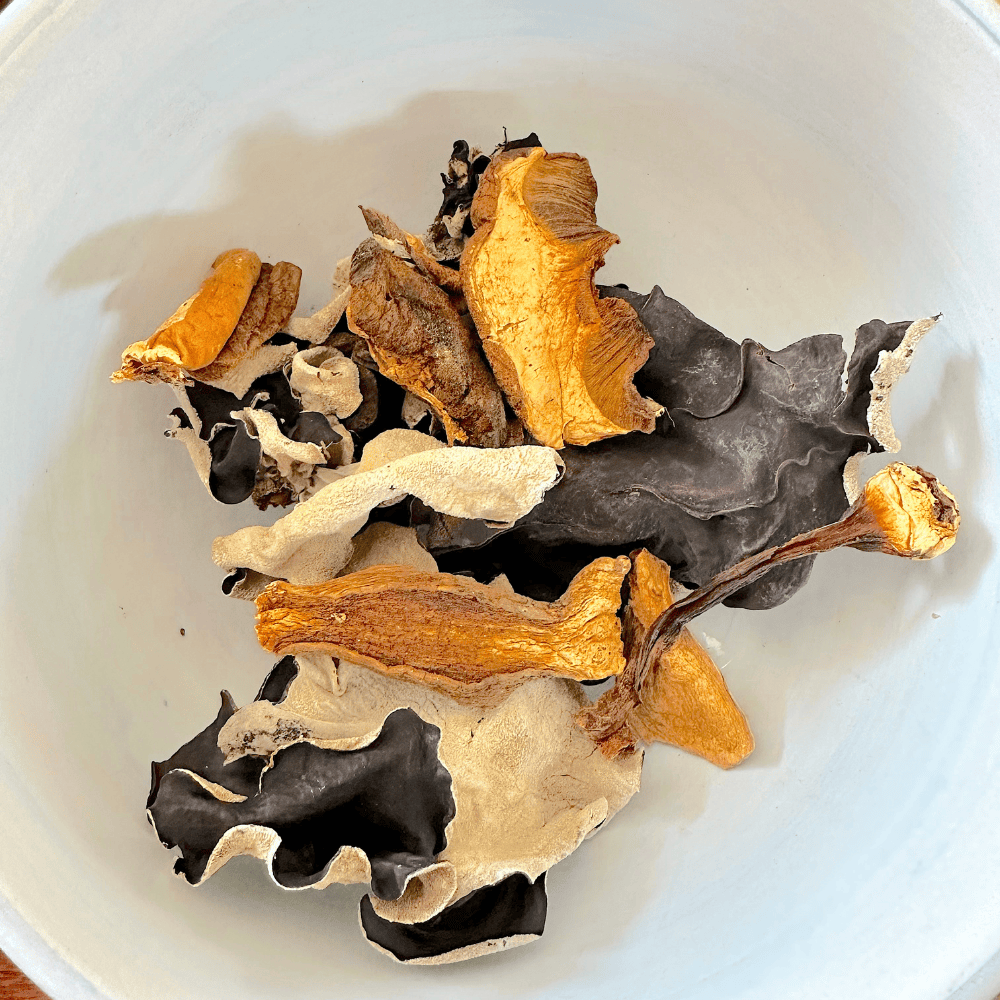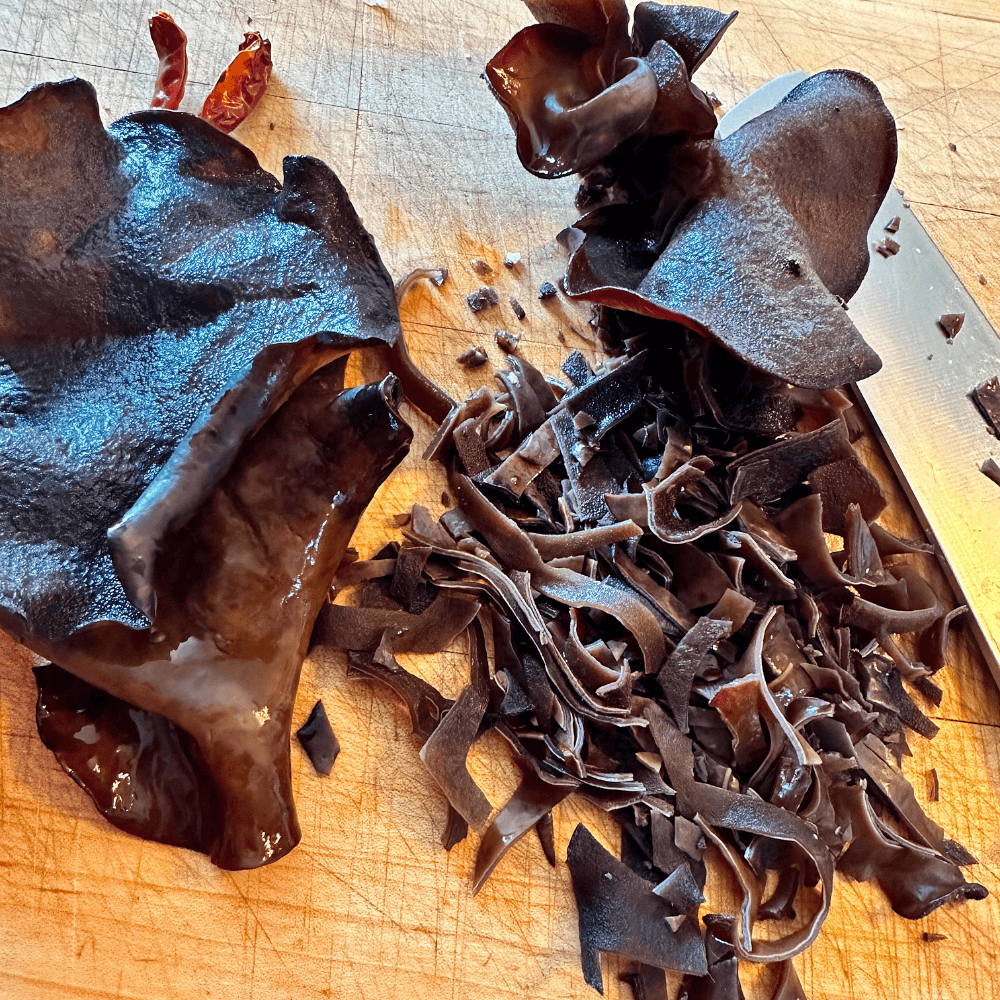 Chinese Chives
Also known as garlic chives, these bear a strong resemblance to regular chives but are not hollow but rather flat, grass-like in appearance. They have a more pungent, garlicky flavor than traditional chives, which have a milder onion flavor. Trim the ends of and chop them off to release more aromas and flavors, and add them towards the end of the cooking process for best results.
You can find them in gourmet markets or Asian markets and grocery stores.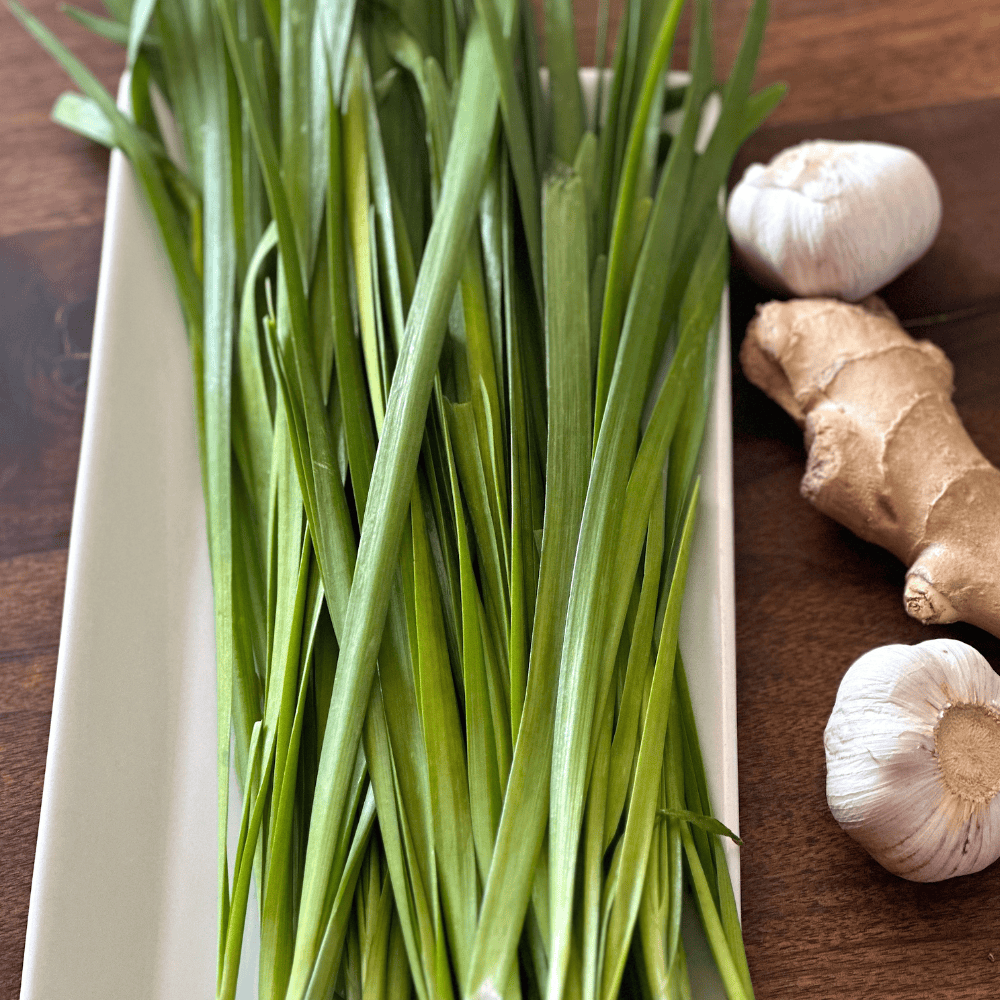 Wine Pairing Recommendations
I purposely choose dishes that most people may have more difficulty with when thinking of wine pairings. The spices and complexity in this dish make it important to not choose a wine that is too complex or that might have elements that clash with the spice (such as tannic structure or low acidity).
I'm personally bored with people always recommending Riesling or wines with a touch of residual sugar for dishes with some heat or spice. While these wines work well, I think we can be more creative when it comes to pairing wines. There's a plethora of styles out there!
So what would my wine pairing recommendations be?
I love a full-bodied rosé or white wine with this dish because of its intricate flavors and heat from the various spices mentioned above. My choice would be a wine from Chenin Blanc, my favorite regions are the Loire Valley or South Africa.
In this instance, my choice fell on Boschkloof, a super exciting producer located in Stellenbosch whom I had the fortune of meeting in person last year in New York. Their 2020 Kottabos Chenin Blanc is fermented on its skin and is considered natural, organic, and vegan.
Because of the skin fermentation, the wine has a slightly spicy taste along with flavors of ripe citrus, apricots, and ginger. The wine has a textural mouthfeel that I felt went beautifully with the mapo tofu.
For a rosé, I would highly recommend not sleeping on Tavel from the southern Rhone Valley. In a world of pale rosés, I think these deep-colored, texturally interesting rosés work all year round and especially with a dish that requires you to employ all your senses.
I had a bottle of the 2021 Tardieu-Laurent Vieilles Vignes Rosé, an organically farmed, full-bodied rosé made up mostly of Grenache, with Cinsault and Syrah blended in. Gorgeous aromas and flavors of ripe raspberries, peaches, and nectarines.
It's a hefty rosé that definitely requires a dish with some weight or kick. For under $20, I think this is a solid choice, not too complex, and paired really nicely with my Mapo Tofu.
It's hard to describe the depth of flavor you get from this dish, but if you're a wine lover I know you will appreciate it because there are so many layers involved to be identified. Every time you take a bite of this dish you will pick up another taste and it will blow your mind.
Take your time with this meal… and experiment with different wines, both red, white, and rosé. So much fun!
Whichever wine you pick or if you choose not to have wine with this dish, I hope this will become a new staple in your repertoire when you are looking for exciting dishes to make with tofu!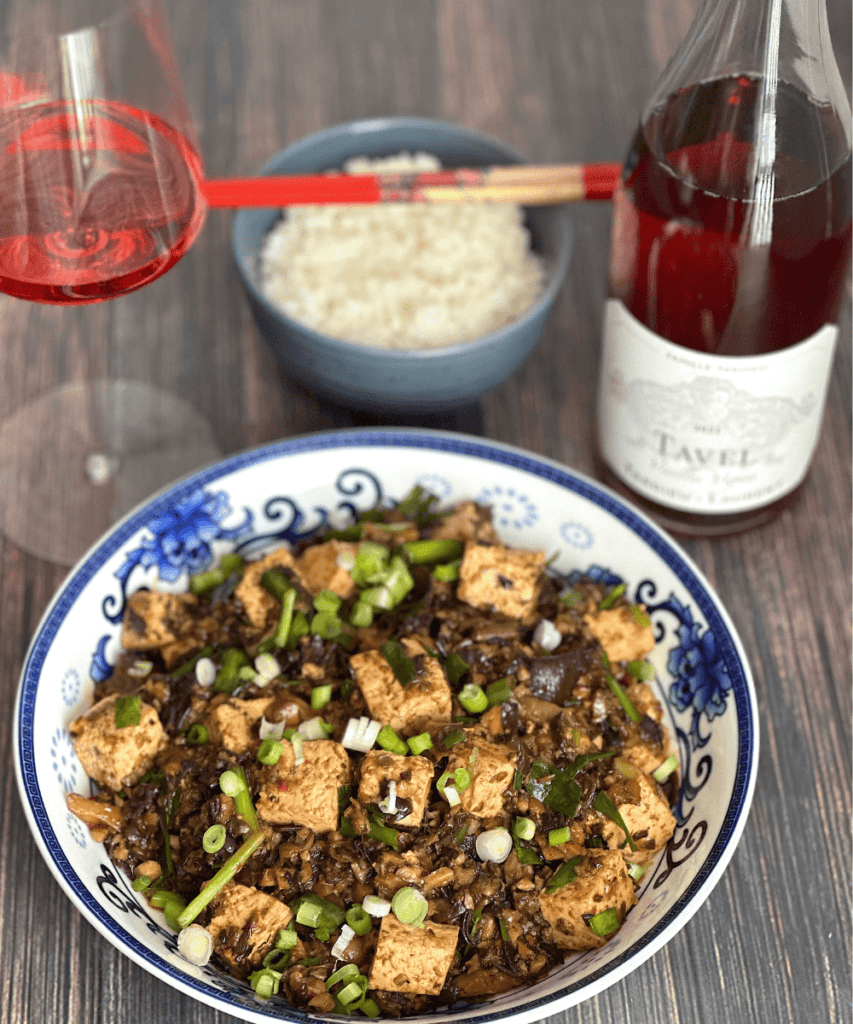 VEGAN MAPO TOFU
Serves 4
1 ounce (28 grams) wood ear mushrooms
½ ounce (14 grams) dried porcini mushrooms
2-3 cups boiling water
5 ounces (140 grams) baby bella mushrooms
5 ounces (140 grams) shiitake mushrooms, stems removed
½ cup (125 ml) canola or vegetable oil, divided
2 teaspoons potato or cornstarch
3 tablespoons Shaoxing wine* (or substitute sherry or sherry vinegar)
1 heaping tablespoon dark soy sauce
2 tablespoons Sichuan peppercorns, crushed
2 dried hot chiles, Chinese if possible
4 garlic cloves, grated
1 ½ tablespoons ginger, grated
4-5 scallions, thinly sliced
handful of Chinese chives, sliced (or sub more regular chives)
¼ cup (50 grams) yacai* (Chinese preserved mustard root), minced
2 tablespoons fermented chili black bean or broad bean paste
1 lb (453 grams) organic firm tofu, cubed small
Directions:
Add the wood ear and dried porcini mushrooms into a bowl and cover with the boiling water, ensuring the mushrooms are completely submerged. Let sit for about 30 minutes.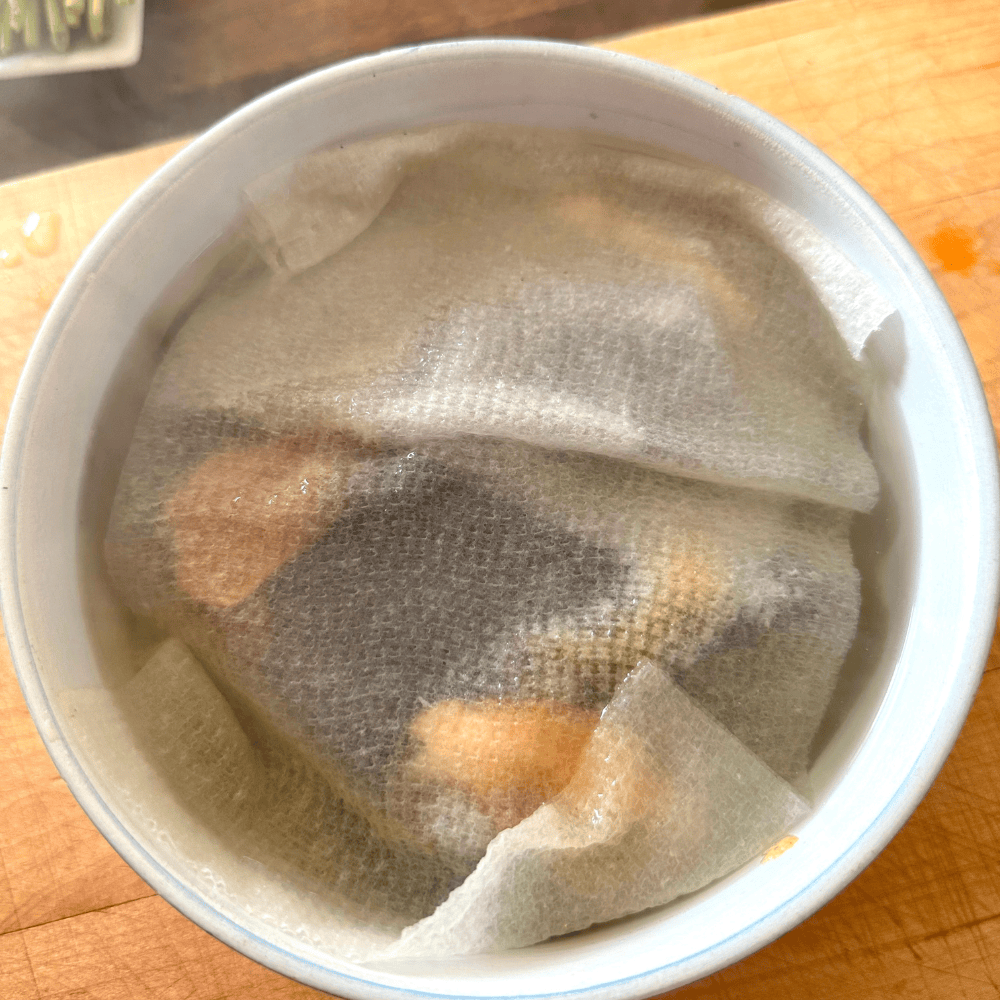 While the dried mushrooms are rehydrating, clean the baby Bella mushrooms and shiitake mushrooms by patting them with a slightly damp paper towel. Dice them finely by hand or add them to a food processor and pulse 5-6 times until they are finely chopped. Transfer to a bowl and set aside.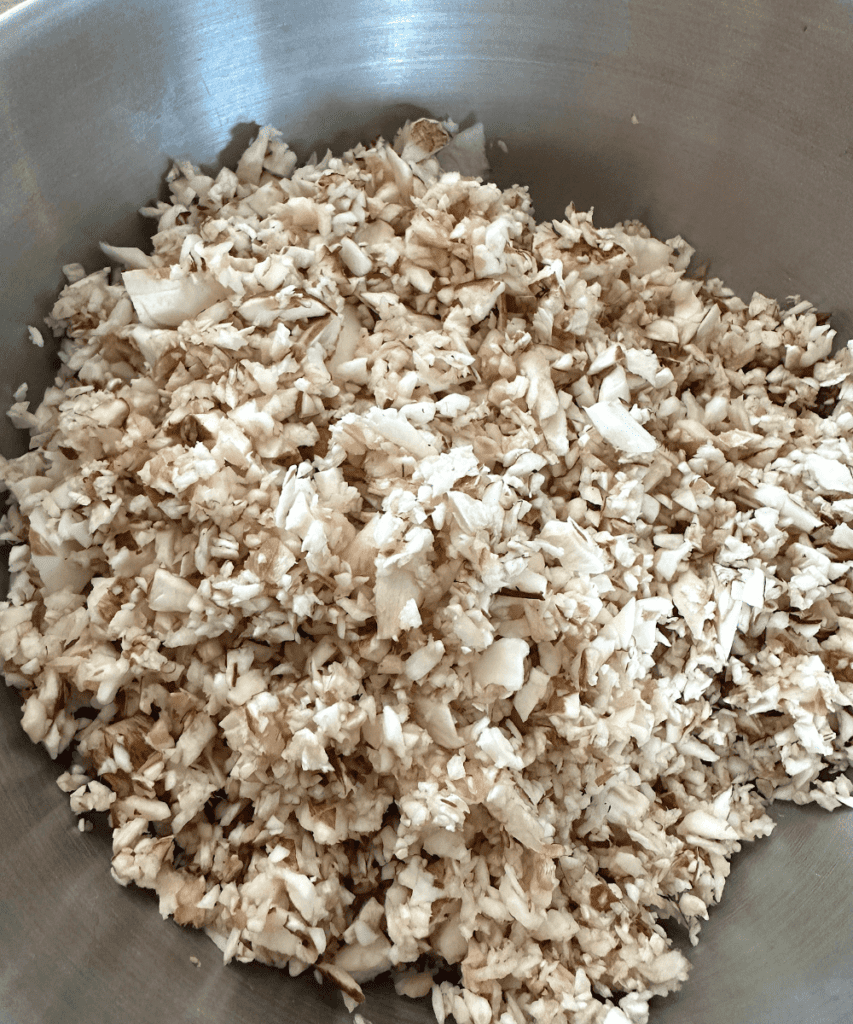 Strain the dried mushrooms using a fine mesh sieve lined with a coffee filter placed over a medium bowl, to catch any dirt. Finely chop the mushrooms and add them to the fresh mushrooms.
Heat up ¼ cup of the canola or vegetable oil over medium heat, add the mushroom mixture, and sauté while continuously stirring until browned, about 6 minutes. Transfer to a bowl, and wipe out the pan.
In another bowl combine 2-2 ½ cups of the reserved mushroom liquid from the dried mushroom with the potato or cornstarch, Shaoxing wine, and dark soy sauce, whisk together, and set aside.
Add the remaining ¼ cup (60 ml) of vegetable or canola oil to the pan and heat to medium and throw in the Sichuan peppercorns and hot dried chilis. Keep stirring until lightly toasted (about 1 minute) and the peppercorns stop popping, making sure the spices don't burn.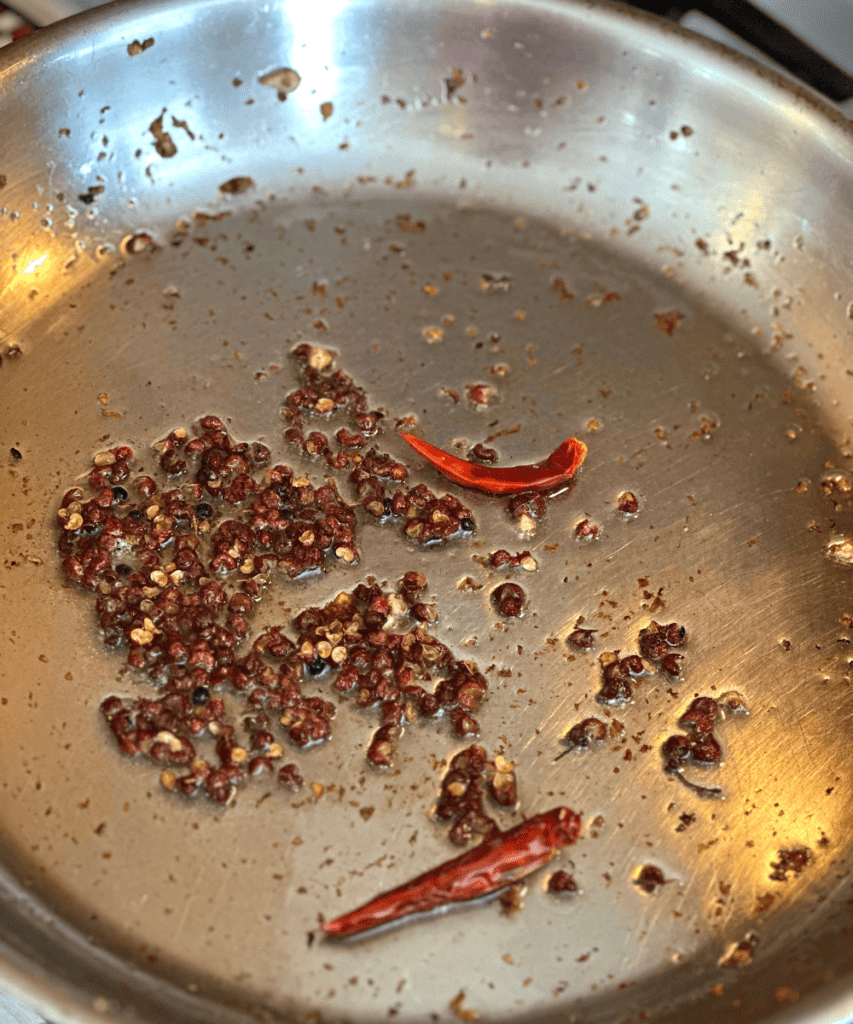 Strain the oil into a small bowl and discard the peppercorns and chili.
Return the oil to the pan over medium heat and add the grated garlic, ginger, yacai and both regular and Chinese chives, stir until fragrant. Introduce the mushroom mixture and combine well. Pour in the prepared mushroom broth and continue cooking while stirring until the mixture thickens and is reduced, for another couple of minutes. Gently fold in the cubed tofu and heat through.
Transfer the Maipo tofu to a platter, garnish with sliced scallions, and drizzle with a little chili oil if desired. Serve with white rice and your favorite glass of wine!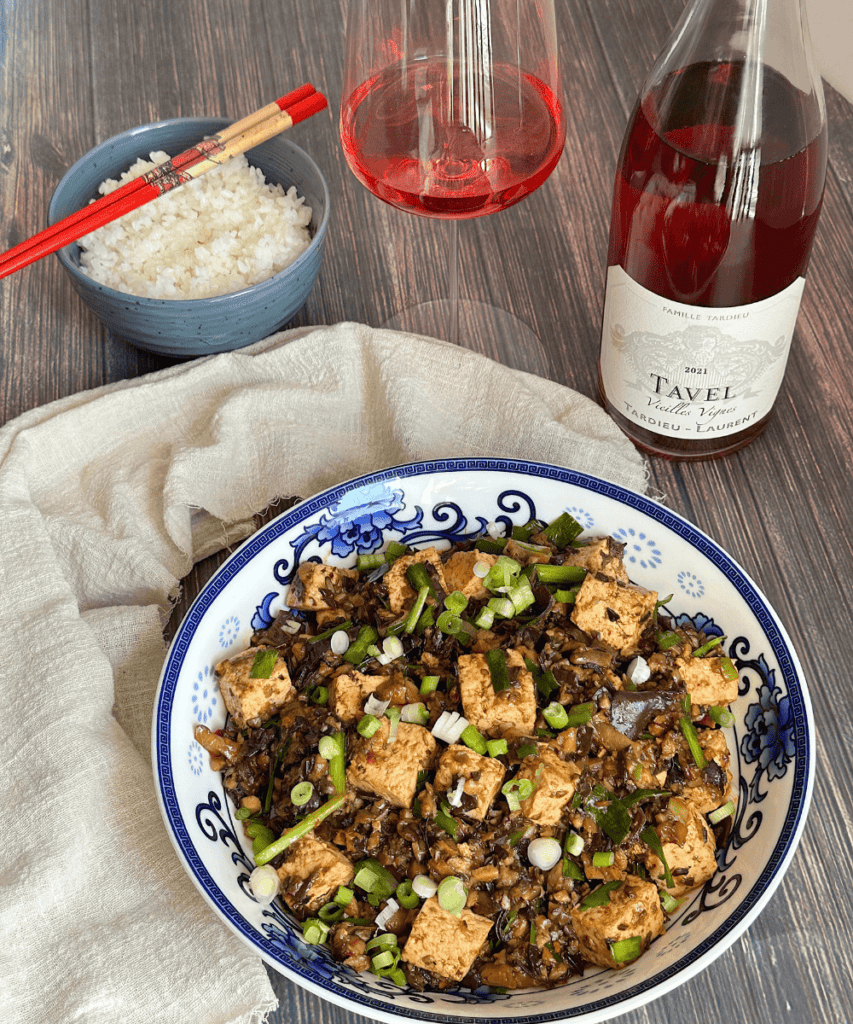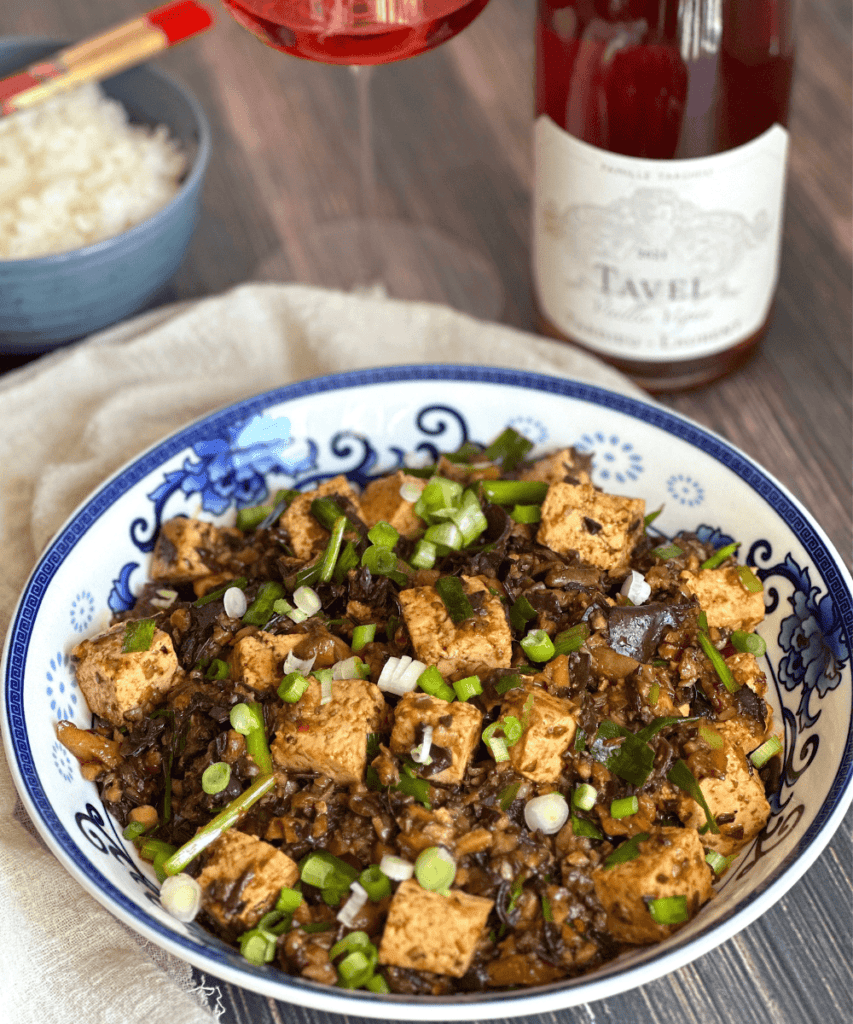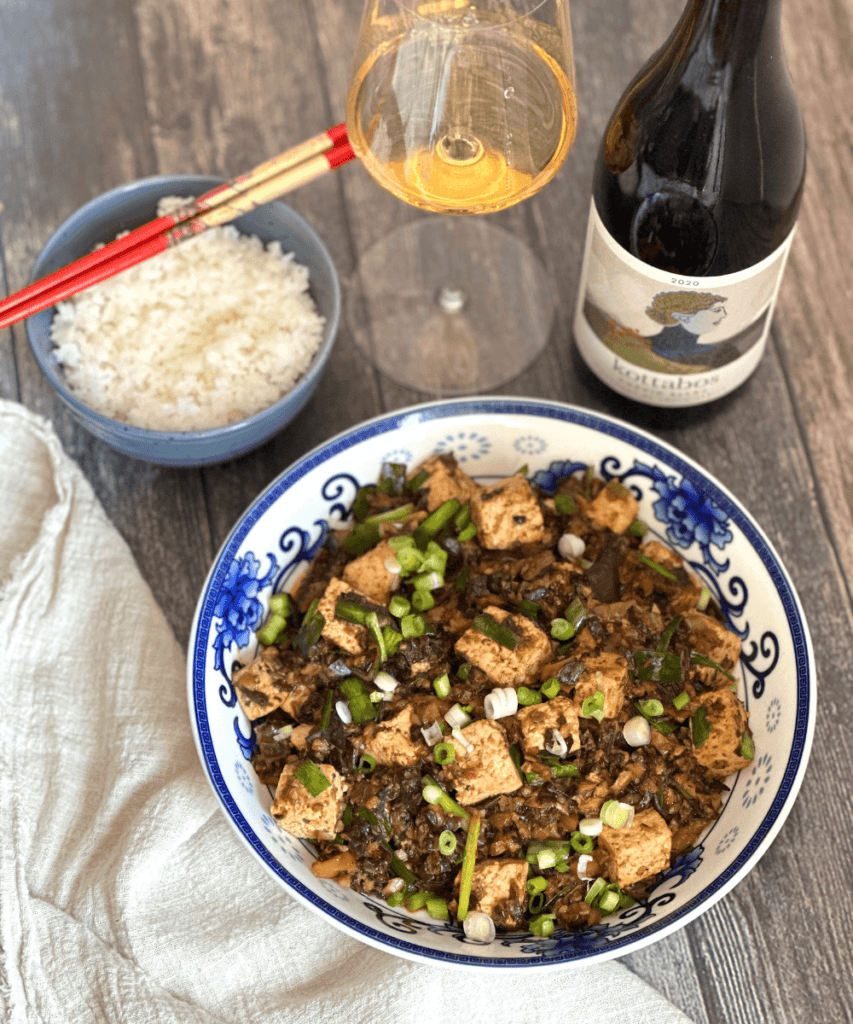 Notes:
*Yacai is a pickled vegetable originating from the Sichuan province in China. It is made from the upper stems of a variety of mustard green. It has a distinct flavor and aroma along with a salty and sour taste. Preserved mustard is often chopped and used as an ingredient, eaten as an appetizer, and used to top congee. If you can't find yacai, you can use kimchi in its place!
*what is fermented broad bean paste? Known as doubanjiang, this is a Sichuan sauce or broad bean chili paste, a traditional Chinese condiment made from fermented broad beans. It is considered the soul of Sichuan cuisine. It has a pungent, salty flavor and is often used in stir-frying dishes and stewed dishes.
Substitution: If you can't find fermented broad bean paste, you can substitute either gochujang, sambal olek, or chili garlic sauce.
*What's the difference between Chinese and regular chives?
Chinese chives typically grow taller than common chives and have flatter leaves and white blossoms. They have a more potent, garlic-like flavor. Unlike common onion chives, they are not hollow. If you can't find Chinese chives, I'd add extra regular chives due to the latters' more delicate flavor.
*Shaoxing wine, also called "yellow wine", is a traditional Chinese wine made by fermenting glutinous rice, water, and wheat-based yeast. It must be produced in Shaoxing, in the Zhejiang province of eastern China. It is widely used as both a beverage and a cooking wine in Chinese cuisine.
If you can't find Shaoxing wine, you can use dry sherry or mirin, a Japanese sweet cooking wine.
*What is wood ear mushrooms? Wood ear is an edible mushroom that is a common ingredient in Chinese and Vietnamese cuisine. It is usually sold dry and needs to be soaked and rehydrated before cooking. Wood ear fungus offers many benefits, such as protecting the liver, lowering cholesterol, and promoting gut health.