Chile Rellenos are stuffed roasted poblano peppers that are battered and deep-fried. The recipe originates from the Mexican village of Puebla, and the traditional version is typically stuffed with minced meat and cheese. Today most traditional recipes only contain cheese, which makes them naturally vegetarian and also easier to veganize.
Mexican cuisine is not typically heavy on meat and dairy, contrary to what we see in the U.S. Rather, many traditional dishes are not based on animal ingredients but centered around corn, beans, rice, and chiles with many exciting vegetables as well.
Sticking to the vegetarian version, I chose to omit meat in my chile rellenos, even though I could have chosen one of the many fabulous plant-based minced meat options we are blessed to have today. I think just the (vegan) cheese was lovely and rather went for adding a side of cooked down, partially mashed, and refried pinto beans, or frijoles refritos, plus a vibrantly flavored cilantro-lime rice and a spiced smoky tomato sauce that I drizzled the stuffed chiles with.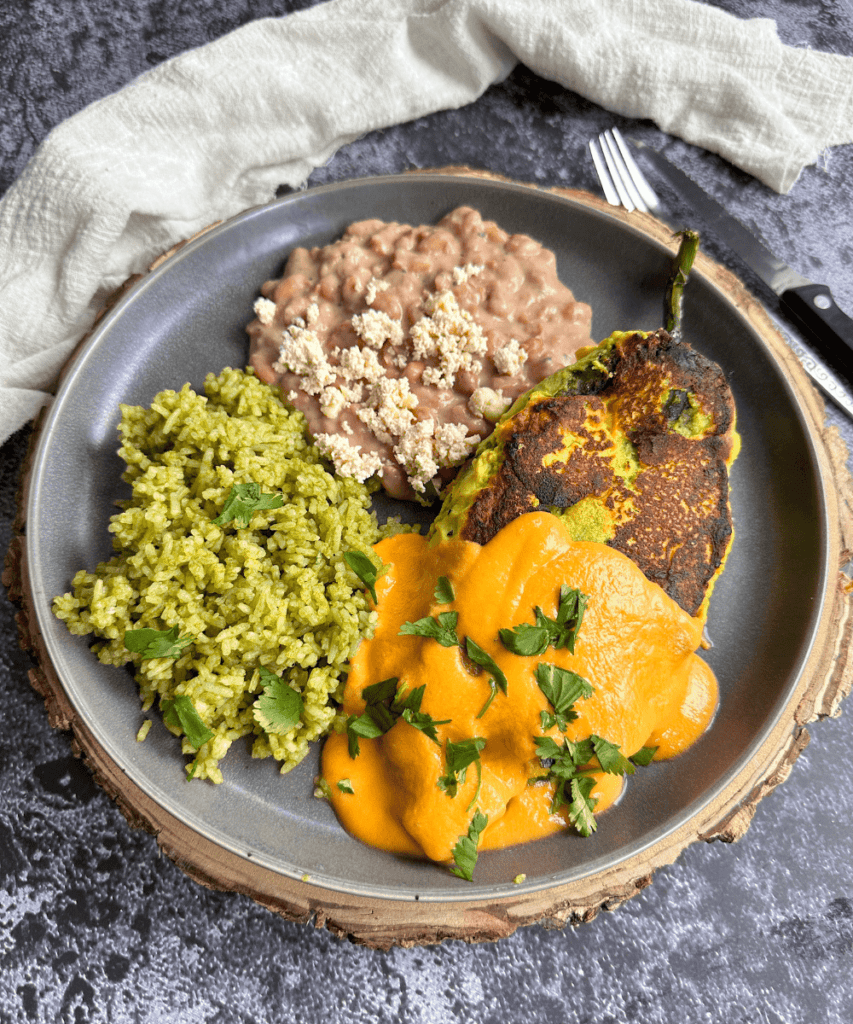 It's a dish I don't eat very often but I wanted to make something special for Cinco de Mayo and was so glad I did when I bit into this heavenly meal.
Topped with homemade queso fresco (so easy to make!) it completed the experience of an authentic Mexican dinner. No meat or dairy is ever needed!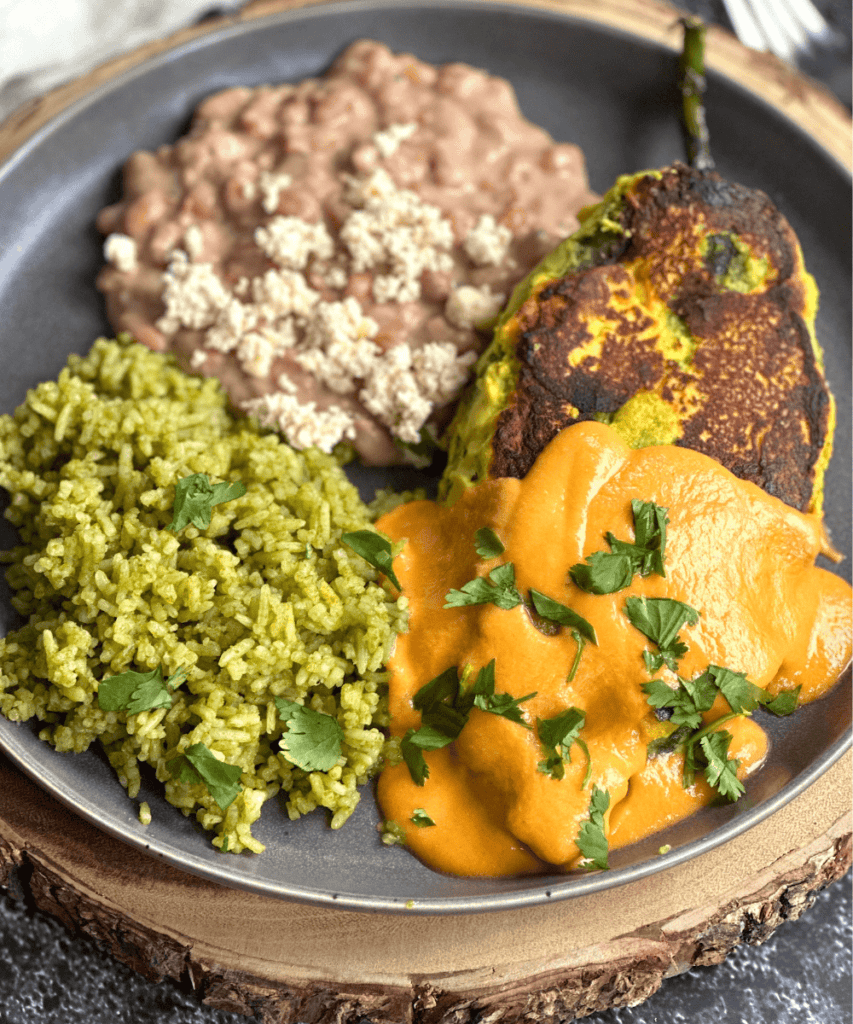 To fry the chile rellenos, I opted for avocado oil, a neutral-tasting oil with a high smoke point, which is important for the task at hand. It is high in oleic acid, an unsaturated fat containing vitamin E, and helps the body absorb other fat-soluble vitamins.
As with any oil, be careful which brand you pick, as many are mixed and often rancid. I found this brand by Chosen Food to be good. It's made from Haas avocados and is expeller pressed, which allows for the extraction of the maximum amount of high-quality oil from the avocado without applying excess heat or any chemicals.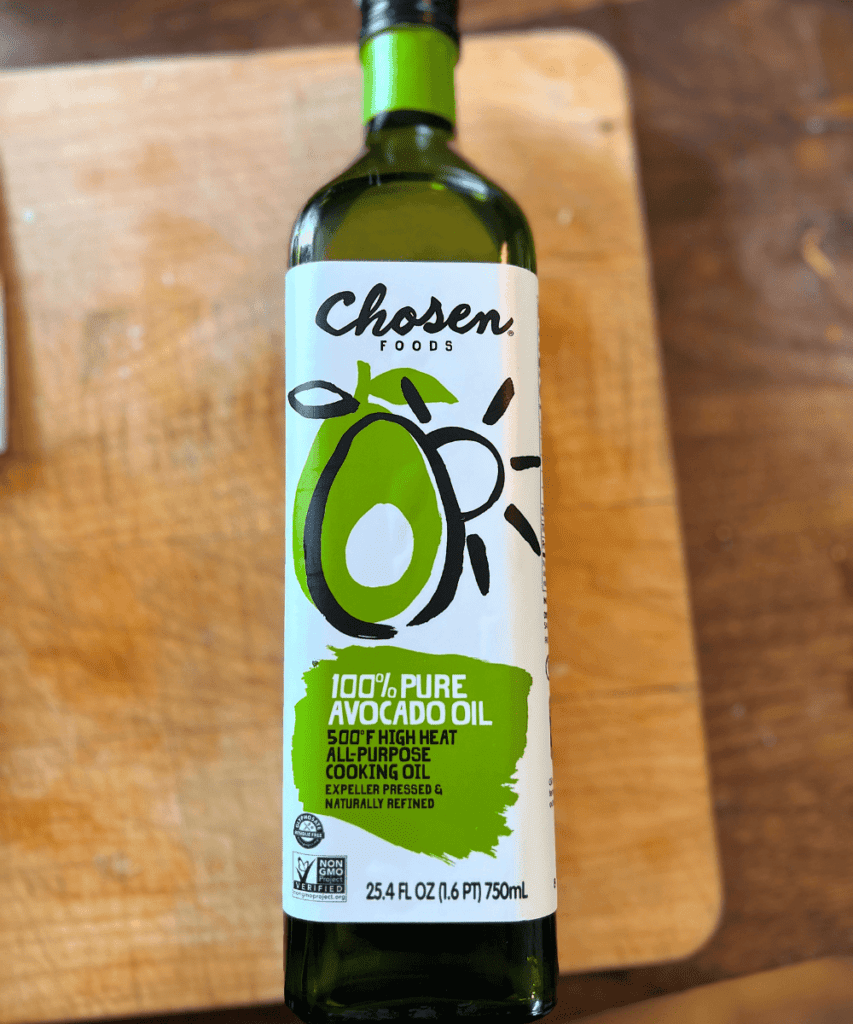 Many classic instructions have blocks of cheese added into the peppers, but after trying that, I chose to use shredded cheese because most vegan cheeses still aren't as easily meltable I find, and grated cheese does a better job.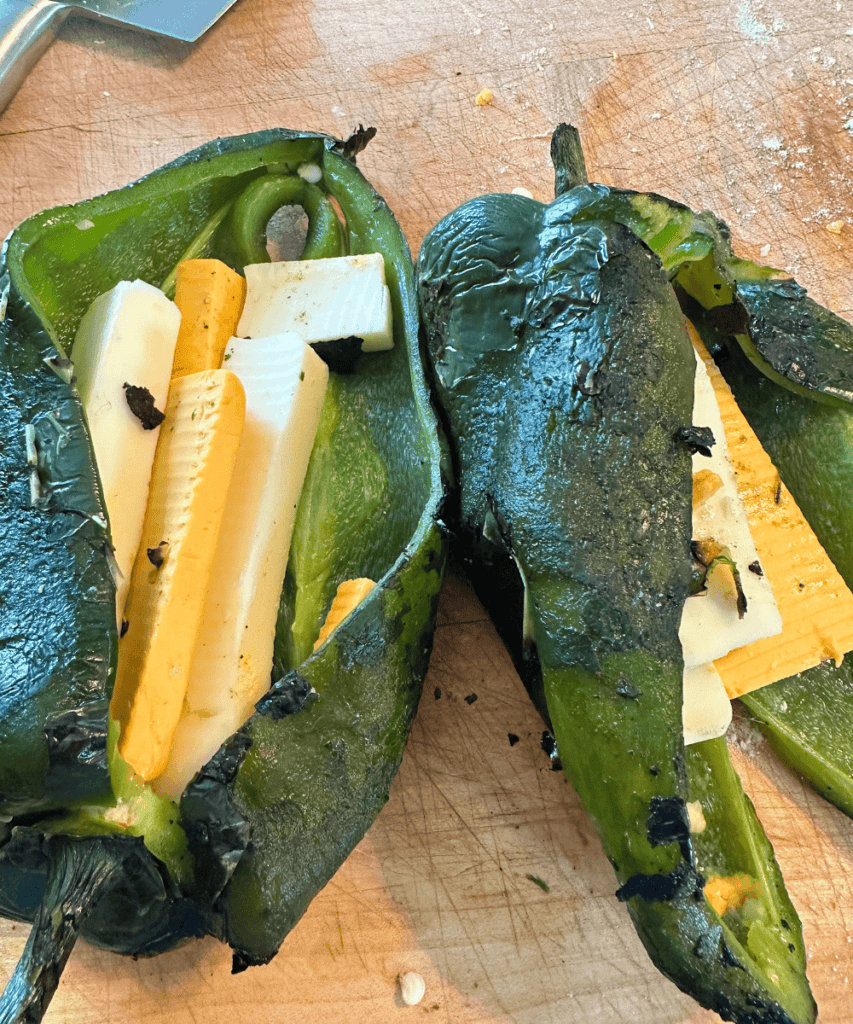 I used Follow Your Heart's mozzarella and Daiya's medium cheddar-style farmhouse block (their blocks are much better than the pre-sliced or grated cheese, in my opinion).
In this post you're getting several recipes you can make with a variety of Mexican foods, and I hope it will inspire you to think about this exciting cuisine more often, not just around Cinco de Mayo!
What did I pair with this flavor-packed, hearty dish?
Check out my article on a great tequila I chose that is both Mexican and female-owned as well as my favorite margarita cocktails.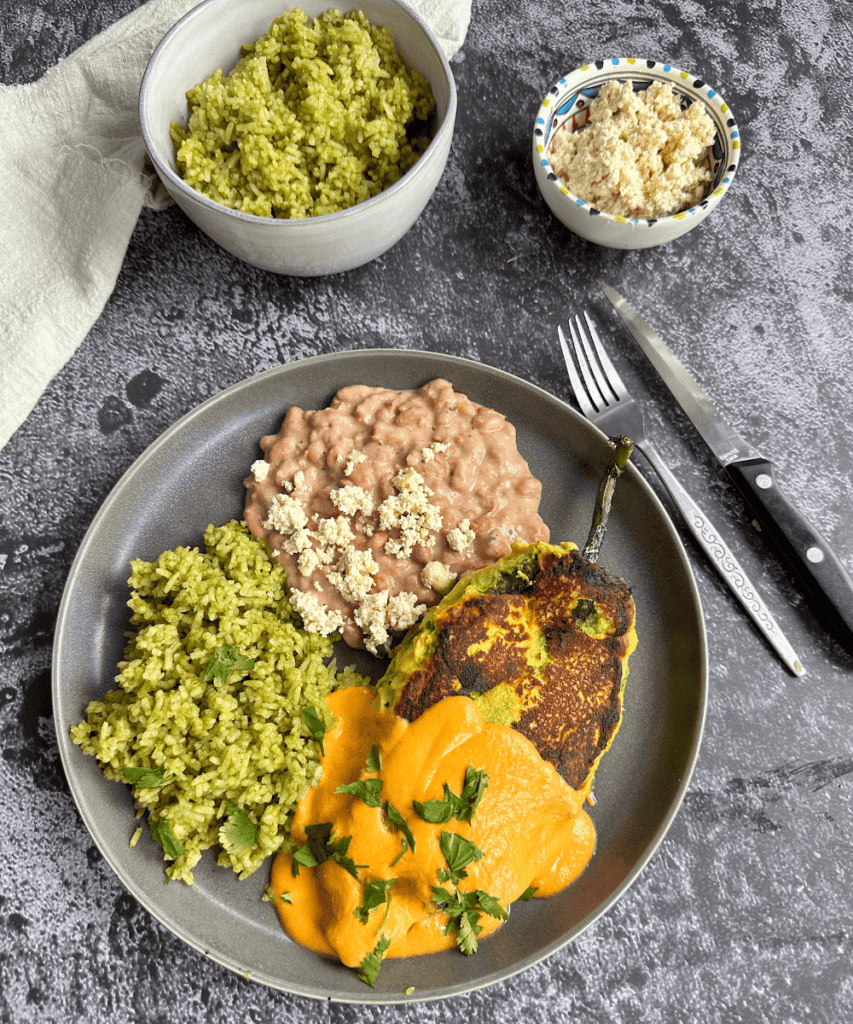 CHILE RELLENOS
Serves 6
6 poblano peppers, charred over a live flame or roasted in the oven
3 cups (12 oz / 340 grams) shredded vegan cheese like a mixture of cheddar and mozzarella
Avocado or vegetable oil for frying
For the smoky tomato sauce:
3 large Roma tomatoes, cored, seeded, and halved
2 serrano chiles, stemmed and seeded
½ Vidalia (sweet onion) or white onion, peeled and cut into quarters
4 large garlic cloves, peeled
½-1 cup (120-240 ml) vegetable broth
1 cup (140 grams) raw, unsalted cashews, soaked for at least 2 hours, then drained
Salt, pepper to taste
Preheat the oven to 400℉ (200℃).

Place the tomatoes, chiles, onion, and garlic cloves on a sheet tray, drizzle with a little olive oil and a sprinkle of kosher or sea salt, and roast in the oven for about 30 minutes until charred. Set aside and let cool slightly.
Place the roasted vegetables in a high-speed blender with ½ cup of the vegetable broth and the drained cashews and puree until smooth. Add more vegetable broth as needed to get the desired consistency.
Pour the mixture into a medium pot, and heat through for about 15-20 minutes until lightly thickened. Keep warm.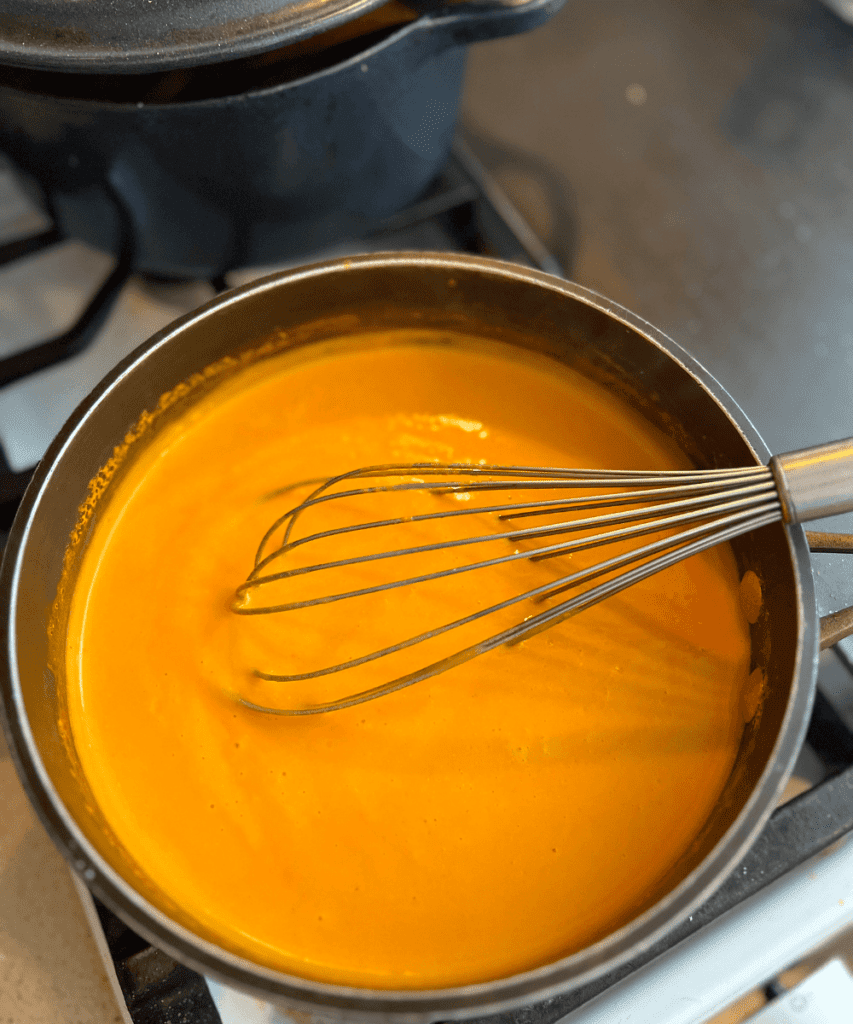 For the batter:
¾ cup (180 ml) aquafaba (liquid from one 15 oz can of chickpeas)
¼ tsp cream of tartar
1 ½ cups (180 grams) chickpea flour (or sub regular all-purpose flour)
2 teaspoon garlic powder
½ teaspoon ground turmeric
2 teaspoons kosher or sea salt
A few cracks of black pepper
Combine all the dry ingredients in a bowl. Place 1 cup of the mixture on a large plate and set aside.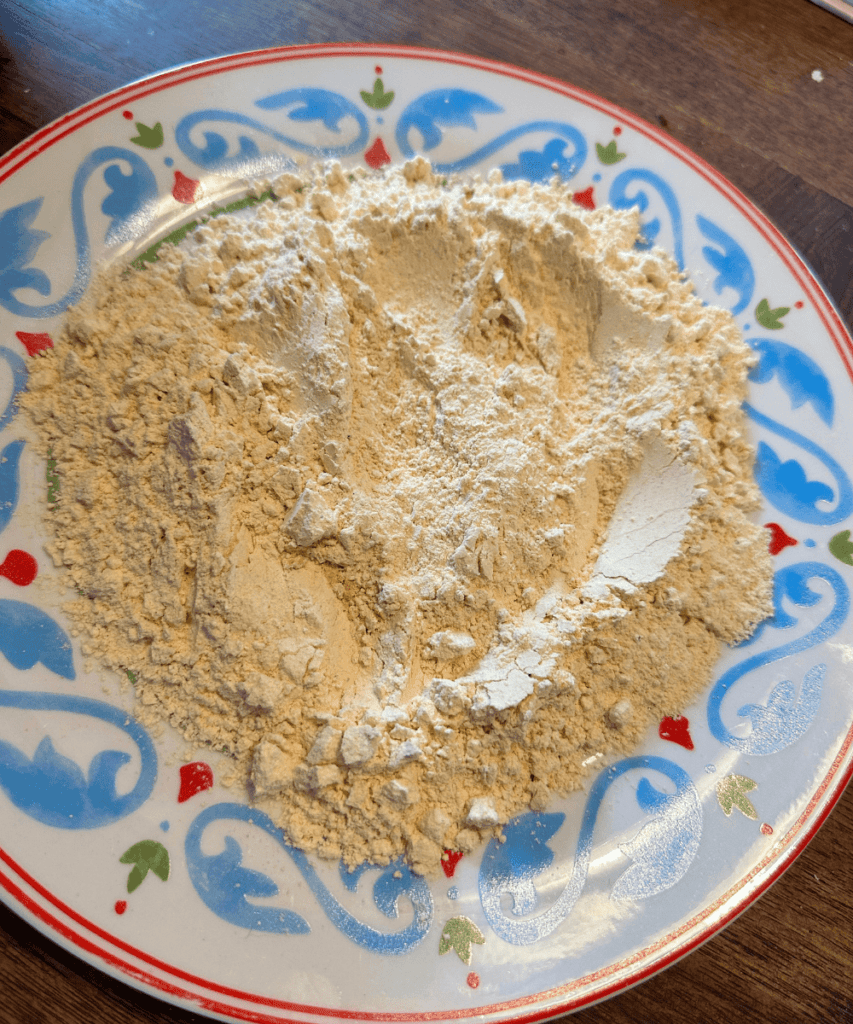 Add the aquafaba and cream of tartar in the bowl of a stand mixer fitted with the whisk and whisk on high speed for about 4-5 minutes until stiff peaks form. Add in the remaining flour mixture a little at a time until you have a homogenous, smooth 'batter'.
Place the batter in a large bowl.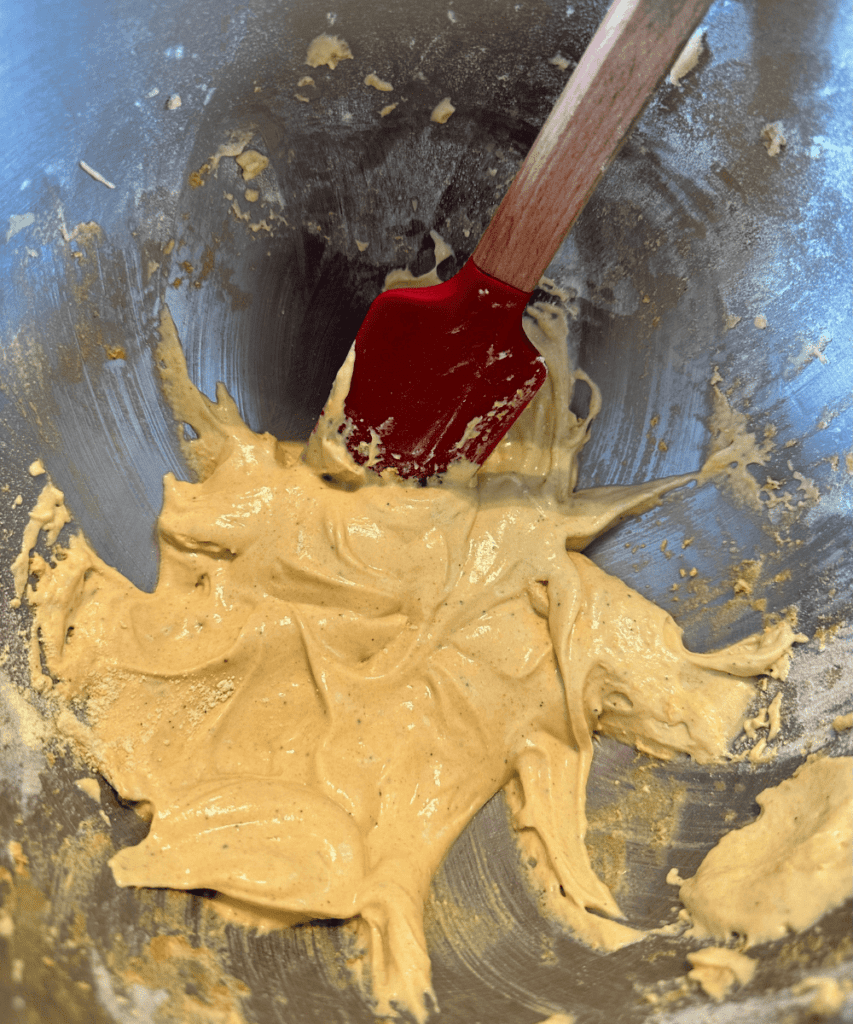 Assembly:
With a pairing knife, carefully cut a slit open in each roasted poblano and remove the seeds.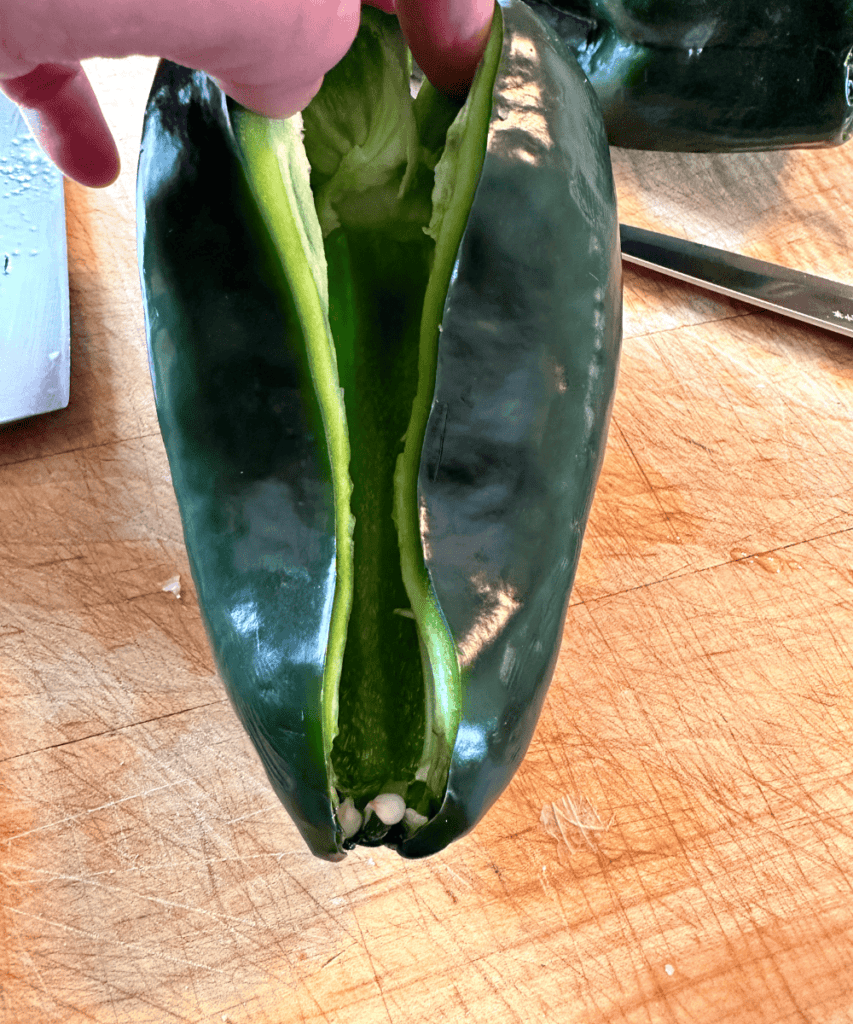 Stuff each poblano pepper with ½ cup (60 grams) of cheese. You can close the gap with a couple of toothpicks if the filling is hard to contain.
Dredge each poblano in the flour mixture, then transfer into the bowl with the batter, and coat well.
Heat up a large skillet (non-stick or cast iron) and add a couple of tablespoons oil over medium-high heat. Place the poblano in the skillet and spoon additional batter on top, cooking them on each side until golden brown and crispy, about 2-3 minutes. Transfer to a plate lined with paper towels and finish the rest of the peppers.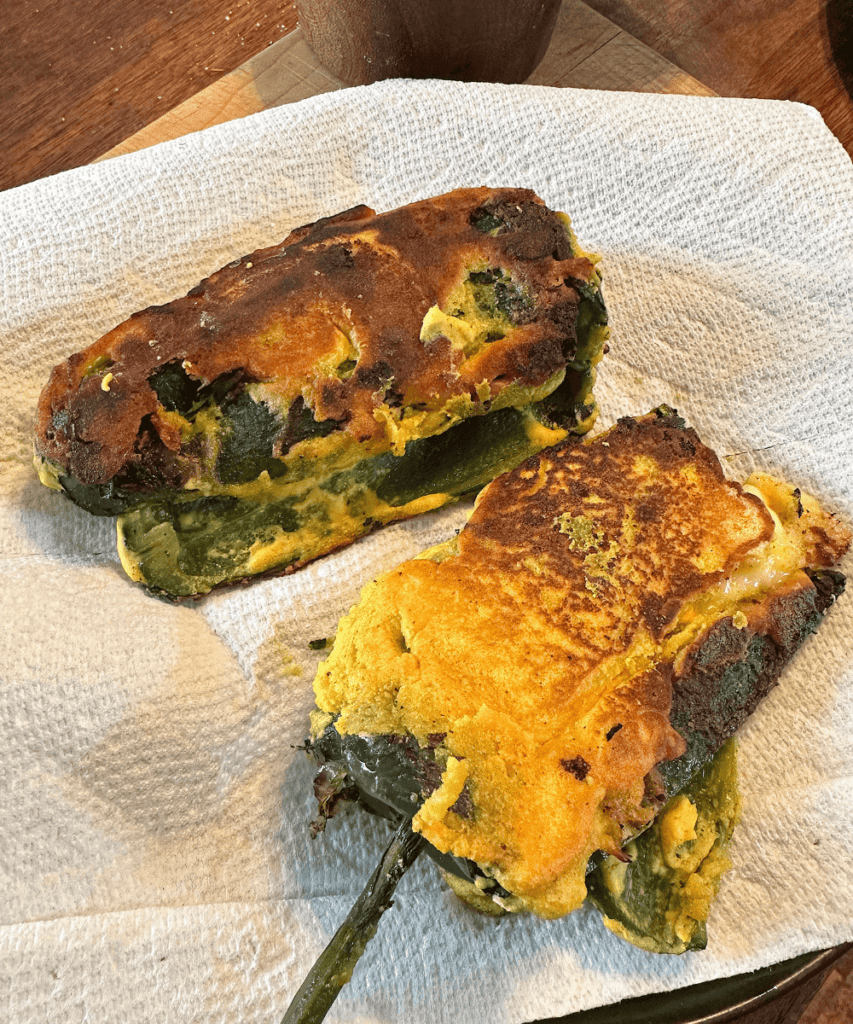 Serve with frijoles, cilantro rice, queso fresco and the smoky tomato sauce. And a margarita, if you desire!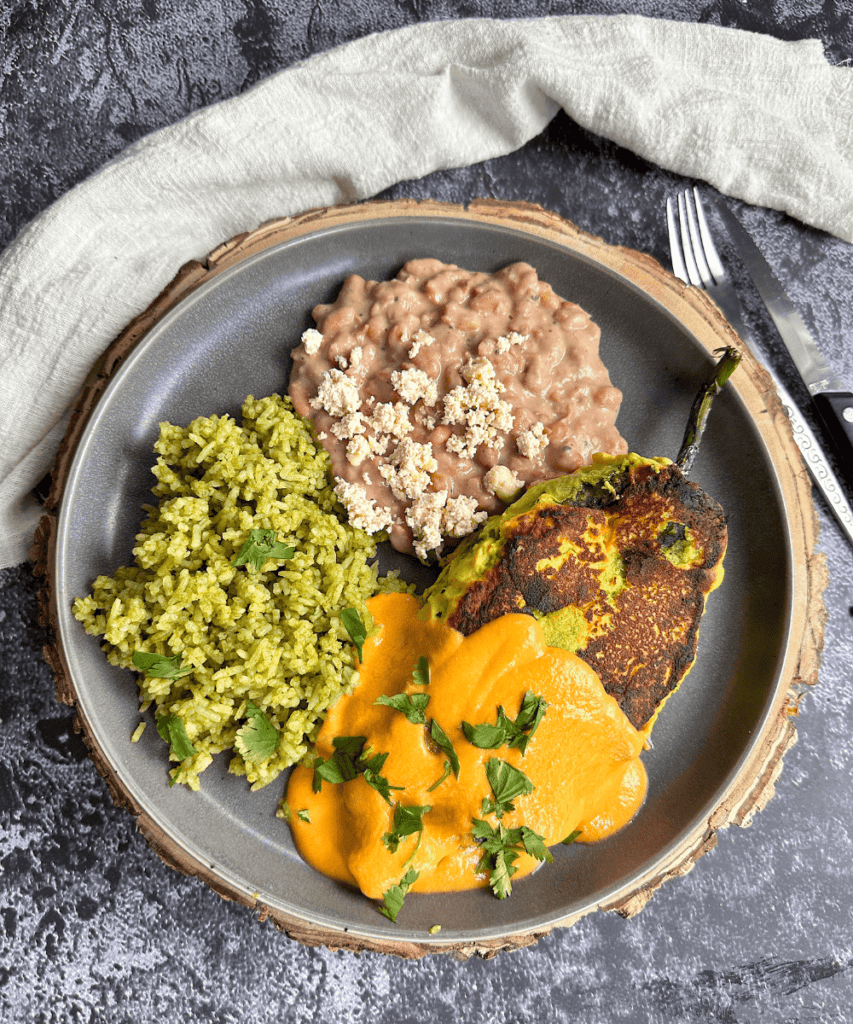 FRIJOLES REFRITOS
3 tablespoons avocado or vegetable oil
4-5 chiles de arbol
2 small garlic cloves, peeled
½ sweet onion, finely chopped
1 teaspoon ground cumin
1 teaspoon ground coriander
2 x 15 oz cans pinto beans
Heat the oil in a medium pot over medium heat, then add the chiles de arbol and garlic cloves. Reduce heat to low and simmer for 3-4 minutes until the oil becomes fragrant, being careful not to burn the chiles or garlic.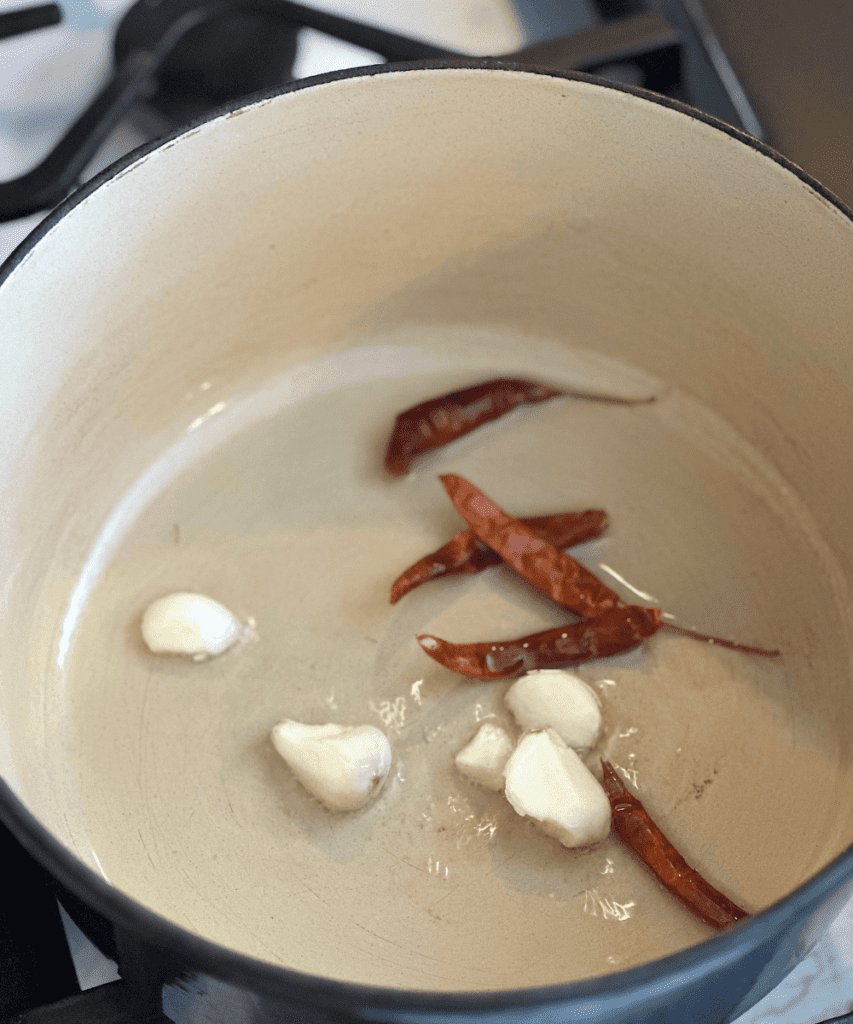 Remove the chiles and garlic with a slotted spoon, add the onions with a good pinch of kosher salt, raise the heat to medium and sauté for about 3-4 minutes until translucent.
Add the pinto beans with their juice into the pan, season with salt, and mash about half of them with a potato masher, stir to combine. Cook until thickened, about 10 minutes or so. Adjust for seasoning and keep warm until ready to serve.
CILANTRO-LIME RICE
1 cup long-grain white rice such as jasmine or basmati, rinsed and drained
2 tablespoons avocado oil
1 large bunch cilantro, leaves and stems separated
½ sweet onion, roughly chopped
2 large garlic cloves
3 cups vegetable broth
Zest and juice of 1 small lime
Finely chop the cilantro stems and set aside.
Add the cilantro leaves, onion, and garlic clove along with 2 cups of the vegetable broth and salt in a high-speed blender and puree until smooth.

Pour the avocado oil into a medium heavy-bottomed pot over medium heat, then add the rice, and coat well in the oil, while constantly stirring. Toast the rice for about 1 minute or so.
Add in the cilantro mixture along with the remaining 1 cup of vegetable broth and stir to combine. Raise the heat then reduce to medium-low, cover with a lid, and simmer until the rice is done about 15 minutes.
Fluff with a fork, stir in the lime zest and juice and keep warm. When ready to serve, garnish with additional cilantro if desired.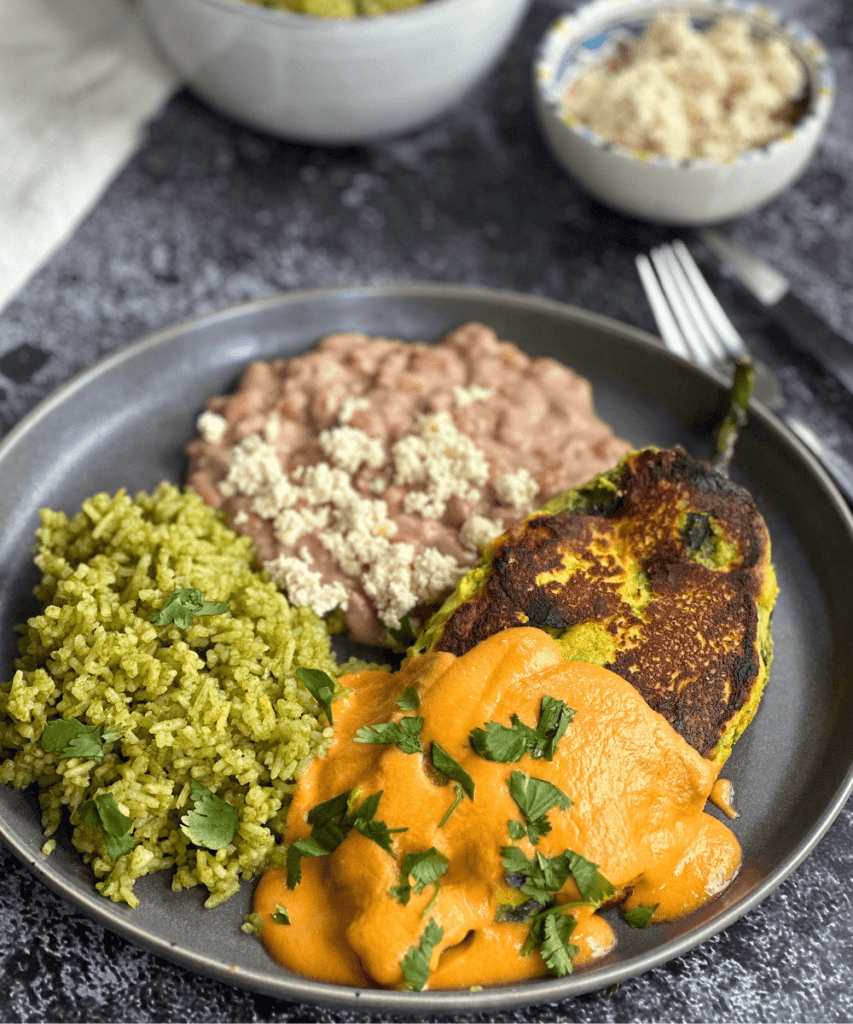 VEGAN QUESO FRESCO
1 lb (453 grams extra-firm tofu), drained and pressed*
2 teaspoons kosher or sea salt
1 garlic clove
1 tablespoon nutritional yeast
1 tablespoon lemon juice
⅓ cup refined coconut oil melted and cooled* (or avocado oil)
Crumble the tofu with your hands into a food processor and add all the other ingredients except the oil and pulse a few times. With the motor running, drizzle in the coconut oil until just combined. If you find the mixture is still a bit wet, you can add the mixture in a cheesecloth, squeeze out the excess moisture, wrap it and place it on a plate and leave it in the fridge for several hours or overnight to let set.
Notes:
*If soy allergic, you can use peeled macadamia or almonds (1 cup) instead.
**Make sure to use refined coconut oil which has a neutral taste, otherwise your cheese will taste of coconut!