January for me is always equivalent to making chili because it's hearty, rich and a great transition from the more decadent holiday foods we've been indulging in, to healthier, nutrient-dense dishes. Chili also goes well with cold winter nights, and I promise your mood will be lifted after you eat a bowl of this ☺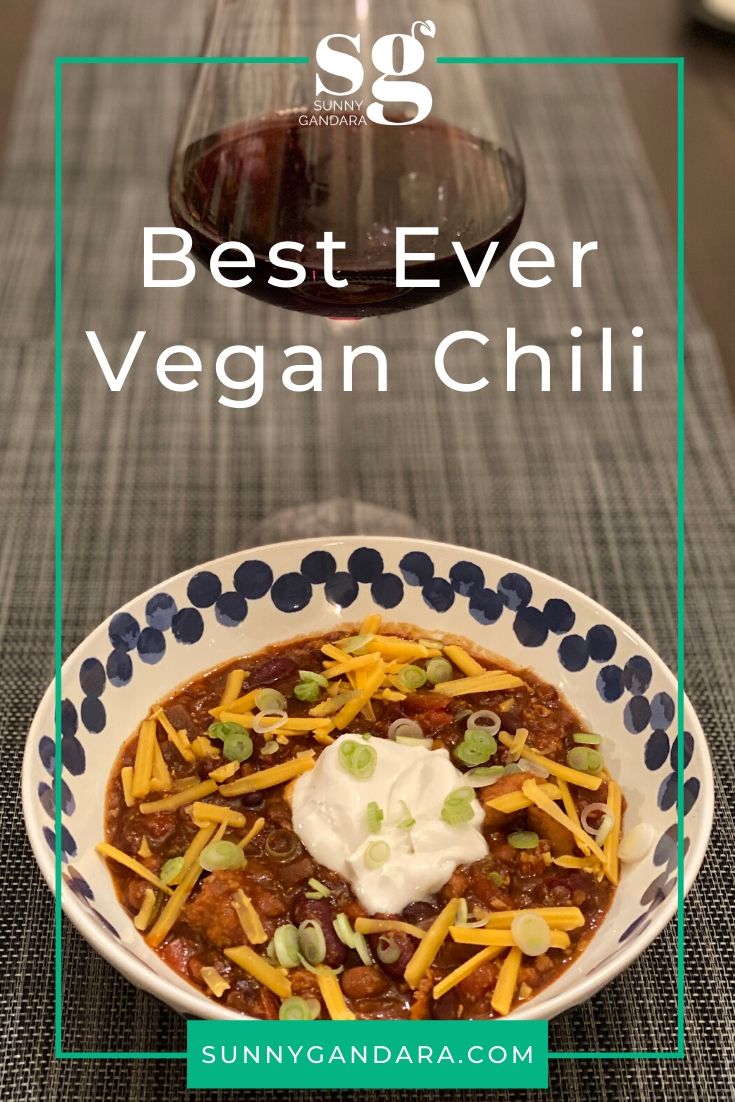 If there is one kitchen appliance I love the most, it's my slow cooker. Because we all lead busy lives, there's something really satisfying with eating slow food, and not have to stand over the stove for hours to make food that is rich in flavor and good for your body and soul. That is what the slow cooker does – basically throw in all your ingredients and walk away / go to sleep /whatever you need to do and come back to an incredibly satisfying (and impressive!) meal.
For added 'meatiness' I like to add in a little vegan meat crumbles like Gardein or Beyond Meat, but you absolutely don't need it if you want to stay away from these types of products. For me at home, living with a meat-loving husband, it's always a winner, because it tastes just like a meat-based chili if this is included. Regardless, this makes for a delicious, filling and super flavorful meal that you can also batch out and freeze and save for future dinners. This is a big recipe and makes about 8-10 servings, but don't feel bad if you go for seconds. There's so much goodness in this recipe your body will thank you!
I love to pair my chili with a full-bodied, great quality vegan and organic red wine, and Querciabella's Chianti Classico 2015 was just perfect with this bowl.
BEST EVER VEGAN CHILI
Makes 8-10 servings
1 large sweet (Vidalia) onion, diced
2 red bell peppers, diced
6 cloves garlic, minced
1 chipotle in adobo sauce, chopped, with its juice
1 28 oz can fire-roasted tomatoes
3-4 cups vegetable broth
1 tbsp oregano
1 tsp garlic powder
1 tbsp smoked paprika
1 heaping tbsp ground cumin
1 heaping tbsp ground coriander
1/4 cup fresh chili powder
1 15 oz can organic pinto beans (with the juice)
1 15 oz can organic black beans (with juice)
1 cup green or brown lentils, picked over
2 tbs Pickled Jalapeños (with juice) 
2 tbs masa harina flour
juice of 1 fresh lime
2 tbsp maple syrup
salt to taste
scallions, thinly sliced, to serve
vegan sour cream to serve (optional)
sliced avocado, vegan cheese to serve (optional)
If making in the slow cooker:
Add in all the ingredients through and including the pickled jalapenos, turn on your slow cooker for 10 hours—and walk away!
You may want to check in towards the halfway point to see if it needs a little more liquid. I like to turn the slow cooker on for another 4-8 hours after the 10 hours but no need if you don't have the time. The chili should have thickened by the time you get to the desired hour point. At the end, add in the masa harina flour and whisk in (this will thicken up the chili even more), then taste to with fresh lime, maple syrup, and salt.
If making on the stovetop:
In a heavy-duty pot, heat a little vegetable broth and add the onions, pepper, and garlic over medium heat with a pinch of sea salt. Saute for 5-7 minutes until translucent and soft, then add the chopped chili in adobe sauce, along with all the spices and pickled jalapeno. Make sure to coat the onion mixture well, then add in the vegetable stock and the lentils. Bring to a boil, then reduce to a simmer, put the lid on and cook for about 20 minutes.  
Whisk the masa harina into the pot with the beans, and if using—Gardein or meat sub of choice and canned tomatoes combine everything and cook for another 30-45 minutes. You might have to add some more veg stock, make sure the chili doesn't stick to the pot. 
Finish the chili off with the maple syrup and fresh lime juice, season with sea or kosher salt and serve topped with the optional vegan sour cream, vegan cheese, sliced scallions, and sliced avocado. Pair with your favorite glass of red wine!