T
he last few months of 2019 I was definitely guilty of overindulging a little too much both with food and wine. The scale and my clothes confirmed my suspicion. Yes, you can definitely manage to eat unhealthy on a vegan diet. In my case, it was perhaps a few too many cheese and cracker evenings, chips and salsa, cookies and bread, with just a tad too many glasses (bottles?) of wine on a regular basis. I noticed my energy dipping, my body felt heavier and I was all around not feeling like my normal, positive self. I believe diet is a huge reason why many people have both physical and mental health issues. We need to feed our bodies what it needs: nutrient-dense, colorful, whole and plant-based foods.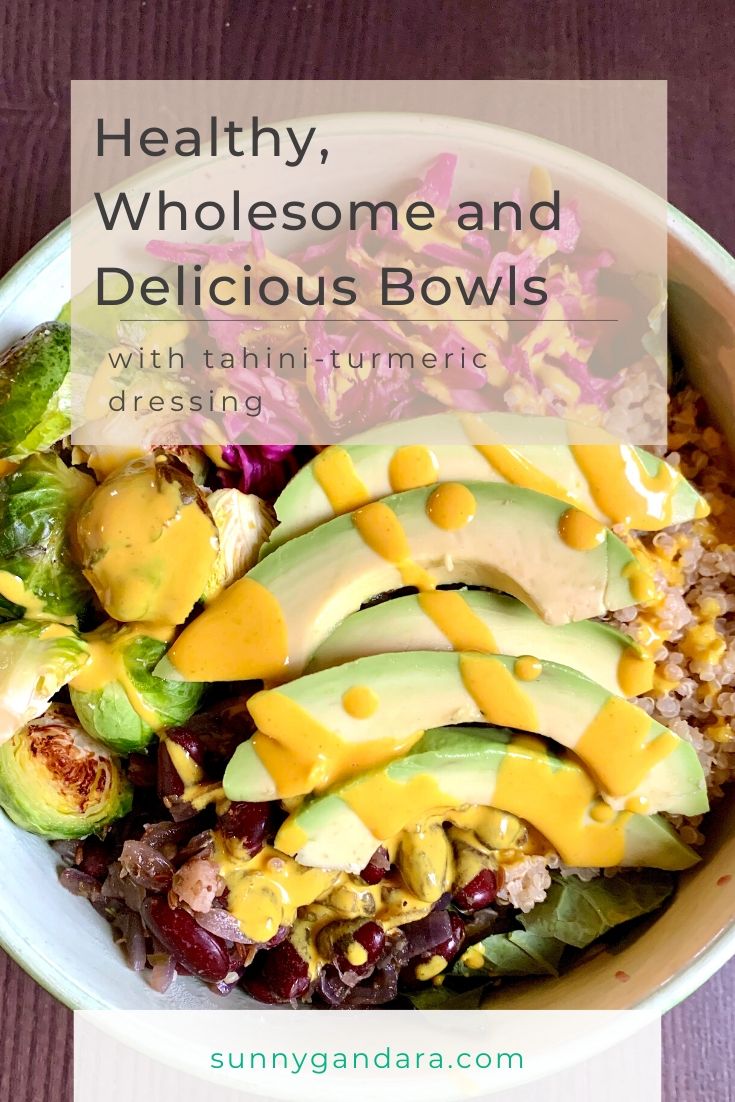 So when January 1 rolled around, I felt 100% ready to ease back into how I normally eat: a variety of legumes, whole grains, fruits, vegetables, and raw seeds and nuts. Minimal oil, processed foods, breads, and pasta. A glass of wine, instead of a bottle.
I get a ton of questions from people I either run into in person or online about how to put together a wholesome, plant-based meal that is going to make them love the taste, and more importantly: fill them up. I have often pondered this question. You take away three or four things (chicken, beef, pork, and eggs) and people just have absolutely NO idea what to eat. Isn't that quite amazing, considering there are over 20,000 edible plant species out there, that we all of a sudden have no idea how to nourish ourselves? Not to mention wonderful healthier, plant-based alternatives to dairy, meat, and eggs.
This is, of course, a result of societal conditioning. We see commercials, stores and cookbooks abound focusing on animal flesh and fluids and become convinced you need them all in order to be healthy and stay full. Not so, my friends.
A plant-based diet is high in fiber, complex carbohydrates, and water content from fruit and vegetables. This helps keep people feeling fuller for longer and increase energy use when resting. How awesome is that?
In this post, I want to give you a quick, easy and useful tip on how to create a nutritious, satisfying, delicious and complete meal.
Here's what you need:
Protein (legumes/beans, lentils, tofu, tempeh although the latter two is not necessary)
Whole grains or starchy vegetables (quinoa, brown rice, amaranth, farro, barley, etc. or sweet potatoes, regular white potatoes for instance)
Vegetables and fruit (fruit not always needed at each meal)
Healthy, wholesome fats in the form of raw nuts and seeds or avocados, olives, tahini
Optional: Fresh herbs and /or spices to flavor your meal. Think fresh rosemary, thyme, parsley, sage, bay leaves, dill, chives, mint, basil, tarragon, savory, marjoram, and oregano. Spices are abundant but garlic and onion powder, cumin, coriander, red pepper flakes, cayenne, smoked paprika, sweet paprika, nutmeg, cinnamon, mace, cloves, cardamom, star anise, allspice, curry powder, garam masala, za'atar, and turmeric are just a few examples. Not to forget the good ole' salt and pepper! I always use either kosher or sea salt, as they have larger flakes, more flavorful and not as high in sodium.
And boom, you are done! As long as you include one from each group, you're good to go! The best way to achieve this is in my opinion to make a bowl.
Take the bowl in this post as an example:
I layered a bowl with some leafy greens, which can be anything from spinach, mixed greens/lettuce, kale or other leafy greens you enjoy. I also added a dollop of hummus…for good measure. Then I roasted some brussels sprouts, or if you wish, you can use cauliflower, broccoli, green beans or root veg, to mention a few. I like to add a cruciferous vegetable typically for texture and it also helps me fill up. I also cooked up some quinoa (whole grains) and pickled some red cabbage for a tart flavor. Pickled red onions are also a wonderful condiment to bowls. I like fermented foods and think it's a great addition to your diet to enhance gut health.
Lastly, I sliced some avocados on top for healthy fats, or you can also sprinkle the bowl with your favorite nuts or seeds. Drizzle with your favorite oil-free dressing to finish off the bowl. I love the one I'll give you the recipe for in this post which is a turmeric-tahini dressing which is also both slightly sweet, salty and spicy all in one. Make a big batch and put it on anything! The turmeric gives it a vibrant color that puts a smile on your face when looking at it.
Eating beautiful, colorful food enhances our mood and is also nutritionally favorable. There's a reason behind the saying "eat the rainbow", as eating different colored vegetables will give you different types of vitamins and minerals, making sure you get a sufficient amount of whatever the body needs.
A quick "cheating guide" to how to compose a colorful, filling and nutritious bowl:
Protein: black beans, kidney beans, chickpeas, adzuki beans, fava beans, lima beans, split peas, pinto beans, black-eyed peas, navy beans, cranberry beans, lentils, tofu, tempeh, edamame, or vegan 'meatballs'
Whole grains: quinoa, brown rice, wild rice, farro, barley, amaranth, bulgur, whole-wheat couscous, millet, kamut, freekeh, teff, wheat berries, kaniwa, buckwheat groats
Vegetables: broccoli and broccoli rabe, cucumber, carrots, brussels sprouts, cauliflower, asparagus, celery, cabbage, beets, winter squash (kabocha, butternut, spaghetti squash, delicata, and hubbard squash to name a few), onions, bok choy, celeriac, turnips, parsnips, corn, daikon, eggplant, fennel, bell peppers, potatoes, sweet potatoes, rutabaga, radicchio, green beans, snow peas, sugar snap peas, zucchini, and yellow squash.
Leafy greens: Romaine lettuce, cabbage, spinach, kale, swiss chard, mixed greens, chicory, mustard greens, collard greens, watercress, sorrel, arugula, dandelion greens, beet greens, amaranth leaves, microgreens
*Healthy fats: chia seeds, pumpkin seeds, sesame seeds, hemp seeds, flax seeds, sunflower seeds, raw cashews, almonds, hazelnuts, walnuts, pistachios, pecans, pine nuts, chestnuts, brazil nuts, macadamia nuts and peanuts, avocados, olives, tahini (ground up sesame seeds).
*You can also make your own nut butters which is almost always better and more economical than buying ready-made nut butters in the store, which often have added sugars and other additives. If you are trying to shed some pounds, be wary of consuming too much of these nut butters, as it can be really easy to overindulge here!
So do you feel more ready to take on making a satisfying, varied and tasty plant-based meal now?
I hope so. Meanwhile, I've included a photo of the bowl I mentioned earlier, as well as my recipe for the best EVER oil-free dressing. This makes a huge batch because I put it on everything, but if you want to just make a little, you can easily half or quarter the recipe, no problem. The turmeric really adds a depth of flavor and spiciness I love, plus added health benefits. Turmeric is an anti-inflammatory, great to consume in the winter months to help fight off the flu, bacteria and colds. It's also an antioxidant that helps neutralize free radicals, is linked to improved brain capacity, lowers your risk of heart disease and can even help protect against cancer. If you are suffering from arthritis or depression, curcumin in turmeric has shown to be helpful as well.
The beauty of a plant-based diet is that not only is it incredibly flavorful and appetizing, it also is the only diet that has proven to prevent and sometimes reverse disease. When you can eat foods that are both enjoyable and healthful at once, why not choose this every time?
TAHINI-TURMERIC DRESSING
Makes about 1 quart
1 cup (2.5 dl) tahini
3 ea. Lemons, zested and juiced
1 cup (2.5 dl) water or less depending on viscosity if dressing
¼ cup (70ml) maple syrup
2 Tablespoons Tamari*
1 Tablespoons ground Turmeric or 2 Tablespoons fresh Turmeric grated
2 Tablespoons Sambal Olek**
salt to Taste
Blend everything in a high-speed blender until creamy, adjust water content for desired consistency. Store in an airtight container – keeps in the fridge for up to a week.
*You can find tamari in the same area of the grocery store as soy sauce, it's very similar, just gluten-free as it doesn't contain wheat. Additionally, it's slightly richer in flavor and a tad more viscous than soy sauce.
**Sambal Olek is an Indonesian chili sauce or paste often readily available in gourmet markets, Asian and even larger grocery stores. It's typically made with crushed chilies, lime juice or vinegar and salt but check on the back of the container, as some brands may contain shrimp. It's quite spicy but not overly so – one tablespoon is equal to a small, chopped jalapeño